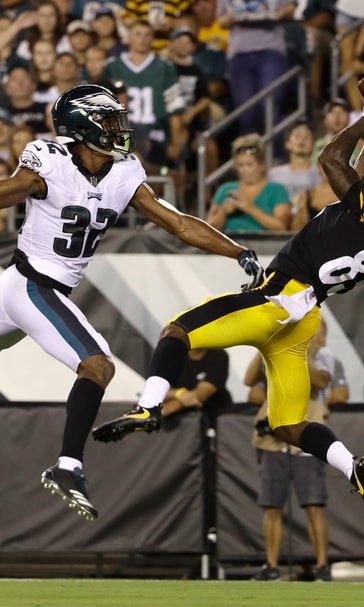 Steelers backup QBs all impress in preseason opener
August 10, 2018
PITTSBURGH (AP) — Landry Jones, Josh Dobbs and Mason Rudolph can do the math.
The Pittsburgh Steelers have four quarterbacks in training camp. They'll carry three at most into the regular season.
Translation: one of them will be out of a job when rosters are trimmed to 53 on Sept 1. The goal over the next three weeks for all three of Ben Roethlisberger's backups is to make coach Mike Tomlin's decision on which one to let go as tough as possible.
So far, so good.
Jones and Dobbs each threw for touchdowns in Pittsburgh's preseason-opening victory over Philadelphia on Thursday night while Rudolph kept the offense moving throughout the second half.
Tomlin praised their respective play, noting they accounted for just one turnover — Dobbs' interception — and overall efficiency after combining to complete 20 of 29 passes for 252 yards and the two scores.
"Largely they did a good job of taking care of the ball, and that's important," Tomlin said.
"The communication, and getting people lined up — I think maybe we only burned one timeout during the course of the game. So those are some of the things that you look for, first time out particularly when you're talking about young quarterbacks in conjunction with other young people. And I thought they represented themselves well."
Rudolph, a third-round pick in April, played the entire second half and while he spent a portion of it scrambling for safety behind an offensive line littered with third-stringers.
He lost a fumble that was recovered by a teammate — ball security has been an issue during camp — but also showcased what he can do when he hit former Oklahoma State teammate James Washington for a 35-yard gain on a free play after one of the Eagles jumped offside.
Rudolph, who finished 7 of 12 for 101 yards and led the offense to three Chris Boswell field goals, figures he should probably make looking for his longtime friend a priority going forward.
"I think throwing it to (James Washington) a little bit more could help," Rudolph said.
"I still had a lot of clean plays, checked it down when I needed to, push the ball down the field. I think our offensive line did a great job all night opening up lanes for our young backs. I believe I had a great experience."
Like Rudolph, Jones used a hard count to get a Philadelphia player to jump offside. While Rudolph turned it into a long gain, Jones turned his into a 72-yard touchdown to JuJu Smith-Schuster.
"That cadence is a weapon for us," Tomlin said. "We've done it for a number of years now. It's good to see the young guys do it."
Dobbs hadn't taken a snap in a game since the end of the 2017 preseason and likely needs to put together something special during camp to convince the Steelers to keep him. He rebounded from the interception by leading a near-perfect two-minute drill at the end of the first half. Dobbs completed 6 of 9 passes in taking the Steelers 75 yards, the last 29 coming when he stepped up in the pocket and threw a dart in the end zone to a leaping Damoun Patterson.
"Obviously, when you get to get more snaps with the football, the comfort level increases, so you're able to go out there and just play football rather than thinking so much," Dobbs said. "So it definitely felt good to get out there."
The Steelers also got out of the game relatively injury free. Offensive lineman B.J. Finney — filling in while veteran Ramon Foster recovers from a hyperextended right knee — is dealing with a quad contusion.
Other than that, the AFC North favorites head into their final full week at Saint Vincent College healthy and eager to take another step forward next Thursday in Green Bay and with no real clarity yet in the derby behind Roethlisberger.
Considering the way all three reserves did in Philadelphia, there are worse problems to have.
---
---