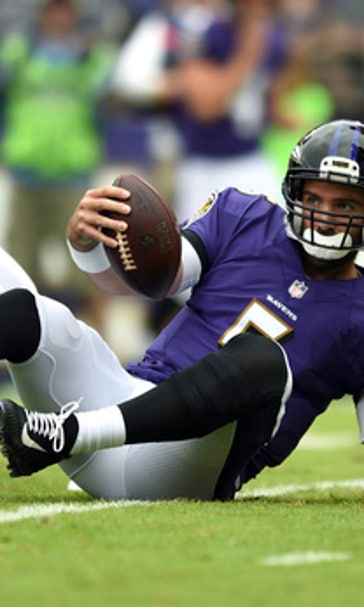 Sputtering at .500, Ravens 'need to find way to win'
October 16, 2017

OWINGS MILLS, Md. (AP) Win two, lose two. Win one, lose one.
The Baltimore Ravens can't seem to get enough traction to make a run at the playoffs.
''Spinning your wheels right now and being .500 is in the hunt,'' coach John Harbaugh said Monday. ''But we need to find a way to win games. That's what it boils down to.''
The Ravens (3-3) appeared to have something going two weeks ago, when they didn't commit a turnover and played solid defense at Oakland in a 30-17 win.
Then came Sunday, when they gave the ball away three times and yielded a team-record 231 yards rushing in a 27-24 overtime loss to the struggling Chicago Bears.
And so, instead of staying tied for first place in the AFC North with a winning record, the Ravens are again looking up a Pittsburgh after losing three of four.
''There's nothing more disappointing in the world than mediocrity,'' linebacker Terrell Suggs said. ''You can't play good last week, and then we come out here and we don't play too good. We gave up a ton of yards rushing. It just (stinks).''
Baltimore went 8-8 last year and missed the playoffs. So it's pretty obvious what needs to happen from here.
''We're going to need to go more than .500 the rest of the way to accomplish what we want to accomplish,'' Harbaugh said. ''We need to get about 10 wins. So we need to find a way to put wins together.''
With a trip to Minnesota (4-2) looming this week, the Ravens need to shore up their passing game and correct the flaws in their run defense to get back on course.
Joe Flacco went 24 for 41 for 180 yards and two interceptions against the Bears. Jeremy Maclin was inactive and Breshad Perriman and Maxx Williams both left with injuries, leaving the quarterback with few veteran talented targets.
''We've got to find some yards in the passing game,'' Harbaugh said. ''There's a lot of season left. We have good players, we have good coaches, and we're capable of putting together a good passing attack.''
Both of Flacco's interceptions came on balls that were deflected by the intended receiver. Chris Moore's miscue turned into a 90-yard touchdown for the Bears.
''We have to catch the ball better, there's no doubt about it,'' Harbaugh said.
On defense, better tackling is a must. The Ravens have had difficulty stopping the run without 340-pound tackle Brandon Williams, who has missed four games with a foot injury. Chicago's Jordan Howard rambled for 167 yards Sunday, including a 53-yarder in overtime that set up the game-winning field goal.
''The most disappointing run obviously was the one they popped in overtime,'' Harbaugh said. ''That was really the game-deciding play.''
It was merely the culmination of an afternoon in which the Ravens were run past and run over.
''I saw too many yards between the tackles,'' Harbaugh said. ''We want to be dominant. That's what we had earlier in the year, and we've got to find a way to get back to that. Getting Brandon back would be a big plus.''
The Ravens could hardly imagine being in this situation after opening the season with a 20-0 rout of Cincinnati and a 24-10 win over Cleveland. But here they are, sputtering at .500 and desperate to get a winning streak.
''The arrow needs to start pointing up sooner or later,'' safety Eric Weddle said.
---
For more NFL coverage: http://www.pro32.ap.org and http://www.twitter.com/AP-NFL
---
---