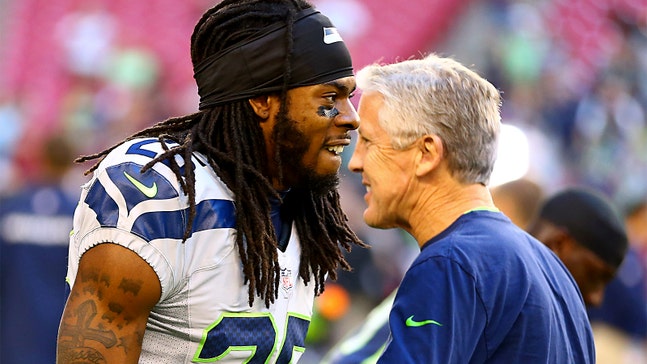 Sherman apologizes for rant after Carroll reminds him who comes first
Published
Jan. 21, 2014 12:59 a.m. ET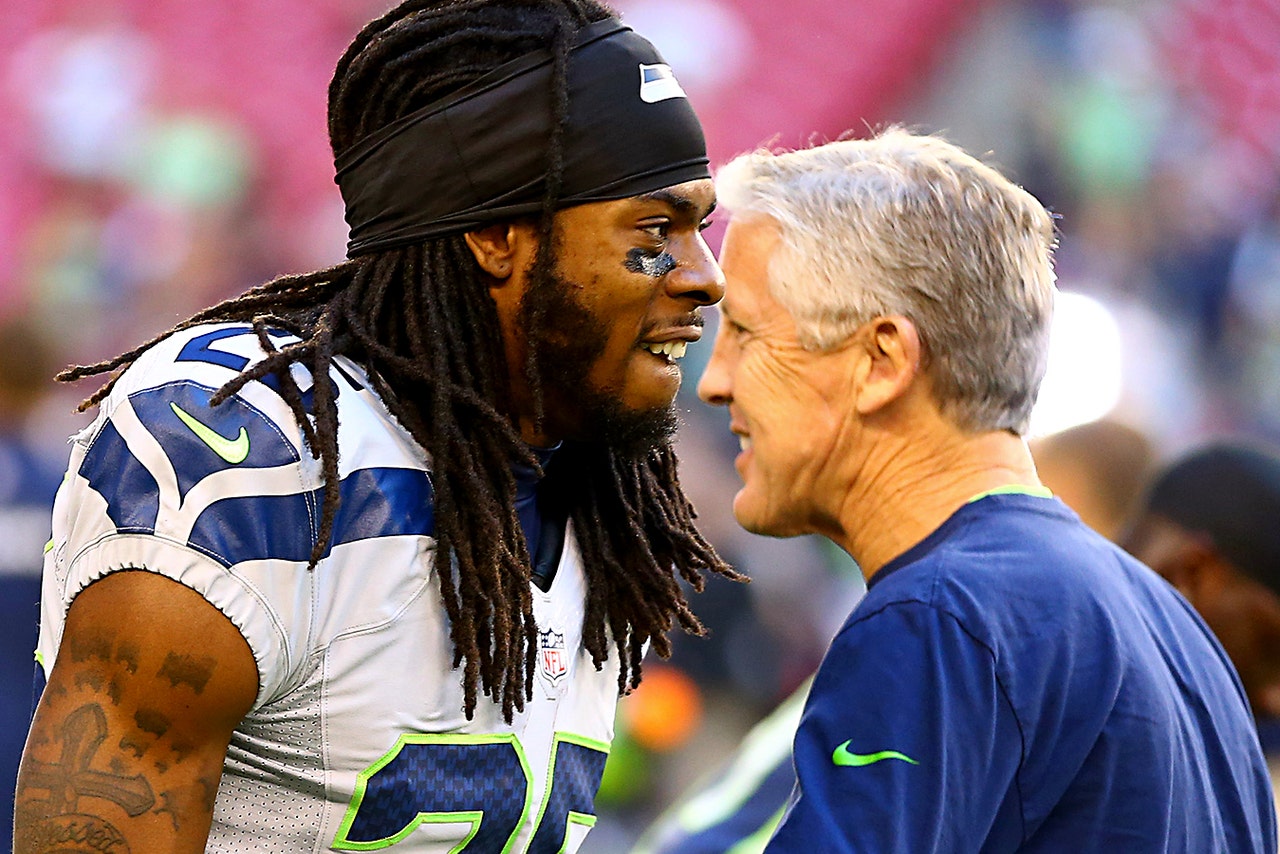 First, Pete Carroll took to the mic Monday and said that Richard Sherman understood why Sunday's highly publicized rant at Michael Crabtree was a bad thing for the Seahawks.
Then Sherman reportedly took to his cell phone to confirm he received his coach's message.
Carroll said he pulled Sherman aside earlier Monday and made sure his fiery cornerback understood that his postgame rant against Crabtree, the San Francisco receiver, was overshadowing the Seattle Seahawks reaching their second Super Bowl in franchise history. And the Seahawks coach said Sherman seemed to get the message.
"He was really clear that the last thing he wanted to do was take something away from our team, what we had accomplished," Carroll said.
Later in the day, ESPN reported that Sherman texted reporter Ed Werder with a personal apology for Crabtree. The text reportedly read:
The brash All-Pro DB also talked to ESPN Radio, saying: "Obviously, I could have worded things better and could obviously have had a better reaction and done things differently. But it is what it is now, and people's reactions are what they are."
Sherman became the focal point of attention — both positive and negative — after Seattle beat San Francisco 23-17 on Sunday to win the NFC championship.
Sherman was already going to be in the spotlight for what he did on San Francisco's final offensive play, twisting his body to deflect a pass intended for Crabtree into the air and allowing time for teammate Malcolm Smith to run over and make an interception in the end zone to clinch the Seahawks victory.
The athleticism on the play was worthy of praise. But Sherman's antics from that point drew praise from some for being honest and unfiltered and criticism from others for being too harsh and combative.
"This is a very emotional kid, and that's what drives him," Carroll said. "We did sit down and talk about it, because I want him to present himself in his best light. He's an incredible kid.
"He has a great sense about things and understanding and sensitivity and awareness and he cares and he's a very thoughtful person so when he puts out those kind of thoughts he has to know what he's saying and understand it and I think he's very understanding at this point that he caused a stir that took away from the team."
Sherman had been rarely targeted by the 49ers, with most of Colin Kaepernick's passes being thrown in the direction of Byron Maxwell.
But in the final minute, Kaepernick decided to take a shot to the end zone with Crabtree and Sherman matched up one-on-one.
Sherman won the matchup, staying in position to deflect the pass and have it fall into Smith's hands, similar to a tipped interception from Sherman to safety Earl Thomas in Week 15 against the New York Giants.
Except this was far more meaningful, giving Seattle its second conference championship.
But Sherman didn't let the celebration end with Smith and his teammates.
Sherman ran over to Crabtree and gave him a pat on the backside, then appeared to extend his arm for a handshake.
Instead, Sherman got shoved in the face before picking up his personal foul as his celebration continued. The taunt included a choking gesture in the direction of Kaepernick.
Asked about the incident afterward by FOX reporter Erin Andrews, Sherman lit up Twitter with a rant that began: "I'm the best corner in the game. When you try me with a sorry receiver like Crabtree, that's the result you gonna get. Don't you ever talk about me!"
And Sherman didn't back down later, apologizing to Andrews but calling Crabtree "mediocre." He said his issues with Crabtree went back to an incident during the offseason.
Carroll said he viewed the situation as a father talking to his son and wanted Sherman to realize some more thought should have gone into what he was saying.
"There's some stuff in there I think you should think about and did you really want it to come out the way it did and talk our way through that," Carroll said. "And he didn't. He didn't feel right about that.
"There were a lot of great things that happened last night, and we're talking about some other stuff."
For Carroll, the return to New York is heading back to where he got his start as a head coach in the NFL, albeit a short-lived tenure as the head coach of the Jets. Carroll was the Jets head coach for one season in 1994 before getting fired after a 6-10 season.
"I think my first time in New York as a head coach was kind of in the middle of the circle somewhere, or maybe it wasn't even a circle, it might have been some other shape," Carroll joked. "It was kind of a hairy time."
Notes: Carroll said WR Percy Harvin (concussion) could be cleared to practice later this week and is expected to be ready for the Super Bowl. Harvin was injured in the first half of Seattle's divisional playoff win over New Orleans. ... WR Doug Baldwin (hip), DT Brandon Mebane (foot/ankle) and RB Marshawn Lynch would be eased back into practice when the Seahawks return to the field on Wednesday, Carroll said. ... LB K.J. Wright was sore but otherwise came out of Sunday's game fine, Carroll said. It was his first game since breaking a bone in his right foot in Week 14.
---
---