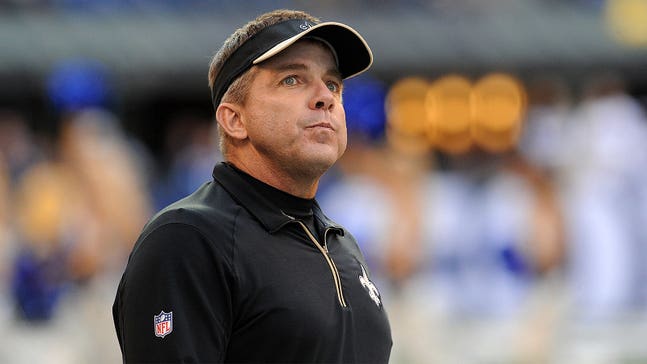 Sean Payton: Saints were 'one of those teams in line' for Beckham Jr.
Published
Oct. 28, 2015 2:32 p.m. EDT

Sean Payton has no reason to shy away from the simple fact that the New Orleans Saints were targeting Odell Beckham Jr. in last year's NFL draft. To be honest, he admitted that he was in line for Beckham, just like everyone else was, according to Mike Triplett of ESPN.
"Absolutely," Payton told ESPN of the dynamic playmaker who wound up going to the New York Giants with the No. 12 pick. "Absolutely. We were one of those teams in line just like everyone else."
As we know, the Saints were obviously in the market during that draft, as they traded up from No. 27 to No. 20 to land Brandin Cooks.
Payton didn't stop at just praising Beckham either, as he spoke about LSU's pro day and watching a highlight video of Beckham and current Miami Dolphins receiver Jarvis Landry.
"We were up for the workout, I went in a room and it was Odell and (fellow LSU receiver Jarvis) Landry," Payton said. "We've got this highlight tape that was put together, it wasn't game tape, it was practice tape, and we sat in there for about 15 minutes. And I just remember coming away from the meeting like, 'Holy cow!' And I would say it was one of the most impressive pro days in regards to receiver workouts. You have those two running around, just a lot of skill on the field.
"You could see the explosiveness with (Beckham), soft hands, big hands. So we were very familiar, obviously he's from here and then up the road at LSU and a guy that we didn't feel like was going to be on the board near that long (to reach an area where the Saints could afford to get him)."
Well, after the rave reviews, Payton and the Saints will face off with Beckham and the Giants in the Superdome in Week 8, for what should be must-watch TV.
---
---