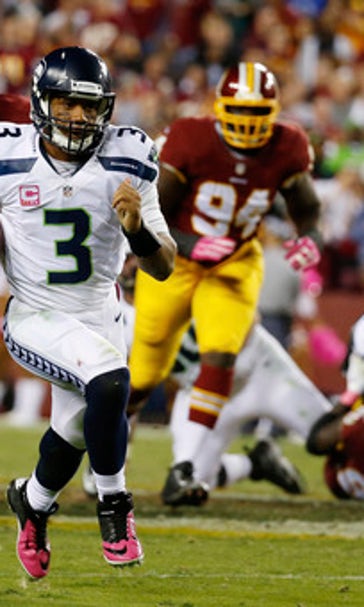 Seahawks' Russell Wilson is next mobile QB test for Redskins
November 1, 2017

ASHBURN, Va. (AP) Dominated by Carson Wentz and run all over by Alex Smith - yes, Alex Smith - the Washington Redskins know they have a problem with quarterbacks getting outside the pocket.
Enter their next challenge: Russell Wilson, who isn't as spry as his rookie year but can still get footloose and free from pressure. When the Redskins visit the Seattle Seahawks on Sunday, keeping Wilson contained is priority No. 1.
''You've just got to make sure you don't let Russell Wilson do Russell Wilson things,'' pass-rushing linebacker Preston Smith said.
''He makes plays with his feet, he extends plays and he can also scramble. He can run, he's a fast quarterback and he also has a great arm. So you've just got to make sure you don't let him get comfortable and you don't let him get in a rhythm.''
That plan didn't work out so well against Wentz, Smith and Dak Prescott. Wentz avoided four sacks and threw for 307 yards in the Philadelphia Eagles' Week 1 victory against Washington and ran for a career-high 63 yards in Week 7.
Even Smith, who's not known for taking off at will, scrambled for a season-best 56 yards on the Redskins.
''We got burnt a few times this year because of that,'' linebacker Martrell Spaight said. ''We learned the hard way. ... I think it's pretty much burned into our brains now that if the quarterback's going to scramble, just let him scramble till he passes the line of scrimmage and we're just going to play our coverage. Just hope the D-line gets to him.''
Wilson presents his own sets of problems, even five years after running for 67 yards on eight carries in the Seahawks' playoff victory at Washington. In two career games against the Redskins, Wilson has 189 yards rushing on 19 carries.
Spaight likened Wilson to a video game, and linebacker Will Compton called him a magician.
''He's able to make plays happen,'' Compton said. ''If he doesn't get his reads, (he can) escape the pocket, keep plays alive. He kind of reminds me of guys like Aaron Rodgers that keep plays alive.''
The Redskins' defense is missing defensive linemen Jonathan Allen and Matt Ioannidis and linebacker Mason Foster, and several other key players are banged up.
But the unit might've learned a lesson or two from struggles against Wentz and Co.
''We definitely have to do a better job against mobile quarterbacks,'' defensive lineman Ziggy Hood said. ''If they extend the play, they can make plays while they're running and stuff like that. So we've got to do a better job making sure we don't allow that to happen. If it does, everybody do their job and do their job correctly because any small thing can turn into something big.''
Wilson exemplifies that remark. Even though the 28-year-old isn't running as much as he did a few years ago, he's averaging 5.4 yards an attempt.
One of the biggest complications for Washington is trying to keep some focus on Wilson while not forgetting about coverage responsibilities.
Cornerback Kendall Fuller has noticed improvements in that area and said he and his fellow defensive backs need to ''plaster'' receivers as long as possible.
''Make sure just having as much vision on the quarterback (as possible) and just keep it to where a lot of heads aren't turned to the ball,'' Fuller said.
''Even if you have your man covered, you've still got to keep on working because he's going to make plays with his feet, so we've just got to play to the whistle.''
Mobile QBs such as Wilson can delay the whistle a long time, and the Redskins are conscious of that.
''You've got to keep them from just being able to have a lane up the middle and you've got to make sure you apply pressure in their face and keep them from stepping up in the pocket,'' Smith said. ''You've got to make sure that you keep them contained and apply pressure. You've got to kind of cage those guys in.''
NOTES: Ten Redskins players didn't practice Wednesday: TE Jordan Reed (hamstring), LT Trent Williams (knee), RG Brandon Scherff (knee), LB Zach Brown (back), WR Jamison Crowder (hamstring), LG Shawn Lauvao (stinger), C Spencer Long (knees), TE Niles Paul (concussion), Ioannidis (broken hand) and OT Ty Nsekhe (core muscle surgery). ... Four players were limited in practice: CB Bashaud Breeland (knee), RB Rob Kelley (ankle), Spaight (shoulder) and S Montae Nicholson (shoulders).
---
For more NFL coverage: http://www.pro32.ap.org and http://www.twitter.com/AP-NFL .
---
---