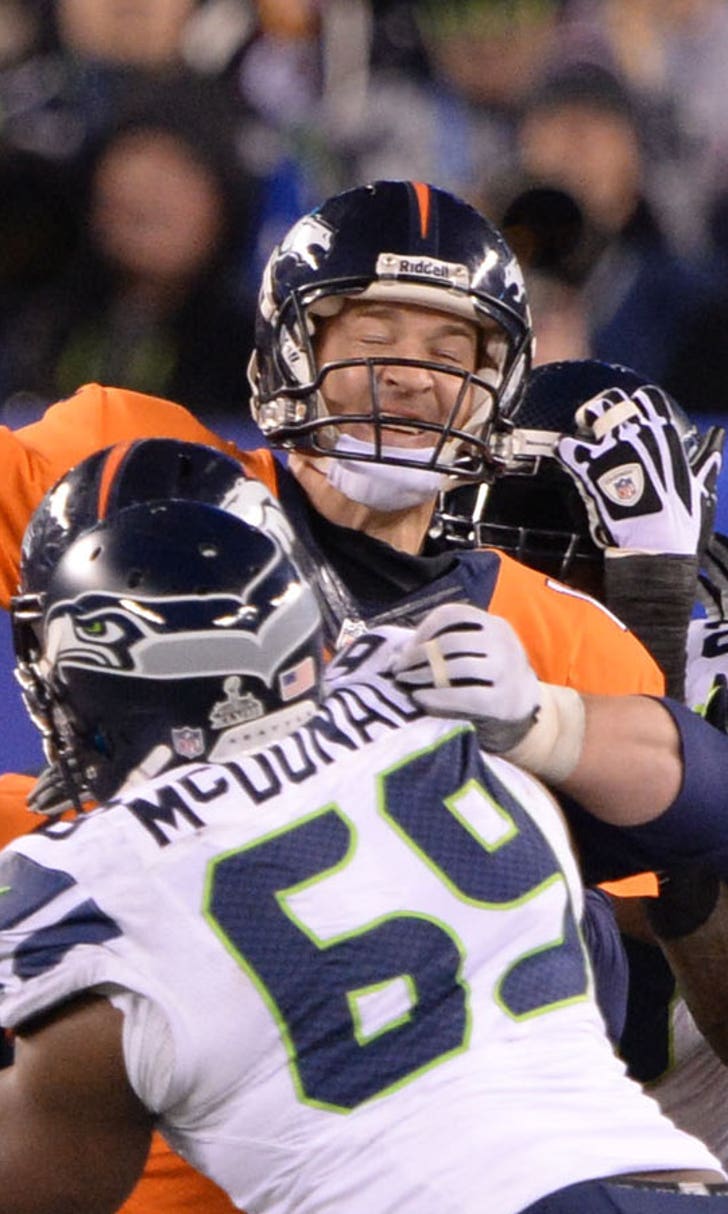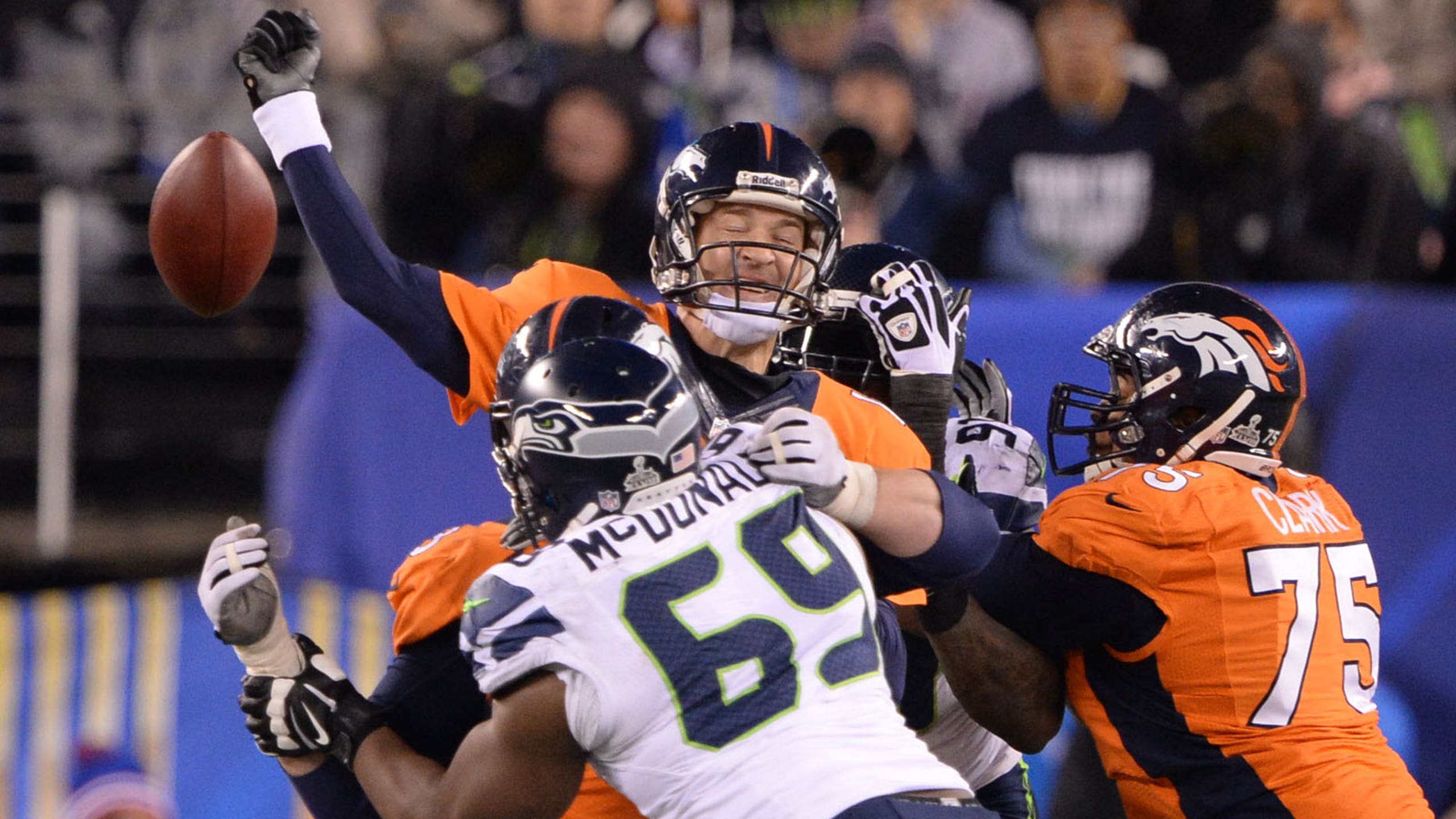 Seahawks defense dominates Manning, Broncos in Super Bowl rout
BY Alex Marvez • February 2, 2014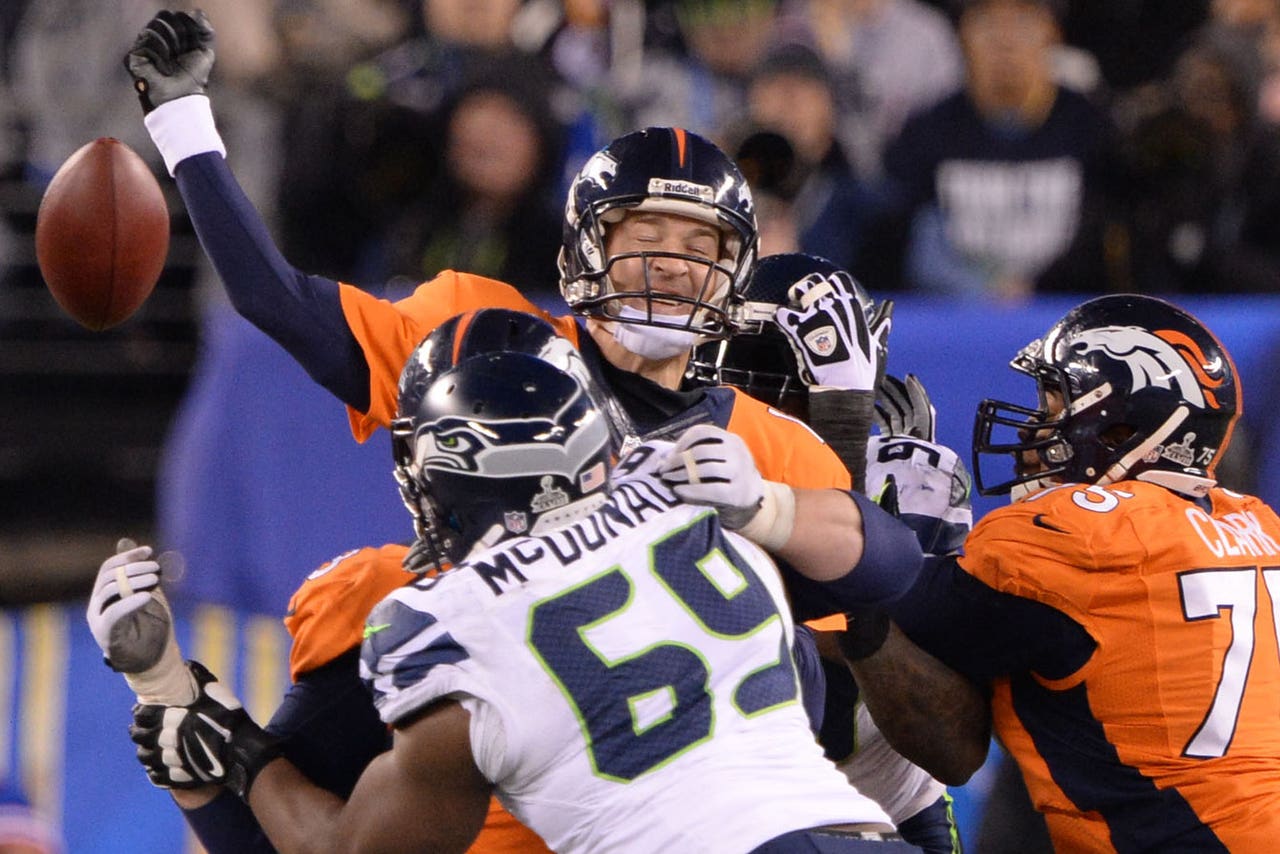 The only good news Sunday night for the most prolific offense in NFL history came on the final play of the third quarter.
That's when Denver avoided the ignominious fate of being the first team ever to get shut out in a Super Bowl.
Mind you, this is nothing to brag about. But what was considered unthinkable entering Super Bowl 48 had actually become plausible by the time Broncos quarterback Peyton Manning threw a 14-yard touchdown pass to wide receiver Demaryius Thomas.
Such was Seattle's dominance in a 43-8 whipping that matched the NFL's top offense (Denver) and top defense (Seahawks).
"All those people who like to say defense wins championships can gloat about that," Seahawks head coach Pete Carroll said. "It certainly proved true today."
The rout was well underway by the time Manning and Thomas finally connected in the end zone. The Broncos were burned on special teams by an 87-yard Percy Harvin kickoff return for a touchdown to open the second half. Denver's defense also struggled getting off the field, with the Seahawks frequently converting on third downs.
But it was Denver's offense that was the biggest disappointment of all.
"I don't want to use the word embarrassed," Broncos tight end Julius Thomas said after his unit's four-turnover performance. "But this shows what happens when you don't execute."
The game's first offensive snap proved a harbinger of what was to come. Manning approached the line of scrimmage to shout signals when center Manny Ramirez fired a snap that bounced off the quarterback's helmet and into the end zone. The miscommunication -- Ramirez said Manning shouldn't have stepped forward after making the final offensive adjustment -- led to a Seahawks safety only 12 seconds into the first quarter.
"We weren't sharp offensively from the get-go," Manning admitted. "For whatever reason, we couldn't get much going after that."
Denver's future possessions weren't any prettier. A three-and-out series was followed by a Manning overthrow on the next possession that was intercepted by Seahawks safety Kam Chancellor.
The Broncos were already behind, 15-0, by the time Knowshon Moreno rushed for the team's initial first down -- almost five minutes into the second quarter. But just when the Broncos were pressing to get on the MetLife Stadium scoreboard, the two best aspects of Seattle's defense -- smothering coverage and fierce pass rush -- came shining through.
An offensive line that had done an excellent job in protection throughout the playoffs sprung a leak. On third-and-13 from Seattle's 35-yard line, Seahawks defensive end Cliff Avril overcame a 60-pound weight disadvantage to bull right tackle Orlando Franklin back toward Manning. Avril then hit the quarterback's arm, forcing one of the Manning "ducks" that Seahawks cornerback Richard Sherman alluded to during a pre-Super Bowl news conference.
Moreno then made a mistake by not trying harder to catch or bat down the errant, wobbly throw. Seahawks outside linebacker Malcolm Smith charged for the interception and returned it 69 yards for a touchdown that extended Seattle's lead to 22-0.
"The ball came out high," said Smith, who also recovered a third-quarter Demaryius Thomas fumble en route to winning Super Bowl 48 MVP honors. "The running back was sitting there waiting on it. I kind of attacked it and took off."
Denver's offense ended the first half unable to convert on a fourth-and-2 from the Seattle 19 when defensive end Chris Clemons tipped a Manning throw in the backfield. Even with an extended 30-minute halftime period for "halftime adjustments," it became obvious early in the second half that Manning and Co. had no answer for a Seahawks scheme that effectively mixed smothering man coverage with a cover-three zone.
"We're a simple defense," Seahawks cornerback Richard Sherman said. "We're just going to try and execute. That's what we're good at."
The Seahawks also quickly learned they had nothing to worry about from Denver's deep passing game. Manning attempted only one downfield throw in the first half and didn't effort longer heaves again until the game was out of reach.
Trying to avoid Sherman like he was a leper, Denver instead took a dink-and-dunk approach with wide receiver and traditional running back screens. Because of sound Seahawks tackling, the crossing routes where Denver usually enjoys so much success were either snuffed out or limited to minimal gains.
The Broncos couldn't make hay in the running game, either. A meager 18 yards was produced by the Moreno-Montee Ball tandem that had kept defenses honest throughout the season.
"We didn't let the receivers get off the line, and we made Peyton hold the ball," Seahawks defensive tackle Brandon Mebane said. "We knew we weren't going to sack him every time. The biggest thing we wanted to do was put hands to his face, collapse the pocket and make things uncomfortable for him."
The Broncos had set NFL regular-season records for points (606) and touchdowns (76). The unit was led by Manning, who won an unprecedented fifth Most Valuable Player trophy after setting individual passing marks with 5,477 passing yards and 55 scoring throws.
Despite the offensive failings against Seattle, Manning and Thomas actually entered Super Bowl statistical annals with their Sunday night performances. Manning broke the mark for completions, with 34; Thomas' 13 catches were another record.
Never have such accomplishments rung so hollow.
"They're the best defense in the league," Julius Thomas said. "We knew that coming in. I don't think there's anything different about that now."
The Seahawks fielded the first defense since the 1985 Chicago Bears to lead the league in three important statistical categories --€" most forced turnovers and fewest points and yards allowed. And like that Bears squad, Seattle is now a Super Bowl champion.
"I hope we etched our name in the history books," Sherman said.
Winning the Lombardi Trophy will do that.
---
---