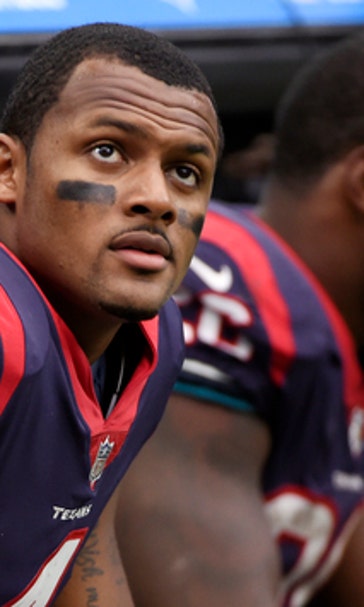 Savage to take over for Texans with Watson out with injury
November 3, 2017

HOUSTON (AP) With Deshaun Watson's year done, the Houston Texans will look to Tom Savage to try and salvage their season.
Coach Bill O'Brien confirmed that Watson was out for the season on Friday, a day after the star rookie quarterback tore the anterior cruciate ligament in one of his knees during practice. O'Brien said he didn't have any other details on the injury, and wouldn't say if Watson will have surgery.
A fiery O'Brien brushed aside the notion that Watson's injury signaled doom for this team.
''We're not going to give in to what's out there - (that) the demise of the Houston Texans is upon us,'' he said. ''Like that's ridiculous. We're going to show up and fight and play.''
Savage started the season opener, but he was benched at halftime in favor of Watson, who started each game since. Savage will make his fourth career start when the Texans host the Colts on Sunday.
''You can't really replace Deshaun Watson. You know what I mean,'' Savage said. ''The kid's been playing absolutely lights out. But that's not my job. My job is to go out there and help this team win and do whatever I can to help.''
Watson was in the locker room before practice on Friday, but a team official said he didn't want to speak to reporters. He later released a long statement on Twitter .
''I promise that I will continue to work diligently so that this team can one day bring a championship to Houston,'' he wrote. ''And when I return I will be better, stronger and more focused than ever before! Now the grind begins.''
Watson's injury is the latest setback to a team that dealt with Hurricane Harvey before losing three-time NFL Defensive Player of the Year J.J. Watt and linebacker Whitney Mercilus to season-ending injuries on Oct. 8. Last week, owner Bob McNair apologized for saying ''we can't have the inmates running the prison'' during a meeting of NFL owners about players who protest by kneeling during the national anthem.
Savage said O'Brien's leadership has helped make these trying times easier on the players.
''Ultimately he's communicated with us. That's the one thing,'' he said. ''He didn't act like none of this stuff was going on. I think it would be easy to be like: `Hey, we have practice at nine. We'll see you out there.' But he communicated with us. He's one of the guys and he truly is a player's coach. And that's what we've all appreciated.''
Watson, who won a national championship at Clemson last season, had been a bright spot in a tough season for the Texans (3-4). The 12th overall pick in this year's draft was the AFC offensive player of the month after throwing for 1,171 yards with 16 touchdowns and running for 145 yards and another score.
''He's a very special player. He's a special kid. He's got a great future,'' O'Brien said. ''These things happen. They're tough when they happen, but they happen ... but in the short time they played for us, it's obvious ... and also the type of guy that he is, that he will be one of the top quarterbacks in this league for a long time.''
His teammates described the moment Watson was injured on a non-contact play.
''I saw him go down,'' receiver Bruce Ellington said. ''He got right up, so I didn't think anything would happen ... we just thought he was going to get it checked out, and everything was going to be OK. And then we heard the bad news.''
Players were quick to point out that they don't have time to feel sorry for themselves.
''With football, comes adversity. We understand that,'' left tackle Chris Clark. ''And it's always one of those things you just have to endure ... we practice for this. This is what we do. This is what we get paid to do. So next guy up, just step in there, and we keep the wheels moving.''
Houston has signed T.J. Yates, who was with the team in 2011-13 and 2015, and O'Brien said he would back up Savage on Sunday. O'Brien added that they would also sign Matt McGloin, who played for him at Penn State.
---
For more NFL coverage: http://www.pro32.ap.org and http://www.twitter.com/AP-NFL
---
---