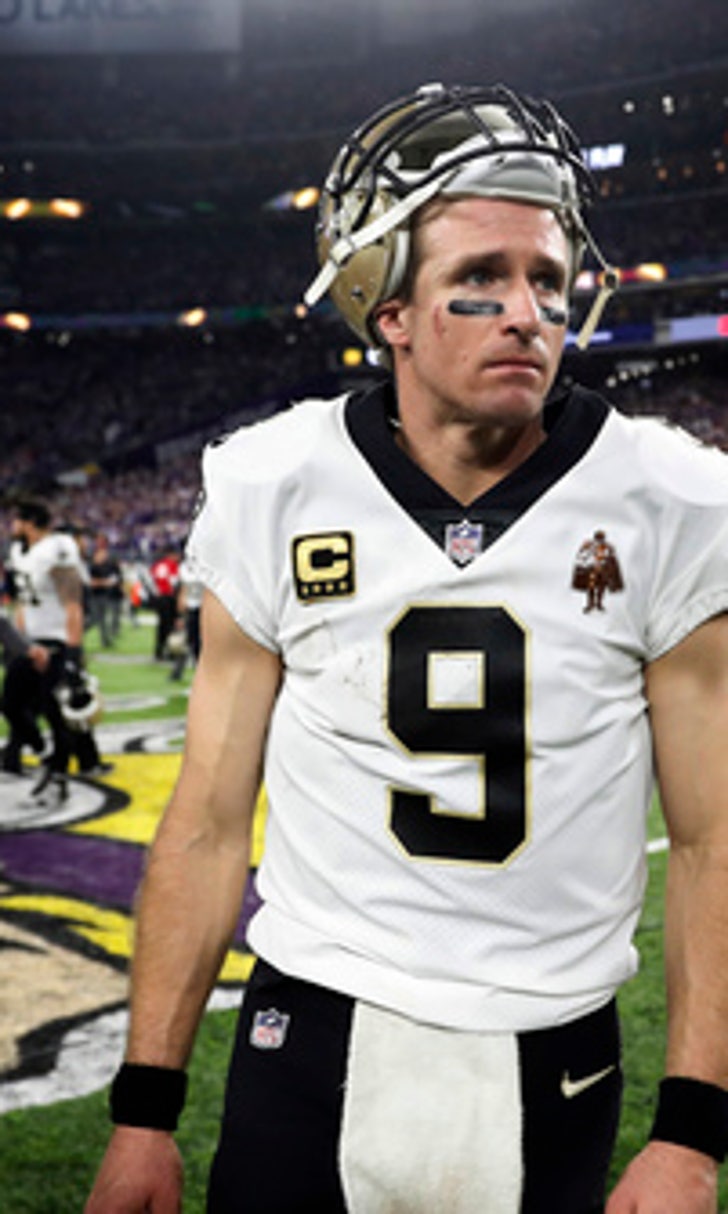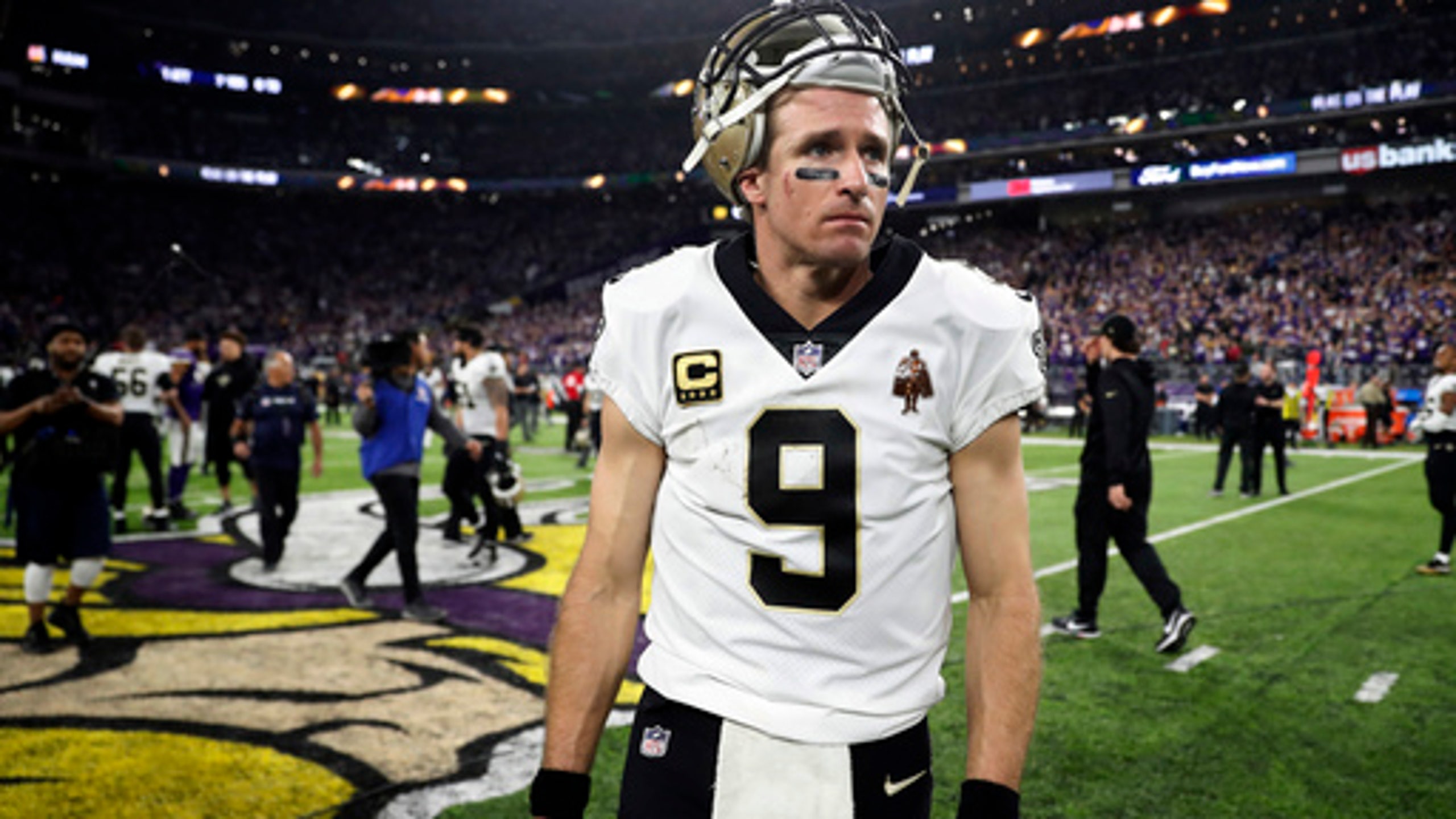 Saints QB Brees: No plans to field offers from other teams
BY AP • January 16, 2018
METAIRIE, La. (AP) Drew Brees dispensed with technicalities regarding his contract and spoke as if his return to New Orleans next season was virtually assured.
''It's the same way I felt two days ago. It's the same way I felt 12 years ago. I'll be here as long as they'll have me,'' Brees said Tuesday in the locker room at Saints headquarters, where players were packing up for the offseason following their dramatic elimination from the playoffs in Minnesota last weekend.
Brees acknowledged he'd have leverage if he chose to listen to offers from other clubs, but asserted that he has no plans to do so for professional and personal reasons.
The Saints have pieces in place to be a contender in upcoming seasons, having nearly advanced to the NFC title game with a roster featuring numerous first- and second-year regulars.
''Do I feel like this team has what it takes? Yes, I do,'' Brees said.
Then there are Brees' ever-deepening ties to New Orleans. He was 27 and childless when he arrived. Now he's a father of four who turned 39 on Monday.
''Certainly, the relationship with this city will always play a strong role in me wanting to be here and ... wanting to finish my career here,'' Brees said.
And there's no guarantee he'll have better synergy with any coach than he's had with Sean Payton.
''We have a great history together,'' Brees said, recalling how Payton courted him in 2006 while he was still rehabilitating from major throwing-shoulder surgery. ''I'm here because he believed in me.''
Brees has since passed for 58,097 yards and 408 touchdowns, won a Super Bowl and led New Orleans to six playoff berths. This season, his completion rate of 72 percent set an NFL record.
Payton on Tuesday declined to discuss how the team will address Brees' contract, saying now is ''not the time.''
But letting Brees go would be costly for New Orleans - financially and on the field.
Brees' contract technically runs through 2018, but voids automatically when the new league year begins on March 14. That was done for two reasons. The Saints received salary cap flexibility they needed in 2016 by spreading Brees' guaranteed money over two more years. Brees gained leverage because the Saints lose $18 million in salary cap space in 2018 if they fail to re-sign him.
That's given Brees confidence that an extension is inevitable.
''I don't plan on this being something that goes until March 14th,'' said Brees, who also spoke about the 2018 Saints as if presuming he'll be their QB.
''We have a great window of opportunity,'' Brees said. ''I've been a part of talented teams in the past, though, that have not lived up to expectations. I've also been a part of teams that were just gutsy and gritty, and surpassed expectations.
''Bottom line - success is dependent upon your willingness to work and the way that guys care about one another and the sense of urgency,'' Brees continued. ''So while I think we do have a talented team, I know that each year you have to go out and prove it.''
Several players said they were still struggling to come to grips with the sudden, stunning end of their season on a 61-yard Vikings touchdown as time expired Sunday.
''I couldn't stop thinking about it if I wanted to,'' defensive tackle Sheldon Rankins said. ''Hopefully it'll be more fuel than anything and I can just go train as hard as I can.''
Payton wore a black track suit with Saints emblems on it, as if to symbolize that he is off and running in his effort to build upon the success of 2017.
''We have to look at every area we can improve - every area, not just one specific area,'' Payton declared. ''There's nothing promised. We've got a lot of work to do.''
Three significant contributors are entering free agency: safety Kenny Vaccaro, defensive end Alex Okafor and offensive lineman Senio Kelemete.
Meanwhile, 34-year-old right tackle Zach Strief, a Week 1 starter who spent most of the season on injured reserve, said he hasn't decided whether he'll retire. Strief likely would have to accept a pay cut and possibly a backup role if he returns. He's due about $3.9 million next season and his successor, 2017 first-round draft choice Ryan Ramczyk, proved this season he was ready to step in. Strief also is rehabilitating from reconstructive knee surgery.
''No matter how you feel in the moment, sometimes when you're in training camp and in your 12th year, you're like, `Man, this is ridiculous. I'm tired of this,''' Strief said. ''I felt like I was playing at a high level through training camp, and last year was one of my better years. So I think physically, it's something I can do. But the reality is there's as much mental preparation as physical.''
---
For more NFL coverage: http://www.pro32.ap.org and http://www.twitter.com/AP-NFL
---
---