Road to MetLife: Week 13 Cheat Sheet
Published
Nov. 27, 2013 12:02 p.m. ET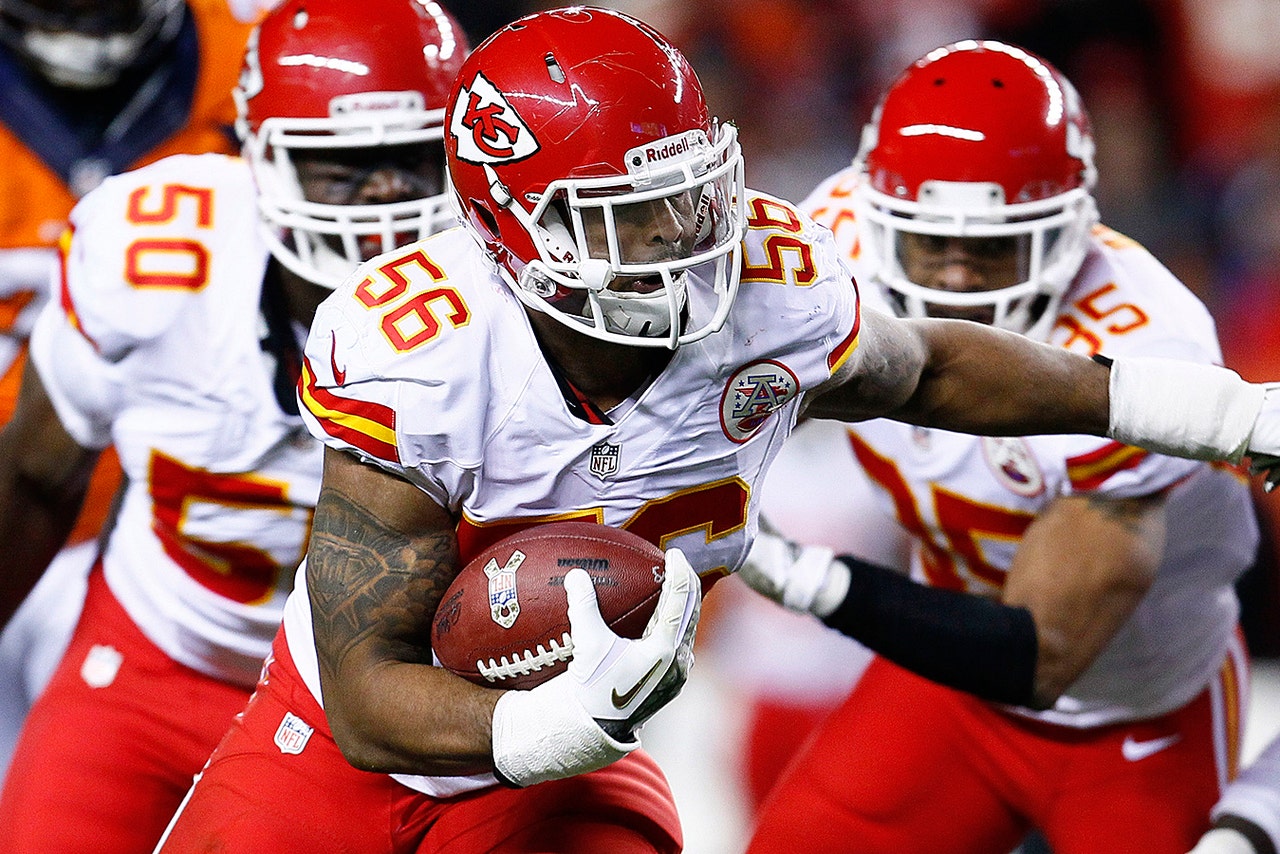 There are plenty of teams who should be giving thanks to other NFL franchises this week.
The Rams, a year after being roasted by critics for a trade that rocked the NFL prior to the 2012 draft, can thank the Redskins for the bounty of draft picks they received in exchange for Robert Griffin III. If the season were to end immediately following Washington's Monday night loss to San Francisco (note: It doesn't), the Rams would own the fifth overall pick, courtesy of Washington. The Packers and Bears can thank the Lions for losing two straight games while both of their starting quarterbacks were out of the lineup. A host of teams in the AFC can thank the Jets' offense for hitting the skids at exactly the wrong time.
I'm just happy for football. Come May, when everyone's giddy over the NBA and NHL playoffs, I'll be longing for a replay of that Jaguars-Texans game from last weekend to air on NFL Network.
We've got just nine weeks left in the 2013 season. Let's savor every one of them.
The Peter Schrager Podcast: This week's guest was former Penn State superstar and three-time NFL All-Pro LaVar Arrington. We talked about Robert Griffin III's place in the Washington Redskins locker room and whether or not the Redskins players resented RG3 for all the media attention he garnered over the past 12 months. We also got into Penn State, Jerry Sandusky -- the man who recruited Arrington to Happy Valley -- and the scandal as a whole. Two years after the Sandusky situation rocked the country, Arrington still feels as though there are questions left unanswered. 
We had a good week of picks in last week's Cheat Sheet. You should probably roll with us from here on out.
Last week's record: 8-4-1
Season record: 105-68-1
Green Bay (5-5) at Detroit (6-5): Thursday will mark the first time the Lions are favored on Thanksgiving since 2000. That year? They beat the Patriots 34-9 in a blowout. Rookie Tom Brady watched from the sideline as Lions quarterback Charlie Batch topped Drew Bledsoe. Stoney Case -- remember him? -- completed one pass in garbage time, too. Anyone know where I can find a Stoney Case Lions jersey? Asking for a friend.
The Pick: Lions 34, Packers 17
Oakland (4-7) at Dallas (6-5): Neither Matt McGloin nor Tony Romo were drafted by NFL teams, but both will man the quarterback spot on Thanksgiving for two of the NFL's legendary franchises. See, kids, don't let 32 NFL teams squash your dreams. Reach for them and don't you dare stop reaching for them! OK, enough of that. How big was Dallas' win over the Giants in New York? The Cowboys play three of their final five games at home, where they're 4-1, with the only loss coming in that 51-48 shootout with Denver. The Eagles are hot, but Dallas could have the schedule in its favor.
The Pick: Cowboys 28, Raiders 20
Pittsburgh (5-6) at Baltimore (5-6): Four weeks ago, a fellow writer texted me after the Steelers gave up 55 points in New England and the Ravens lost to the Jason Campbell-led Cleveland Browns. The text, which came from a guy who knows his stuff, read: "Steelers-Ravens on Thanksgiving. Can NBC flex out of that for any other game on the schedule?!" YOU MADE A SARCASTIC COMMENT TOO SOON, WRITER FRIEND! NOW YOU LOOK FOOLISH! Not only does this game matter, but it features two of the most impressive defenses in the NFL. This one could be downright hideous to watch. I'll be there, enjoying every last second of it.
The Pick: Ravens 15, Steelers 10
Jacksonville (2-9) at Cleveland (4-7): Last week, we had Manning and Brady. This week, we've got Henne and Weeden. Hey, they can't all be classics. I do like two young receivers in this one, though. Josh Gordon, who's going to break 1,000 receiving yards with some questionable QB play in Cleveland and Jaguars rookie Ace Sanders, who's made some head-turning plays in two straight games. I like the Jags in an upset.
The Pick: Jaguars 20, Browns 16
Tennessee (5-6) at Indianapolis (7-4): These two teams played two weeks ago and the Colts seemed to silence some critics with a Thursday night win. Well, those critics are back out in full force after Indy's dreadful effort in Arizona. It's not enough to show Trent Richardson's stats anymore. The CBS graphics guys had to stick in a "Return to Sender?" headline last week on their broadcast, too. At home, with the rest of the nation fleeing from the bandwagon, I think the Colts find a way over Tennessee.
The Pick: Colts 33, Titans 24
Chicago (6-5) at Minnesota (2-8): Want to see the least inspiring postgame locker room scene ever? Check out Minnesota after coughing up a 13 point fourth quarter lead and settling for a tie in Green Bay last week.  The Bears' wideouts are too much for Minnesota's depleted secondary. I'm taking Chicago on the road.
The Pick: Bears 24, Vikings 20
Miami (5-6) at NY Jets (5-6): The Geno Smith Era was alive and well four weeks ago after Smith found a way to beat Drew Brees and the Saints in front of a wild MetLife Stadium crowd. It's amazing to think that performance is the last time the Jets fans saw Smith and the Jets play in East Rutherford. In the three weeks since -- a bye and two bad losses in Buffalo and Baltimore -- the Jets have gone from AFC East contender to offensive nightmare. I don't see them fixing any of that in time to put up enough points on a high-octane Dolphins defense.
The Pick: Dolphins 20, Jets 13
Arizona (7-4) at Philadelphia (6-5): Because it's important to mention and you really care, I've been picking the Cardinals every week since their Thursday night loss to the Seahawks and they haven't dropped one since. I know they're travelling across the country. I know they're playing a team coming off its bye. I know the kickoff will be at 10 a.m. local time for the Cardinals players. And I know the Eagles look like the team we thought we were going to see after their Week 1 smashing of the Redskins. But guess what? I don't care! The Cardinals defense will keep former University of Arizona star Nick Foles in check and a rejuvenated Carson Palmer will throw all over the Eagles D.
The Pick: Cardinals 31, Eagles 26
Tampa Bay (3-8) at Carolina (8-3): Remember when the Panthers embarrassed the Buccaneers in Tampa on a Thursday night a few weeks back? And everyone assumed Greg Schiano was getting fired the next day and most of the media was doing flips over it? And there were Hazmat suits and hilarious MRSA jokes for days? Seems like it's been five years, not five weeks since all that. Well, guess what, media members who were trying to bury this team, coaching staff, and front office back in November? Don't start praising them now. They don't want to hear it. As for Josh Freeman, he's played in one game since the Bucs cut him in October. Mike Glennon's won three straight. I've been picking the Bucs all season. I can't just jump ship now. They're the ultimate spoiler team and Sunday's the ultimate trap game for Carolina. Upset special.
The Pick: Buccaneers 20, Panthers 17
New England (8-3) at Houston (2-9): I'm tempted to take the Texans, just because this is one of those weird seasons where things like this happen. Let-down game after a ridiculous comeback win -- I can see it happening. After that 10-6 loss to the Jaguars, though, I just can't pull the trigger on picking a team that's lost nine games in a row. It'll be close for a while, but the Patriots will pull away late.
The Pick: Patriots 24, Texans 16
Atlanta (2-9) at Buffalo (4-7) in Toronto: I pitched a feature idea where I'd go up to Canada, find Toronto mayor Rob Ford, hang out with him on Saturday night, and watch Bills-Falcons with him on Sunday. I'm still waiting for my bosses -- all of them -- to get back to me.
The Pick: Bills 27, Falcons 21
St. Louis (5-6) at San Francisco (7-4): I'm sure someone else will win the award, but St. Louis GM Les Snead deserves some praise for the work he did this off-season. Consider the Rams' offseason haul: Rookies Tavon Austin, Zac Stacy and Alec Ogletree have all played major roles in the team's two-game winning streak; free agents Jared Cook and Jake Long have added veteran leadership; and undrafted gems like Benny Cunningham and Ray Ray Armstrong are contributing. Kellen Clemens has looked the part, too. Did San Francisco look all that good on Monday night? Or are the Redskins just really bad? I know this may come as a surprise to many, but with a cross-country flight, a short week, and a motivated Rams team coming to town, I'm not taking the 49ers.
The Pick: Rams 27, 49ers 17
Denver (9-2) at Kansas City (9-2): The Chiefs' defense showed some flaws last week, with Philip Rivers throwing at will all over them in San Diego's upset win. There are injuries on the defensive line, too. But I like Kansas City at home with their backs against the wall, here. I watched these teams' first meeting a few times over the past couple weeks. Kansas City knows the blueprint to beat Manning and the Broncos. They'll put it into action and complete the job in overtime on Sunday.
The Pick: Chiefs 31, Broncos 28 OT
Cincinnati (7-4) at San Diego (5-6): The Bengals couldn't have had their bye week come at a more opportune time last week, but I like San Diego in this one. The Bolts showed some real fight last week in Kansas City, a game no one thought they'd win. Phil Rivers is having a huge season. This one could be the game that opens everyone's eyes and puts him in that All-Pro conversation.
The Pick: Chargers 34, Bengals 27
New York Giants (4-7) at Washington (3-8): Another opportunity to watch this Redskins team in primetime? Boy, what'd we do to deserve this? The Giants looked bad last week. The Redskins looked far worse. It's a hot mess in the nation's capital. Anyone can beat them this year. Even the Giants.
The Pick: Giants 27, Redskins 19
New Orleans (9-2) at Seattle (10-1): I was able to chat with a lot of the Saints players after their Thursday night win over Atlanta and they seemed focused, ready, and fired up to take on the Seahawks in Seattle. This isn't the Saints of 2012. They've got bite on D, they're confident they can win on the road, and Sean Payton and Rob Ryan have brought a sense of urgency to every offensive and defensive series. The Seahawks are going to be without Brandon Browner from here on out and they'll miss him. The Saints are going to compete and will have the Hawks on the ropes, but the 12th Man will prove to be too much. If this game's in New Orleans, I'd take the Saints. But in Seattle, it's the Seahawks in a shootout.
The Pick: Seahawks 34, Saints 27
---
---