Road to MetLife: Week 1 Cheat Sheet
September 5, 2013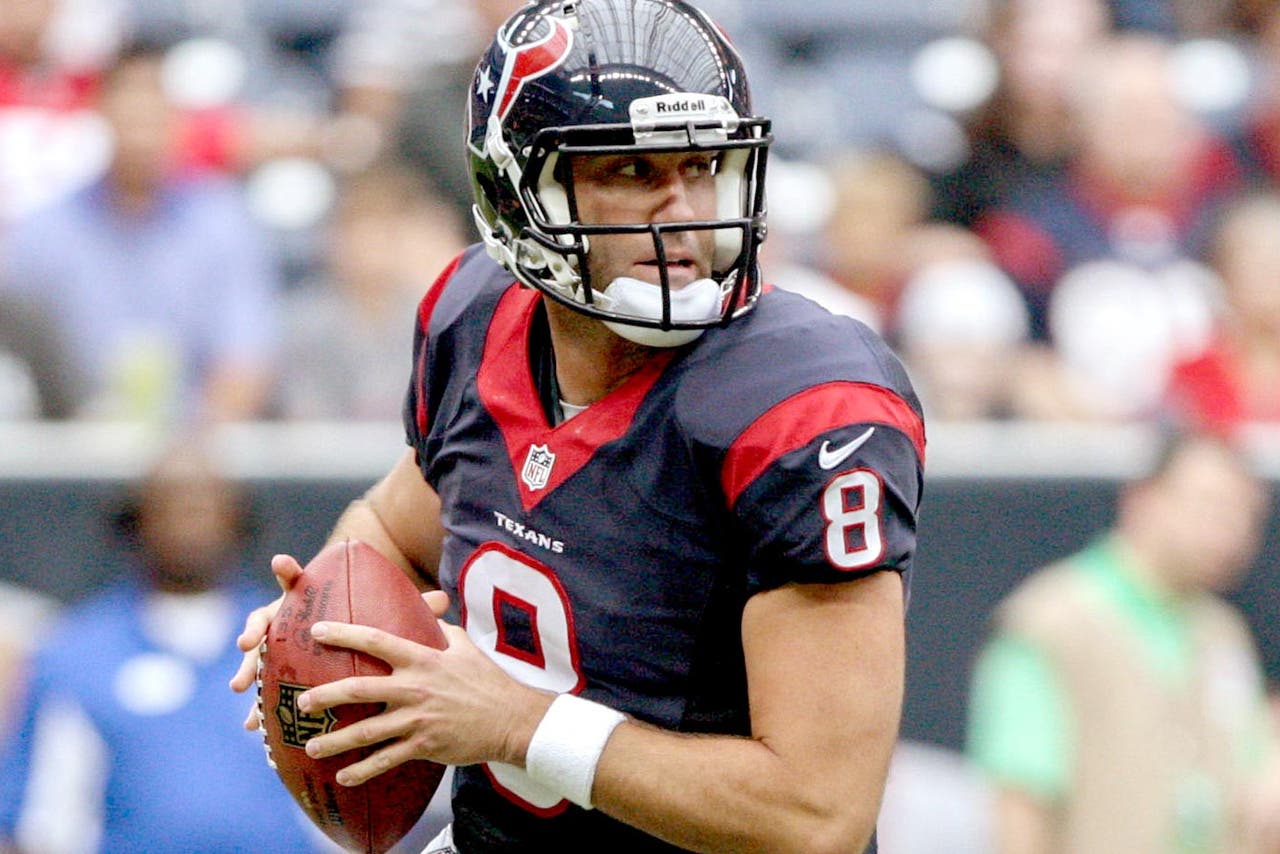 My favorite part of the entire NFL season is the moment before the opening kickoff of the early games on Sunday, Week 1.
Whether you're at a sports bar, at the stadium, or on your couch with your laptop cranked open with 35 minimized fantasy football live scores displayed in beautiful grandeur -- it's euphoric.
No matter what's going on in your life, no matter how many things outside of football are on your mind (wife, kids, job, "Breaking Bad" spoilers) -- everything is OK for that one moment.
Football is back.
It's during this sliver of time that fans of 32 teams convince themselves that their squad -- yes, this is the year! -- is going to be hoisting the Lombardi Trophy six months down the road. Raiders fans find a way to rally around a (reportedly) healthy Darren McFadden and Browns supporters are legitimately excited about Brandon Weeden's improved passing numbers this summer. The Jaguars had a glowing profile in ESPN The Magazine and the Chiefs have all sorts of new blood throughout the organization.
In so many long-suffering NFL cities, the refrain is exactly the same: It's been so bad for so long, but you know what? This is when we turn it around.
Of course, by 1:10 p.m. ET on Sunday, all that optimism is thrown out the window. Reality sets in. A delay of game penalty makes a first quarter third-and-2 a third-and-7, poor punt coverage has the opponent in the red zone before the first Buffalo wing is even eaten, the same left tackle who's been making boneheaded mistakes for the past three seasons is called for holding on a big yardage play ... it's inevitable.
But at 12:58 p.m. ET? The glass is more than half full; it's overflowing. The world is your oyster. Everything's right. Everything's perfect.
Remember to savor that moment this weekend. It might be the happiest you'll be over the course of the next six months.
++++
We'll get to the Week 1 picks in a moment.
Before we do that, let's put some predictions down. Not lame ones (Drew Brees will be good!). Bold ones. At times, I've been very good at these (see: 2012 Baltimore Ravens).
I've also been bad (see: 2012 Dallas Cowboys). I was as high on Robert Griffin III as I was with any rookie quarterback in recent memory last year. I also didn't think Russell Wilson had a shot of making it in the NFL. Seahawks fans remind me of it Every. Single. Day.
So, pin these up on a wall somewhere. Clobber me if I'm way off. It's OK to step out on a limb, as long as you're willing to take the readers' abuse when you're wrong. I'm completely fine with that. Hell, I encourage it.
Here are the Cheat Sheet's 10 Bold Predictions for the 2013 season:
1. The St. Louis Rams will be better than the Seattle Seahawks: Oh, baby. We're coming out swinging. The entire offseason, all we heard about was the 49ers and the Seahawks; Seahawks and the 49ers. Seemingly not a word was said about what the Rams did to their roster. Jared Cook, Jake Long, Tavon Austin, Alec Ogletree. St. Louis led the league in sacks a season ago and the defense only got better. I went back and watched Colin Kaepernick's two games against the Rams last season. A tie in San Francisco and a brutally ugly performance in St. Louis. 0-1-1. Steven Jackson's gone, but I think the Rams' offense got much better with Cook and Austin added to the mix. I also think Sam Bradford is destined for a breakout year. Another guy to watch? Ray Ray Armstrong. Who? You'll soon find out. Rams. NFC West contenders. Book it.
2. The Baltimore Ravens defense will be better in 2013 than it was in 2012: For the price of one Paul Kruger, the Ravens were able to sign veterans Daryl Smith, Michael Huff, Chris Canty, and Marcus Spears. All of those players, with the additions of rookies Matt Elam and Arthur Brown, a healthy Lardarius Webb and All-Pro linebacker Elvis Dumervil will make up for the losses of Kruger, Ray Lewis, Bernard Pollard, Ed Reed, and Dannell Ellerbe. The locker room will be different -- well, entirely different -- and the defense will, too. It'll be better.
3. Matt Schaub (and the Texans) will get over the hump: Put Schaub's numbers up against Brees' from the past five years. Somehow, some way, they're eerily similar. Schaub's been fantastic, and yet, you'd be hard-pressed finding anyone outside of the Texans organization who'd put him in the same breath as Brees, Rodgers, Brady, or any of the other 15 quarterbacks usually listed before him. This is the season Schaub earns the respect. How? By beating the big dogs and winning big games. Houston's my pick out of the AFC and Schaub -- not J.J. Watt or Arian Foster -- is the reason why. More on the Texans in a bit.
4. Rex Ryan will last the entire season: Vegas putting lines out about the over/under on Ryan's job seems premature. Let's see how things play out first. Even if the year goes terribly, Ryan's getting paid for the full season, anyway. Rarely do you see coaches fired midway through a season, as putting a new plan/regime in place actually puts the players' health at risk. Instituting an entirely new culture is an exhausting process that must be built over the course of an offseason. The Jets are going to be bad, but not as bad as everyone seems to think. Rex will last the whole year, and we'll go from there.
5. The Chip Kelly Experiment is an overwhelming … success: I covered the Eagles' first two preseason games and must say that it felt like a regular season atmosphere in Philadelphia. The fans are as invested, curious and excited as they seemingly ever were in the Andy Reid era, and the offense delivered. The defense? It was atrocious Week 1 vs. the Patriots, better Week 2 vs. the Panthers, and just fair against the Jaguars in Week 3. Either way, the entire team has bought in. There's energy, enthusiasm and a belief that this team could be one to worry about. The Eagles are going to be dangerous team, the offense is going to be unpredictable and nasty and the wins will be there. Philadelphia's been slated by most to win 5-7 games with this year serving as a "transitional" one. Garbage. Put 'em down for 8 or 9 and in the thick of the NFC playoff race.
6. Cam Newton will be the best young quarterback in football: Take your Andrew Luck. Have your Russell Wilson. Enjoy your GQ cover boys Colin Kaepernick and Robert Griffin III. I'm rolling with Cam. With the Panthers out of the playoff hunt after a 2-8 start, Newton caught fire, throwing 15 touchdowns to 1 interception, and finishing the year with five wins in the team's last six games. He spent the offseason doing and saying the right things. He led by example and stayed away from the limelight. He matured. Year 3 is always the biggest test. That's where we're at now. The Carolina defense is much better in 2013 than it was in the past two years, and the weapons on offense are there. Go nuts over your other young quarterbacks. I'm all in on Newton.
7. The Chargers and Raiders will sink to new lows: That's saying a lot, I know. It hasn't been pretty for either franchise the past two years, but I think it gets even worse in 2013. San Diego has a new coach and general manager that I'm genuinely high on, but the injury bug has already stung it. I don't see much from the team this year. As for the Raiders … this could be very bad. Like two or three wins kind of bad. The offense is horrific, but the defense could be worse. In four preseason games, the first-unit D gave up scores in 16 of 18 possessions. Brutal.
8. The Indianapolis Colts will take a step back: The Colts were the best story in football a season ago, winning eight more games than the season beforehand, and doing so with a beautiful emotional purpose. They won't be sneaking up on anybody in 2013. I still have questions about the Colts' running game and defense, as well as how well the team will play without Bruce Arians -- both their offense coordinator and interim head coach in 2012 -- roaming the sidelines. Andrew Luck's the real deal and Chuck Pagano is as respected a mind in football, but it's going to be hard to duplicate the magic without all the same pieces in place.
9. The Cowboys will figure it out and win the NFC East: So much has been made about who's calling the plays and who isn't, whether Tony Romo got too much money this offseason, and if the Cowboys botched the NFL Draft by taking a center in the first round. This is all good for the Cowboys. Every season, they're the preseason favorites to win the NFC East, and every season, they start off terribly, figure it out around November, and then bow out of the playoff chase after a shaky Week 17. No one's talking about the Cowboys this year. I like 'em. Dez Bryant's a beast, DeMarco Murray could get it going, and by locking up Sean Lee, there's stability alongside DeMarcus Ware on defense. Everyone's down on the Cowboys this year. Why? Their roster looks darn good to me. I'll take them to win the NFC East if no one else will.
10. The Houston Texans will beat the Atlanta Falcons in Super Bowl XLVIII: I like teams that have tasted the playoffs, gotten through a round or two, and came up short. The Ravens in 2012. The Packers in 2010. The Colts in 2006. I'm all about the squads that got there, but not all the way. This year's teams that fit the profile are Houston and Atlanta. Both teams won playoff games in 2012, but fell short. Both teams improved over the offseason. Are you ready for a Matt Ryan-Matt Schaub Super Bowl? The Matt Bowl? Sure you are. Give me Schaub and the Texans in a 23-20 battle in the Meadowlands on Feb. 2.
Schrager Division Standings (*Denotes playoff team)
Playoffs
AFC Wild Card Round
NFC Wild Card Round
AFC Divisional Round
NFC Divisional Round
AFC Championship Game
No. 1 Houston beats 2. Denver
NFC Championship Game
No. 1 Atlanta beats No. 2 Green Bay
Super Bowl XLVIII: Houston beats Atlanta
Award Predictions
SCHRAGER WEEK 1 CHEAT SHEET TRIVIA QUESTION: Who was the last Buffalo Bills quarterback to beat the New England Patriots on Opening Day? Where did he attend college?
----
Now, that the crystal ball is put away. Let's dig into Week 1's picks.
2012 Record: 153-102-1 (59 percent)
Thursday night
Denver at Baltimore: There's a lot to love about this matchup. Jacoby Jones going up against Rahim Moore seven months after the play that changed both of their lives forever, Elvis Dumervil back in Denver for the first time since FaxGate in March, and Flacco and Manning squaring off once again in front of a national audience. I think the Brandon Stokley storyline could be the one that's getting overlooked. Yep, keep an eye on Stokley in this one. He and Flacco have been jelling in practices, and after being let go to make room for Wes Welker, the man who scored the first touchdown for the Ravens in Super Bowl XXXV is ready to make a difference in Baltimore. I like the Ravens. Underdogs, on the road, and being overlooked by just about everyone. What's new? The Pick: Ravens 27, Broncos 23
Sunday, 1 p.m. ET
New England at Buffalo: I spoke to Bills quarterback Jeff Tuel's father last week and the kid's story is even better than you'd hope for. He was this close to being the first undrafted rookie quarterback to start a Week 1 game since 1950. Alas, it wasn't to be as Buffalo's first-round pick EJ Manuel is recovered from his preseason injury and will start in Week 1. Brady and Belichick are coming to town and won't be stopped. The Pick: Patriots 31, Bills 10
Tennessee at Pittsburgh: This could be a sneaky upset. The Steelers have a banged-up offensive line, a questionable running game, and an aging defense. But I'm never ever ever ever picking Jake Locker over Ben Roethlisberger in a game being played in Heinz Field. Not yet, at least. The Pick: Steelers 24, Titans 20
Atlanta at New Orleans: The old Falcons would have lost this one. The spotlight would have been too bright, Brees would have found a way, and the Superdome noise would have led to a Saints victory on opening day. This is a different Falcons team, though. The monkey is off their backs. They won a big game last year, they tasted the fruits of playoff success, and they won't lose in New Orleans. The Pick: Falcons 34, Saints 24
Tampa Bay at New York Jets: Neither team's had a particularly good August. The best quarterback in Florham Park was Phil Simms' son, Matt, while the Buccaneers were stung by a case of MRSA spreading around the locker room. What's MRSA? Google it. It's no good. Darrelle Revis makes his return to the lineup and should have no problem shutting down whomever the Jets view as their No. 1 wide receiver. Tampa Bay will get the win. Jets fans will light up WFAN airwaves demanding a coaching change. Same old, same old. The Pick: Buccaneers 27, Jets 20
Kansas City at Jacksonville: The Jags are going to surprise some folks this year. They're not quite there yet, but they're sneaky. Kansas City's getting all the preseason hype, but I think the Jags win this one. Name to watch: Cecil Shorts III. The third-year weapon out of Mount Union could be headed towards 100 catches this year. He's that good. The Pick: Jaguars 20, Chiefs 16
Seattle at Carolina: Give me Cam. Get aboard, folks. Do it now before it's all hot and stuffy, and there's no room for your overhead baggage and you're sitting there with a giant iced coffee in your hand and three bags and nowhere to put them and you're furious because the cab driver took the wrong way to the train station and … well, yeah. You get it. The Pick: Panthers 28, Seahawks 23
Cincinnati at Chicago: A lot of preseason hype for the Bengals. "Hard Knocks," two straight trips to the playoffs, and loads of talent on the roster will do that. I can't deny that this team is loaded from top to bottom. I also can't see the Chicago offensive line fending off the Cincinnati pass rush. Another long, long day for Jay Cutler. Alas, there's no J'Marcus Webb to scream at. He was released last week. The Pick: Bengals 23, Bears 20
Miami at Cleveland: Everyone's excited about the other second-year QBs -- but how about Weeden and Tannehill? The former has Norv Turner in his corner and a healthy Trent Richardson behind him. The latter has a fancy new weapon in Mike Wallace. I'm riding with the Browns in the home opener. Look for Ray Horton's D to make some plays and for Cleveland to start the year 1-0. Don't get too excited, Browns fans. It's one week. The Pick: Browns 20, Dolphins 17
Minnesota at Detroit: The Lions were dreadful last season. Losers of eight straight to close out the season, they finished the year 4-12 just 12 months after their first trip to the playoffs since 1999. I'm of firm belief that they've righted the ship this offseason. That defensive line is going to finally come together and the Vikings will be the first team to find that out. The Pick: Lions 31, Vikings 17
Oakland at Indianapolis: I'm almost scared to watch this one. The Raiders have had a worse 2013 preseason than any team in recent memory. On paper, the roster doesn't look ready to compete with the league's other 31 teams. I'm not doing flips over the Colts, but they will blow Oakland out Week 1. Hide your eyes, Raiders fans. The Pick: Colts 35, Raiders 7
Green Bay at San Francisco: Candlestick was a house of horrors for the Packers last January, when Colin Kaepernick did whatever he pleased, kissed his biceps and led the 49ers to a decisive Saturday night divisional round victory over Green Bay. The Packers' coaching staff has likely watched that game 100 times over the past six months. Maybe more. I think they'll come with a game plan and be ready. I think Kaepernick still gets the best of them. The Pick: 49ers 34, Packers 24
Arizona at St. Louis: The Cardinals offensive line had me worried even before No. 7 overall pick Jonathan Cooper fractured his leg and was lost for the season. The Rams will get to Carson Palmer early and often. St. Louis is my big sleeper pick. To do anything in the NFC, they have to win the games they're actually favored in. Something to watch -- Bruce Arians' Kangol hat. Not quite Samuel L. Jackson, but pretty darn cool. The Pick: Rams 24, Cardinals 20
Sunday Night
New York Giants at Dallas: Any early reviews on Carrie Underwood's version of the SundayNight Football song? I'm a fan of Carrie's. Strong, independent, incredibly talented. Sort of like her ex-boyfriend, the Cowboys' quarterback. Give me Dallas in a fun one Sunday evening. The Pick: Cowboys 34, Giants 27
Monday Night
Philadelphia at Washington: I can't wait for Robert Griffin III to start Week 1 just so I don't ever have to hear about Robert Griffin III starting Week 1 again. I'm more excited for Michael Vick running the Chip Kelly offense. The Eagles' wisely kept Vick running the up-tempo scheme under wraps throughout the preseason, but I woudn't be surprised if we see some nifty, no-huddle come Monday night. Philly's not winning the Super Bowl this year, but they're going to be an awfully entertaining team to watch each week. I'm just not sure about the defense. That's kind of a big deal. The Pick: Eagles 38, Redskins 28
Houston at San Diego: When I sat down with Watt earlier this summer, he said he was "itching" for Week 1 and expects to feel like a dog let out of a cage when the game begins. I'm horrified just typing that. Houston's no joke this year and Watt could make a run at the Defensive Player of the Year award. They'll get the job done in a late Monday night game I will be watching with various stimulants (coffee, Red Bull, 5-Hour Energy) inside of me. Giddy up. The Pick: Texans 30, Chargers 16
WEEK 1 CHEAT SHEET TRIVIA ANSWER: Drew Bledsoe, like Jeff Tuel a former Washington State University player, is the last quarterback to beat the New England Patriots in a Week 1 game. He did so in 2003.
---
---