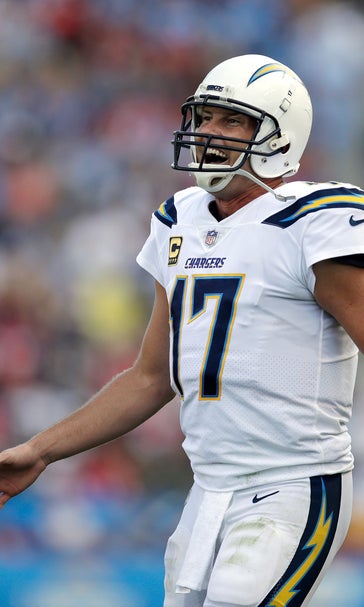 Rivers wants Chargers to start stringing together wins
October 1, 2018
COSTA MESA, Calif. (AP) — A 2-2 record after the first quarter of the season is not where Philip Rivers thought the Los Angeles Chargers would be, but it is a vast improvement compared to the past couple seasons.
The Chargers got to .500 with a 29-27 victory over the San Francisco 49ers on Sunday. It is the first time since 2015 they are even after four games and better than their 0-4 start to last season.
If the Chargers are going to start stringing together wins, the next two weeks present a prime opportunity. They host Oakland (1-3) next Sunday and then are at Cleveland (1-2-1) on Oct. 14. The Chargers then have an Oct. 21 game at London against Tennessee (3-1) before their bye week.
For a team that won six of its final nine games last season, the Chargers know that they need to position themselves well before November to make a run for their first postseason berth since 2013.
"We've got to go. We can't keep going win for loss the whole way there. We know what that does — that usually leaves you on the outside looking in," said Rivers, who was 25 of 39 for 250 yards with three TD passes and an interception. "Now we have a chance to win two in a row next week with the Raiders coming in."
Rivers did end up reaching a couple milestones in Sunday's game. It marked the 200th game of his career and he passed John Elway for the eighth-most passing yards in NFL history. Rivers has 51,504 yards in 15 seasons.
Coach Anthony Lynn and Rivers have talked all year about the versatility of the offense, and they showed it off on Sunday. Rivers completed passes to eight players while running backs Melvin Gordon and Austin Ekeler averaged 5.6 yards per carry against a Niners defense that was 10th against the run and allowing only 97 yards per game.
"I think last year when we were rolling, we were balanced. We've been that this year for the most part," said Rivers who has thrown for three or more touchdowns in five of the past six games.
BEATHARD MAKES STRIDES
San Francisco's C.J. Beathard showed improvement from his rookie season. The second-year quarterback was 23 of 37 for 298 yards with two touchdowns and two interceptions. His 82.9 passer rating is his second highest in six career starts.
"I felt a lot more comfortable being out there in control. I definitely felt a lot more comfortable than last year," he said.
Beathard's best throw of the day came on an 82-yard touchdown to George Kittle, where he found a wide open Kittle at the at the Niners' 40. Kittle, who was also a teammate of Beathard's at Iowa, caught it in stride and was able to outrun Chargers' defenders to the end zone.
GROUND GORDON: Most of Gordon's big plays the first three games were as a receiver, but he had his first 100-yard rushing game of the season on Sunday with 104 yards on 15 carries. He had two carries of 15 yards or more, including a 34-yarder to the San Francisco 4 during the fourth quarter that helped set up Sturgis' go-ahead field goal.
"I think I had some good blocks, made some guys miss and guys kind of got lazy on the tackles, and you got to make them pay for it," Gordon said.
It is the sixth 100-yard rushing game of Gordon's career and his first since last Oct. 29 against New England.
GROUNDED: It was a bad day for San Francisco's running game and its run defense. Matt Breida came in tied for the league lead in rushing but he was held to 39 yards on nine carries.
The defense was 10th against the run and allowing only 97 yards per game but allowed a 100-yard rusher for the first time in 11 games.
KICKING WOES: Sturgis made three field goals, but he also missed two extra points and a 54-yard field goal attempt. Lynn wasn't immediately saying that Sturgis' job is in danger, but it wouldn't be a surprise if the team brought in kickers for tryouts this week.
The Chargers have missed eight PATs since the start of last season, which is the most in the league.
TACKLE TROUBLES? The starting left tackles for both teams ended up getting injured during the first half and did not return. San Francisco's Joe Staley suffered a knee injury midway through the second quarter and Los Angeles' Russell Okung strained a groin on the last offensive play of the first half.
---
---