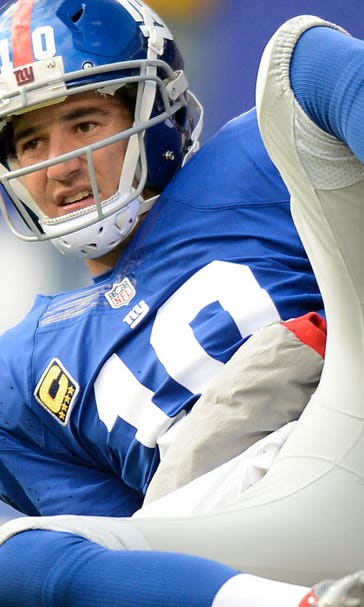 Report: Eli Manning, Giants named in bogus memorabilia suit
January 30, 2014

A lawsuit filed Wednesday in New Jersey says the New York Giants and several players, including quarterback Eli Manning, routinely passed off fake "game-worn" items as the real thing, according to the New York Post.
It even says a Manning helmet he supposedly wore in the 2008 Super Bowl victory over the Patriots and on display in the Pro Football Hall of Fame in Canton, Ohio is bogus. 
Probably the most explosive part of the report is an apparent email exchange between sports collector Eric Inselberg and equipment manager Joe Skiba that seems to confirm the knowledge of fake Eli Manning gear on the secondary market.
From the Post:
"Hey Joe, my buddy was offered an eli game used helmet and jersey. Are these the bs ones eli asked you to make up because he didnt want to give up the real stuff?" Inselberg writes in the exchange.
Skiba -- replying from account 'œjskiba@giants.nfl.net' --€" writes, "BS ones, you are correct."
Among those named in the suit are Manning, the Giants, Inc., CEO John Mara, team lawyer William Heller, CFO Christine Procops, locker-room manager Ed Wagner Jr., and equipment managers Joe and Ed Skiba, and even the team's dry cleaner, according to the Post.
Actually, Barry Barone, the team's dry cleaner since 1982, is alleged to have been a frequent accomplice, using his machines to make unused equipment appear to look game-worn and even using scissors to cut up jerseys so he could make them appear to have been repaired.  
The claims stem from a civil-racketeering, breach-of-contract, malicious-prosecution and trade-libel suit by sports collector Eric Inselberg, who was indicted himself in 2011 for selling fake used jerseys. Federal prosecutors dropped that case in May 2013, telling the judge "€œprosecution was no longer appropriate in light of some new facts that were pointed out to us by defense counsel."
In that case, Inselberg's lawyers claimed that Giants staffers lied to a grand jury about their dealings with Inselberg in a bid to cover for the team.
Jonathan Tisch, co-owner of the NY Giants, said Thursday on WFAN radio: "The Giants will defend themselves and I will not comment on any pending litigation."
---
---