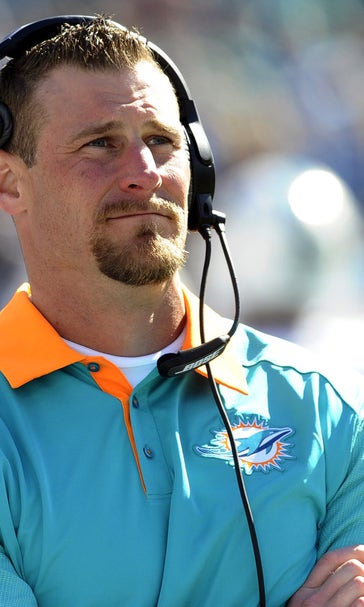 Report: Dolphins coach Campbell says team lacks leadership
December 26, 2015

It's been a disappointing season in Miami, with the Dolphins sitting at 5-9 and in last place in the AFC East, and interim coach Dan Campbell thinks he knows why: a lack of leadership in the locker room.
Campbell, who replaced Joe Philbin after a 1-3 start for a team that many picked to challenge the Patriots this year for the division title, didn't mince words Friday when telling the Sun-Sentinel what he believed the team was missing this season.
"I think that just overall leadership is something that we've got to get better at," Campbell told the paper.
"We do have leaders in that locker room. We've got good guys. We've got guys that work, but just as a whole, for those guys to take ownership of how they handle their business and go about things and what they accept and don't accept -- that's where it's got to come from, and that's the next step. That's the step we've got to get to."
Player performance and injuries undoubtedly have been issues as well for the Dolphins, who have struggled all year to live up to their relatively lofty expectations. But with Philbin gone -- and followed shortly thereafter by defensive coordinator Kevin Coyle and then offensive coordinator Bill Lazor -- Campbell said he's trying to create a culture of player accountability that will benefit the team going forward.
"To take that next, uncomfortable step to where you challenge your teammates on what you think is right and what's wrong, and for me that answer right now, if you're saying right now, what do you do?
"You lead the leaders," Campbell said. "That's what I'm charged with. That's what I'm trying to do. I'm trying to get those guys to somewhat open their eyes to that."
---
---