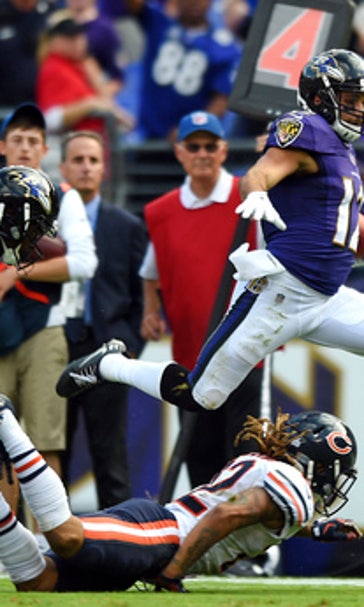 Ravens specializing in long kick returns and effective kicks
October 18, 2017

OWINGS MILLS, Md. (AP) During an up and down season for the Baltimore Ravens, getting a solid performance by their special teams has been the one steady constant.
The accuracy of place kicker Justin Tucker and precise punting of Sam Koch is nothing new. They're both former Pro Bowl starters, so their effectiveness is almost a given.
The kick return units have been equally impressive. Bobby Rainey and Michael Campanaro have conjured memories of Jacoby Jones, who wowed Ravens fans from 2012-14 with his ability to take it to the house.
In an overtime loss to Chicago last week, Rainey and Campanaro came close to offsetting a poor outing by Baltimore's offense and defense. Rainey returned a kickoff 96 yards and Campanaro tied it with 1:37 left in regulation by taking punt 77 yards for a score.
It was the first time in team history the Ravens took a kickoff and punt for a touchdown in the same game.
Throw in a 50-yard field goal by Tucker and Koch's 55-yard average for seven punts, and it was just another banner day for special teams coach Jerry Rosburg and his well-oiled unit.
''They are probably the best special teams unit in the league,'' Vikings coach Mike Zimmer said Wednesday. ''I know Jerry Rosburg does an unbelievable job, always has. They've got the two best specialists in the league. They returned a kick for a touchdown, a punt for a touchdown. They have great cover units.''
Minnesota (4-2) is gearing up to limit the big plays Sunday against the Ravens (3-3).
''That will be a big test for us to be able to match up with their special teams,'' Zimmer acknowledged.
The Ravens rank first in the NFL with a 31.9 yards per return average on kickoff returns. Since John Harbaugh took over in 2008, Baltimore ranks first in the league with a 25.3 average.
The latest big return was one of the strangest. Rainey tripped over a teammate, bounced back up and ran to the end zone for his first NFL touchdown while the bewildered Bears wondered what was going on.
''We should have our own guy tackle our guy every time,'' Harbaugh joked. ''We lulled them to sleep, I guess you'd say.''
Most times, though, the Ravens effectively return kickoffs in a more conventional manner.
''It's the scheme, and the guys in that scheme,'' Rainey said Wednesday. ''They do a good job of blocking, and not just on kickoff returns. They do it on punt returns, too. Special teams are very important to us, so we try our best to get it right.''
Jones took back four kickoffs for TDs with the Ravens and added a 108-yarder in the Super Bowl. Rainey is not yet ready to be considered the heir apparent, but he's certainly earned the right to stick around after being signed to the roster in the days leading up to Sunday's game.
''Jacoby and I are two different players. Jacoby was way faster,'' Rainey said. ''I'm more of a downhill type of guy. But that works for me.''
Drafted in the seventh round of the 2014 draft, Campanaro was sidelined by a variety of injuries in his first three seasons. He played in only 11 games over three seasons before getting healthy - and finally contributing - this year.
He averaged 26 yards on five punt returns Sunday. For the season, he has 14 returns for 193 yards, nine receptions and three times for 14 yards.
''Michael has had battles with injuries that have really plagued him throughout his tenure here,'' Harbaugh said. ''But to see him step up now and start making those plays -that punt return was a huge play in the game. He ran it exceptionally well. Really, all the punt returns, he did a good job. It was good to see that.''
Notes: DT Brandon Williams (foot) returned to practice Wednesday but it was uncertain if he would be ready Sunday after missing four straight games. ... CB Maurice Canady (knee) practiced for the first time Wednesday. He's been out since the preseason.
---
For more NFL coverage: http://www.pro32.ap.org and http://www.twitter.com/AP-NFL.
---
---