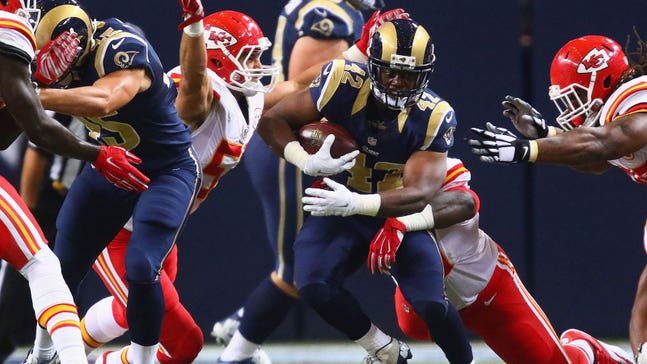 Rams RB Trey Watts suspended indefinitely for violating NFL substance abuse policy
Updated
Mar. 4, 2020 8:22 p.m. ET

ST. LOUIS (AP) -- St. Louis Rams backup running back Trey Watts has been suspended indefinitely for violating the NFL's substance abuse policy.
It's the second suspension this fall for Watts, who was out the first four games from a penalty handed down in late May.
Coach Jeff Fisher said he wouldn't deal with Watts' future with the franchise until the offseason. For now, the Rams are keeping a roster spot open.
Fisher said the second violation took place before the first suspension began. Fisher also said Watts was "on the road to recovery."
"It ends up being another positive (test)," Fisher said. "Unfortunately we'll lose him for the remainder of the season, but emotionally, psychologically and physically he's doing good."
The 24-year-old Watts made his season debut Oct. 25 and had a special teams tackle against the Browns. He was inactive last week against San Francisco after Tre Mason returned from an ankle injury.
The Rams also have Benny Cunningham at running back for depth behind prolific rookie Todd Gurley.
"Guys have got to be mindful and cognizant of what they do," Fisher said. "There's no loopholes, the league's not messing around with it. We don't like the decision, but we have to respect it because it's uniform across the league."
Watts signed with the Rams as an undrafted rookie free agent in May 2014 out of Tulsa, where he was just the fourth player in school history to rush for 1,000 yards in two seasons.
---
---