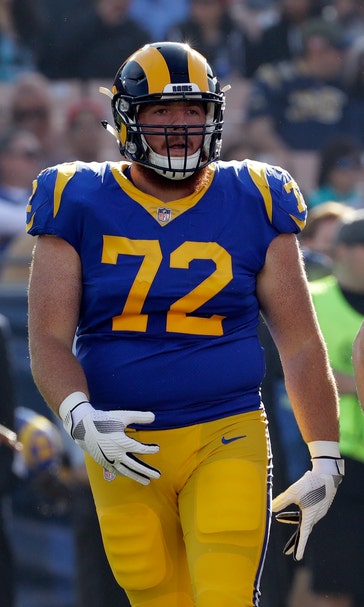 Rams practice squad C Aaron Neary arrested on DUI suspicion
September 17, 2018
THOUSAND OAKS, Calif. (AP) — Aaron Neary, a center on the Los Angeles Rams' practice squad, has been arrested on suspicion of driving under the influence and damaging property.
The Simi Valley Police Department said it received several calls about an erratic driver who had hit a bus stop sign, mailboxes and trash cans on Sunday night, about two hours after the Rams' victory over the Arizona Cardinals.
The police say they stopped Neary in the described car, and he had a blood-alcohol level of .17 percent, more than double the legal limit. Neary was arrested and booked at the Ventura County Sheriff's Office's East County Jail.
Neary informed the Rams about his arrest early Monday morning, coach Sean McVay said. Neary had attended the Rams' win at the Coliseum, standing on the sideline.
"I could tell that he felt horrible about the decision, and we really used it as an opportunity," McVay said. "Let's learn from this. Let's look at ourselves critically. Let's use the resources at our disposal, with the way that Uber is and the way that Lyft is, and different things that we can utilize to avoid some of these circumstances. Thank goodness nobody was hurt."
McVay indicated the Rams aren't likely to cut ties with Neary, a third-year NFL pro from Eastern Washington who spent most of last season with the Rams.
"I think you want to try to help him work through something like this, as opposed to having severe consequences where he's not part of it," McVay said. "Now, different acts and things like that do dictate a different response. (But) this is something that, No. 1, thank goodness no one was hurt, and then No. 2, let's work through this. Let's use this as an opportunity for our whole team, our whole organization to learn from, and hopefully let's not make these mistakes again."
Neary made his NFL debut as Los Angeles' starting center in the regular-season finale while the Rams rested most of their starters for the playoffs. He was waived Aug. 31 and re-signed to the practice squad.
Neary was on the Philadelphia Eagles' practice squad in 2016. He was a second-team FCS All-American in his senior year at Eastern Washington, the school that also produced Rams receiver Cooper Kupp and linebacker Samson Ebukam.
---
---