Rams backing Bradford heading into a make-or-break season
BY Alex Marvez • August 15, 2014
EARTH CITY, Mo. -- Pick the cliché.
Make or break. Now or never. Do or die.
They all apply to Sam Bradford.
The St. Louis Rams thought they were getting their first franchise quarterback since Kurt Warner when drafting Bradford with the No. 1 overall pick in 2010. Four seasons later, Bradford has yet to fulfill that lofty expectation for a variety of reasons.
There were the injuries that include a season-ending torn anterior cruciate ligament suffered in Week 7 of the 2013 campaign. A shaky offensive line. Even shoddier wide receivers. Three different coordinators in his first three NFL seasons that disrupted offensive continuity. And the growing pains that always come for young passers.
Combine these factors and the Rams could very easily have decided to seek a replacement during the 2014 offseason. All of the top college prospects – most notably future first-rounders Blake Bortles, Johnny Manziel and Teddy Bridgewater – were available with St. Louis having the Nos. 2 and 13 overall selections in the draft.
The Rams did add a quarterback, but it was a sixth-round developmental project in Southern Methodist's Garrett Gilbert. The front-office triumvirate of head coach Jeff Fisher, general manager Les Snead and executive vice president/chief operating officer Kevin Demoff ultimately proved its pre-draft support of Bradford wasn't a smokescreen.
"It means a lot," Bradford said earlier this week before a training camp practice at Rams headquarters. "I have a great relationship with Les, coach Fisher and Kevin. They were very open throughout the whole process.
"I was very confident going into the draft that I was still the guy. They had made that very clear. But to see the draft come and unfold the way it did, it means a lot knowing they have that much confidence in me."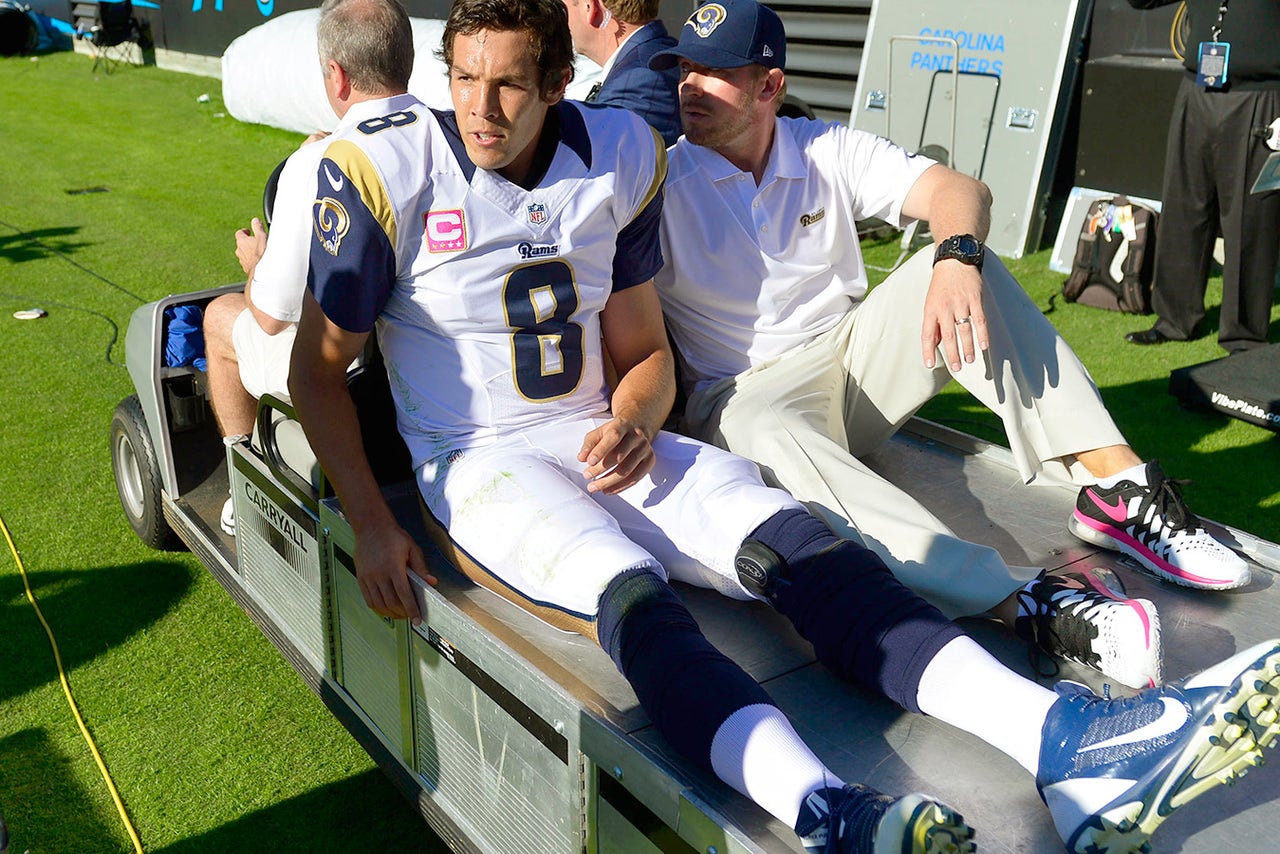 Sam Bradford was having his best year when a torn ACL ended his 2013 season.
Such confidence isn't blind.
Bradford, 26, was off to his best start yet in 2013 with 14 touchdown passes and four interceptions. At no prior point in his NFL career had Bradford thrown for three scores in back-to-back games as he did in Week 5 and 6 victories over Jacksonville and Houston. Bradford also looked sharp against Carolina's standout defense until his left knee was violently twisted on a sideline tackle by then-Panthers safety Mike Mitchell.
"I think if you conservatively project (Bradford's) numbers across 16 games, the numbers would have been pretty impressive," Fisher said.
When Bradford went down, the Rams did the same. St. Louis lost five of its next six games under backup Kellen Clemens and once again faded in the rough-and-tumble NFC West.
"To go down in Week 7 and not get to finish out the year and just see what our potential would have been last year was extremely frustrating," Bradford said. "I think we had figured out the direction we wanted to go. We had found some things that were working for us."
The Rams became confident Bradford would make a full recovery during an exhaustive rehabilitation process. Bradford said he turned the corner last spring "when I got back on the field dropping back and throwing. I knew everything was going to be OK and I was going to be ready to go."
"He looks as good as an athlete as I've seen him here," Snead said. "I give kudos to our training staff. It was April and he was dancing around on those (exercise) balls and things like that. I was like, 'Wow – this guy came off an ACL?' "
The Rams still were conservative in their approach with Bradford's return to safeguard against setbacks. For example, he didn't participate in consecutive sessions during the team's offseason practices. Bradford, though, made up for lost time when throwing to wide receivers who joined him for private workouts in his home state of Oklahoma last month before training camp opened.
Bradford hadn't missed a first-team snap during the preseason until this year and, after being held out of the exhibition opener against New Orleans, is set to make his 2014 debut Saturday versus Green Bay.
"I'm excited just to get back out there with the guys and see some live action for the first time and prove to myself and everyone else that nothing has changed," said Bradford, who is expected to play for about one quarter.
"My knee is better than ever. I'm going to be able to take a hit and be fine and move on down the road."
Bradford must now prove the Rams aren't at a dead end with him under center. There are two years remaining on Bradford's contract, which was the biggest rookie deal in NFL history at six years for $78 million with $50 million guaranteed. If things don't work out in 2014, St. Louis could cut ties with Bradford in the offseason to pursue another quarterback without a crippling salary cap hit.
The Rams are optimistic they won't have to consider that option. Chock with young skill-position players who generate buzz based primarily on potential rather than past production, Snead and Fisher have surrounded Bradford with his best supporting cast to date. The offensive line will be bolstered by the return of two veterans from leg injuries (left tackle Jake Long and center Scott Wells), the re-signing of right guard Rodger Saffold and addition of rookie left guard Greg Robinson with the second overall pick.
Bradford says having a third consecutive season working with coordinator Brian Schottenheimer is a huge boost as well. Rams running back Zac Stacy refers to Bradford as his unit's "general" because he is so comfortable commanding the huddle.
"When you're bouncing around from offense to offense, it's kind of tough to take ownership sometimes because I'm still trying to learn things and figure things out on the fly," Bradford said. "It's hard to coach guys (to do) exactly what I want when I haven't seen the play run or succeed. Going into Year 3, I have a great feeling of what we're trying to do on offense and what Schotty expects me to do. It's a lot easier for me to vocalize those things."
It's also not like Bradford and Co. must light up the scoreboard every game for St. Louis to win. The offense should receive ample support from a potentially dominating defense that embraces the #sackcity hashtag being pushed by the club's marketing department on Twitter. Snead said the aggressive nature of new coordinator Gregg Williams' scheme already has forced Bradford to get rid of the football quicker in practice, which is a healthy exercise that should carry over into games.
"Sam is one of those guys that has a chance to be really, really good because it matters to him," Fisher said. "He spends all available time working at this job. From a leadership standpoint, he's the guy in the huddle now. He was last year. It's really good to have him back."
It's now on Bradford to help get the Rams back in the playoffs for the first time in a decade or risk being elsewhere in 2015.
Alex Marvez and co-host Gil Brandt conducted all Rams interviews on SiriusXM NFL Radio
---
---