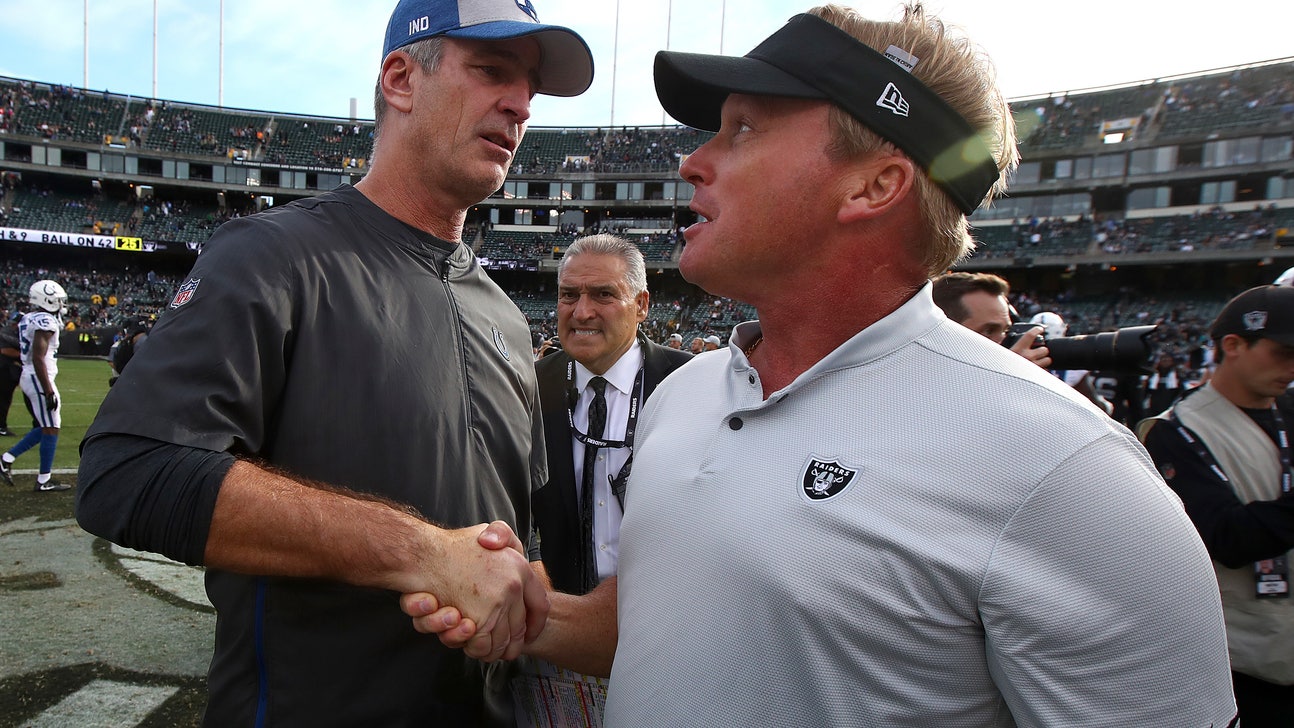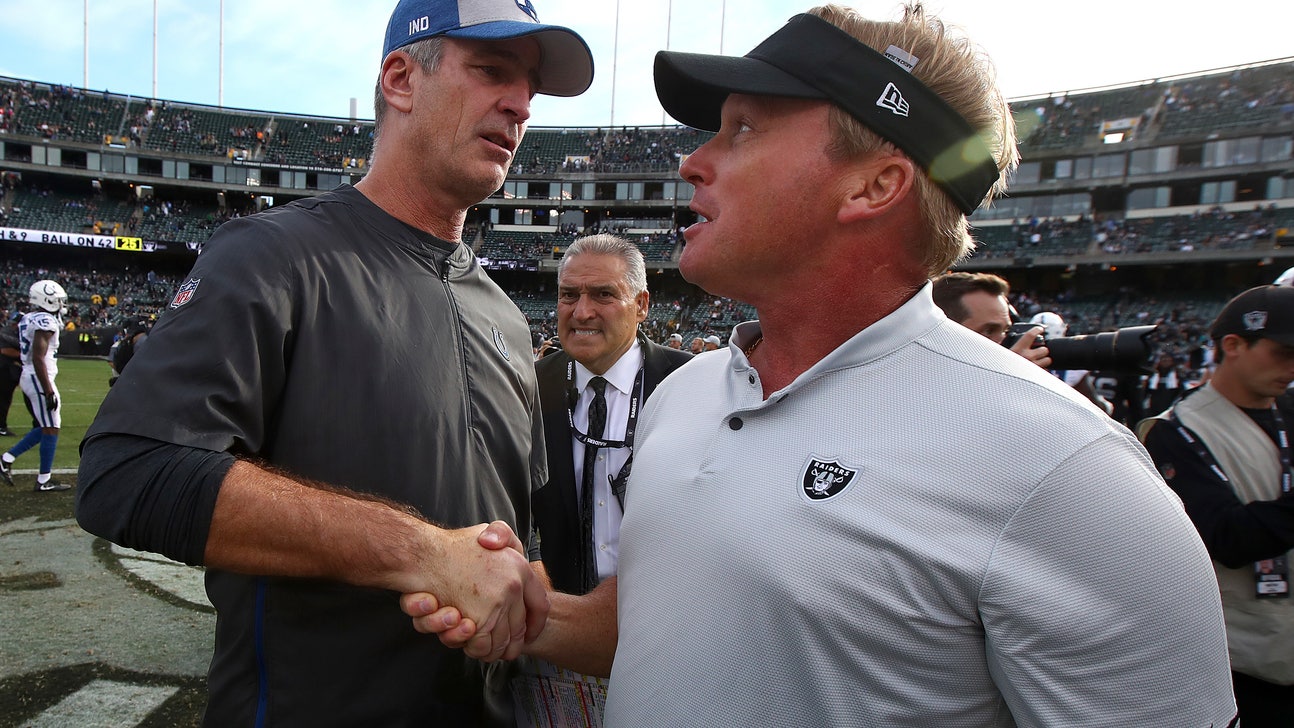 Raiders still plagued by bad defense
Updated
Mar. 4, 2020 6:32 p.m. ET
ALAMEDA, Calif. (AP) — A week off helped cure the Oakland Raiders offensive woes even with Amari Cooper and Marshawn Lynch not around.
The defense still is plagued by all the problems that have been evident all season and a major reason why the Raiders are such a big disappointment in Jon Gruden's first year back as coach.
The Raiders (1-6) allowed Marlon Mack and the Colts to run for 222 yards, gave up three touchdown passes from Andrew Luck to his trio of tight ends and failed to generate a sack or takeaway in a 42-28 loss that came after what players and coaches felt was the best week of practice for the defense all season.
"Well it just wasn't good enough," Gruden said Monday. "I'm not going to sit up here and say much more. We have to do a better job collectively. Getting off blocks, staying in the right gap and making physical tackles and knocking them backward. Those areas, it's hard to practice live. It's hard to practice against the exact look you're going to see at full speed, as you know. But we are practicing well. We are practicing hard."
The results just aren't there. The Raiders have allowed their most points (218) through seven games since 1961 and rank third worst in the league in third-down defense (49.4 percent), second worst in scoring defense (31.1 ppg), last in run defense (144.7 ypg) and last in sacks (seven).
Oakland even made several changes in personnel with defensive backs Gareon Conley, Karl Joseph and Nick Nelson; and linebackers Jason Cabinda, Kyle Wilber and Nicholas Morrow all getting their most extensive playing time of the season as searches for answers.
But that didn't help at all as the Raiders allowed 42 points for the second straight game at the Coliseum.
"We're looking for more consistency. We're looking for somebody to step up, not only on game day but during the week," Gruden said. "We're still working through who are the best corners, who is the best combination for us in every situation. Hopefully we can settle on it soon."
The one positive to take away from the game was the performance of the offense in a week after the team traded Cooper and placed Lynch on injured reserve, knocking out the No. 1 receiver and lead running back.
Playing behind a healthier offensive line that provided much more time than it did the previous game in London on Oct. 14 against Seattle, Derek Carr had perhaps his best game yet under Gruden.
Carr threw three touchdown passes, ran for a fourth score, completed 17 straight passes at one point and perhaps most importantly, committed no turnovers for just the second time this season.
"I think we've tried to be creative. I think anyone will tell you that the injuries on the offensive line, multiple injuries at left guard, right tackle, can stymie you, it can make things tough on everyone," Gruden said.
"An 11-hour flight can make things doubly hard. I'm not going to say anything other than yesterday we had a good rhythm, we were able to finish some drives. I think Derek Carr showed you what kind of quarterback he is when he gets legitimate pass protection and gets some balance. That was exciting."
The offense got a boost in the running game with Doug Martin playing his best game yet in place of Lynch. Martin ran for 72 yards on 13 carries and caught two passes for 17 yards in his most prolific game since 2016.
But Martin also lost a key fumble in the fourth quarter with Oakland trailing by seven, sealing another loss.
"He's a good player," Gruden said. "He had the fumble. Obviously, that will be remembered by a lot of people and rightfully so. But, what a performance he had yesterday. He picked up a couple blitzes. He ran with authority. He can catch the ball. He has a great stiff-arm, still. He still has a lot of life in his legs."
NOTES: Gruden is hopeful LG Kelechi Osemele could return from a knee injury this week. ... OL Backup OL T.J. Clemmings will go on IR soon with a season-ending knee injury. ... DT Eddie Vanderdoes could return this week from a major knee injury in last year's season finale.
---
---