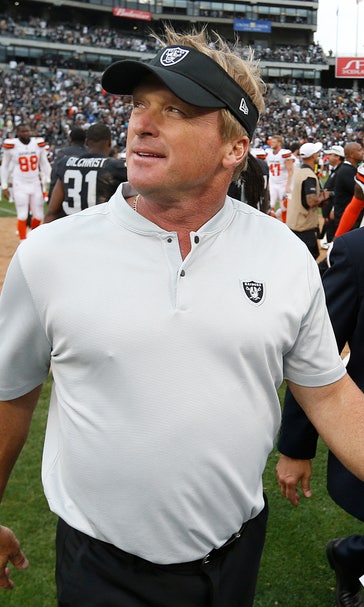 Raiders steal game from Browns with 45-42 OT win
October 1, 2018
OAKLAND, Calif. (AP) — As much as the Oakland Raiders felt like they might have let a couple of winnable games slip away to start this season, they might have stolen one away from the Cleveland Browns to spoil Baker Mayfield's first career start.
Derek Carr led a game-tying drive in the final seconds of regulation after a replay review took away a Cleveland first down and the Raiders got their first win since Jon Gruden's return to the sideline by beating the Browns 45-42 on Matt McCrane's 29-yard field goal in overtime Sunday.
The Raiders (1-3) blew second-half leads in each of the first three games and didn't trail any of them for a single second in the first three quarters before erasing deficits of 14 points and eight points to beat the Browns (1-2-1) and give Gruden his first win since 2008.
"We haven't fixed anything yet," Gruden said. "We have a lot of things we have to get better at. I think it is pretty obvious. We played some good football for stints."
The Raiders rode a roller-coaster in this game, falling behind 28-14 in the third quarter before rallying for a 34-28 lead in the fourth, thanks in part to two fumbles by Mayfield.
But the Browns answered with two more TDs and the Raiders appeared done when Carr threw two straight incompletions from the 9 to turn the ball over on downs with less than two minutes to play.
Carlos Hyde ran three times and appeared to have a first down that would have run out the clock only to have it overturned when officials ruled his elbow touched the ground short of the marker.
"I definitely thought that we had the first down," Hyde said. "But they changed the call. We got to get it right there. If we're going to win the game, we got to get that one."
The Raiders took over at their 47 with 1:28 to go and Carr led a game-tying drive reminiscent of 2016, when he had seven fourth-quarter comebacks. After failing to deliver late in the first three games this season, Carr threw a 7-yard TD to Jared Cook with 30 seconds left and then added the game-tying 2-point conversion to Jordy Nelson.
Carr finished with 437 yards passing and four TDs.
"The start of this year and half of this game has been some of the hardest stuff I've ever had to deal with, because it's frustrating things," Carr said. "I feel the best — physically, mentally, all of those things that I ever have. But then I screw something up somewhere along the way. I'll tell you this though, one thing I just said and looked to our guys and said fight."
Here are some other takeaways:
BAKER'S DAY
Mayfield threw for 295 yards and two TDs in his first career start but also had two interceptions and lost two fumbles. Those turnovers helped prevent him from becoming the third Browns QB out of 30 to win his first start with the team since the franchise returned in 1999.
"He's going to learn," coach Hue Jackson said. "He's got football intelligence. Today, as he goes through it, he'll understand, and we've talked about it a little bit, just how important those things are. You got to be team-protecting in certain situations, but you don't want to rein him in, because I like the things he's doing."
BEAST MODE
As the Raiders struggled to move the ball early in the game, Marshawn Lynch let his teammates know it on the sideline. He then responded with his biggest game in years, running for 130 yards in his most productive game since 2014 and inspiring his teammates by running through several tackles.
"He was saying basically that we're putting the game on our backs," left tackle Kolton Miller said. "They're running behind us, it starts with us, he gave us really encouraging words. He said 'I'm going to run with y'all' and that really boosted us."
CHUBBS RUNS
Browns rookie Nick Chubb scored on runs of 63 and 41 yards, while carrying only three times all day. His 63-yard TD run was the longest by a Browns rookie since Lee Suggs had a 78-yard score on Dec. 28, 2003, and the third-longest run in the NFL this season. Chubb is also the first Browns rookie RB to surpass the 100-yard mark since Terrence West on Sept. 7, 2014.
MCCRANE'S DAY
The Raiders were forced to turn to their third kicker this week when Mike Nugent was placed on IR with a hip injury after taking over for the previously injured Eddy Pineiro. They turned to rookie McCrane, who was initially signed this spring by Arizona as an undrafted free agent after setting the Kansas State record for career FGs. McCrane missed his first field goal from 47 yards and then a 50-yarder on the opening possession of OT before connecting on the game-winner.
---
---