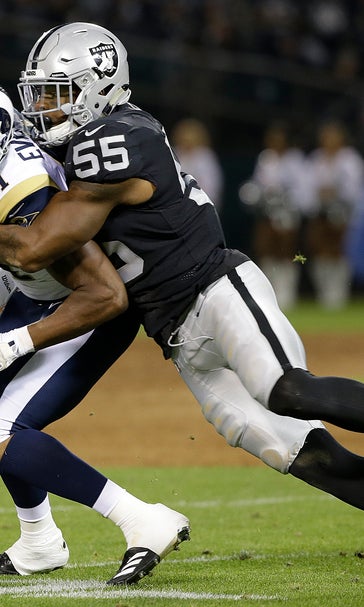 Raiders linebacker Marquel Lee steps up in training camp
August 15, 2018
NAPA, Calif. (AP) — Marquel Lee wasn't quite ready to end the revolving door at middle linebacker for the Oakland Raiders when he was thrown into the starting lineup to start his rookie season last year.
With a year of experience and a defensive scheme that better suits his game, Lee is doing his best to seize that role this season even after the Raiders brought in veteran Derrick Johnson to be the likely starter.
Lee has spent most of training camp as Oakland's middle linebacker in the base defense and was one of the team's best defensive players in the exhibition opener last week against Detroit when he had three solo tackles and two assists in just 15 snaps.
"There is a guy that really stepped up," coach Jon Gruden said. "He had a great game. He's physical. I think he's more and more of a complete linebacker. He's getting more comfortable in pass coverage. I think he's a presence in the middle of our defense right now. It's something that is not going unnoticed with his teammates and coaches."
Lee showed signs of being stout against the run when he started the first five games last year as a fifth-round draft pick. But he struggled in coverage and the Raiders brought in veteran NaVorro Bowman to take over as starter in Week 6 and Lee played only sparingly the rest of the way.
But Lee looks like a different player in year two and Gruden said he sees the potential for him to become a three-down linebacker. Lee said he feels much more confident in coach Paul Guenther's defense than he did last year when Ken Norton Jr. was coordinator.
"I'm playing faster," Lee said. "I'm seeing things faster and diagnosing things and playing with more instinct. I'm more comfortable in the defense. I know where I need to be, which allows me to fit the run well and just make plays."
The Raiders signed veteran Derrick Johnson in May with the thought of making him the starter but Lee has gotten more time so far in camp with Johnson playing a limited role in sub packages.
Finding a middle linebacker has been difficult for Oakland in recent years.
The Raiders drafted Rolando McClain in the first round in 2010 with hopes he would solidify that spot for years to come. But McClain lost his starting job midway through the 2012 season and the Raiders have been searching for a long-term answer ever since.
Nick Roach filled that role in 2013 but then suffered a career-ending concussion the following preseason. Miles Burris took over in 2014 but wasn't up to the task and the Raiders signed Curtis Lofton the following season.
Lofton struggled in the passing game and wasn't brought back the following season when Ben Heeney started the year as the starter before Perry Riley was brought in off the waiver wire midway through the year.
The Raiders made a midseason switch again last year after Lee began the year as the starter. Bowman was signed after being released by San Francisco and finished the year as the starter.
Oakland overhauled the position this offseason, signing Tahir Whitehead and Emmanuel Lamur, who have been starting on the outside, as well as adding Johnson.
Lamur played for Guenther in Cincinnati and has helped his teammates make the transition to a new system.
"I feel like we've had a chance to grow as a core together, going through offseason workouts, and then summer workouts, and then into training camp," Lee said. "Just being around each other all the time and stuff, grow as a core, we have each other's backs out there. Also having Emmanuel, he's been in the system for a long time, since he came out of college. He's a great help. He knows the ins and outs, and if we have a question we go to him — or any of the guys — but Emmanuel for sure knows the ins and outs of this defense."
NOTES: CB Daryl Worley, WR Seth Roberts and WR Martavis Bryant all returned to practice. Bryant had missed two days with an illness. "We're calling Martavis the 'White Tiger,'" Gruden said. "Thirteen times I went to Busch Gardens. The white tiger was always in his cage. Well, the white tiger came out today. Bryant came out. I don't know if you get that analogy, but sometimes he comes out to play and sometimes he doesn't. It's good to see because he's really special like the white tiger." ... The Raiders claimed DT Gabe Wright off waivers from Miami and placed DT Ahtyba Rubin on injured reserve.
---
---