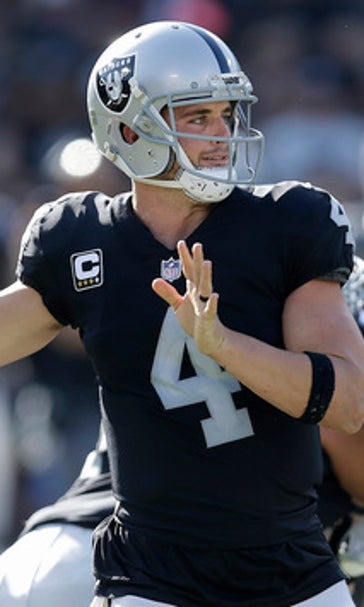 Raiders' inability to go deep leads to struggles for offense
October 17, 2017

ALAMEDA, Calif. (AP) With a strong-armed quarterback, one of the best pass-blocking offensive lines and a pair of talented receivers on the outside, the Oakland Raiders have all the ingredients to stretch the field with the deep pass.
That has been far from the case so far this season and is a major reason the Raiders (2-4) have struggled so much offensively during a four-game losing streak.
Oakland is tied for the fewest deep completions this season with just two, a development that surely would have irked late owner Al Davis, who believed strongly in the value of throwing deep.
''We definitely want to be able to do that,'' quarterback Derek Carr said. ''Now does that mean we're going to do anything differently or trying to force things? Absolutely not. That's where you get in trouble. That's something that I've learned in my career. You can't force it. You just have to work hard and let it happen.''
It hasn't happened much yet as Carr has completed just one of eight passes - a 64-yard touchdown to Johnny Holton in Denver - that was thrown at least 20 yards downfield, according to SportRadar. Backup E.J. Manuel also has one deep completion but it's a far cry from a year ago when Carr was 25 for 52 on deep passes that helped fuel Oakland to a 12-win season.
With Marshawn Lynch adding power to the running game and Jared Cook offering a strong receiving target at tight end to complement receivers Michael Crabtree and Amari Cooper, the Raiders figured to be even better offensively this season.
They appeared on that track when they scored 71 points and committed no turnovers in winning the first two games. But Oakland has gotten nothing going the past few weeks, failing to top 17 points or 300 yards in the four straight losses.
''I don't think there's a single guy that can look back over the last few weeks and say, `You know what, I'm really pleased with how I've played over the last three weeks,' or, `Called the last three weeks' or, `Coached my position the last three weeks,''' offensive coordinator Todd Downing said. ''We all own this together. There's no one guy that is going to save it or break it or anything in between.''
Carr was supposed to be the person to carry this offense. He emerged as a star in 2016 in his third year in the NFL and signed a contract worth $125 million in the offseason that briefly made him the league's highest-paid player.
But his production has dropped in almost every category this year. The only exception is he is completing a career-best 68.3 percent of his passes. Much of that improvement is a result of Carr getting rid of the ball quickly and relying almost solely on short passes.
After throwing nearly one-third of his passes at least 10 yards downfield a year ago, Carr has thrown less than one-quarter that far this season. His average completion has been caught 4.6 yards down field, down significantly from his 6.0 mark a year ago and second-lowest in the league.
''When you turn the film on, you look at the plays and you know you're taking check downs and those are going for 10 and 12 (yards). How can you be mad at that?'' Carr said. ''If that's what they're giving you, you have to take it. I could sit back there and force a lot of throws and that's not something that I've ever done. I try my best not to put our team in harm's way.''
Carr and the offense will try to reverse the slide Thursday night when they face a Chiefs defense they have struggled against in recent years. Kansas City has won the past five meetings between the teams and Carr's 68.1 passer rating against the Chiefs is his lowest against any team he has faced more than once in his career.
But Downing remains confident he has the right players and right schemes and sees a breakthrough coming soon.
''We know that we're just this close to making a couple more plays each game and being able to come out on top and feeling like we put together a good product,'' he said. ''Stats aren't everything, but they are often an indicator in areas that you might be struggling a little bit. We know that there are some areas that we've identified that we want to get better at quickly.''
NOTES: Second-round S Obi Melifonwu (knee) returned to practice for the first time since being placed on IR on Sept. 5. Melifonwu can be activated after practicing for two weeks. ... RT Marshall Newhouse (foot) and CB Gareon Conley (shin) did not practice,
---
More AP NFL: www.pro32.ap.org and www.twitter.com/AP-NFL
---
---