Las Vegas Raiders
Las Vegas Raiders
Raiders' Guenther says no friction between him, Gruden
Published
Nov. 8, 2018 5:56 p.m. ET
ALAMEDA, Calif. (AP) — Oakland Raiders defensive coordinator Paul Guenther denied there is any friction between him and coach Jon Gruden and said the two remain united in trying to improve a team that has been one of the biggest disappointments in the NFL this season.
One week after cameras caught the two coaches getting into a heated exchange after a costly blown play in Oakland's 34-3 loss to the San Francisco 49ers, Guenther laughed about the incident and called it a daily occurrence.
"Jon and I fight every day upstairs, golf course, in the car, whatever it may be," Guenther said Thursday. "That's going to happen every Sunday. It's happened every Sunday, whether it's good or bad. That's just part of our expectations are higher than what we're showing. That's probably going to happen 100 times a game."
Guenther's statement echoed comments made earlier this week by Gruden, who joked that the two have bigger disagreements on the golf course.
The recent sideline exchanges between the coach and his hand-picked defensive coordinator have gotten more attention, however, as the Raiders have struggled through a 1-7 start.
Both Gruden and Guenther have come under fire from fans and the media.
Gruden has been targeted for the team's inconsistent offense and the radical roster changes being made, while Guenther's defense has been bad all season. The Raiders are on pace to give up 6,514 yards and are allowing opponents to gain a league-high 6.8 yards per play.
While acknowledging frustration over the situation, Guenther — who spent the past 13 seasons in Cincinnati and was the Bengals' coordinator from 2014-17 — downplayed any suggestion of problems between him and Gruden.
"I love Jon, he's great to work with," Guenther said. "We're really trying to build this thing the right way and we have a vision for it. I know it doesn't look like that right now but I'm confident in what we're doing."
The Raiders have made sweeping changes since Gruden was hired, much of it on the defensive side.
Khalil Mack, the team's top pass rusher and the 2016 Defensive Player of the Year, was traded to the Chicago Bears before the season opener in exchange for a pair of first-round draft picks. Oakland's best run defender, Justin Ellis, was lost to injured reserve with a foot injury he suffered in Week 1. Then last week, the Raiders released defensive end Bruce Irvin, one of the team captains.
Those moves and others have forced Guenther to reach deep into the roster for help.
"That's just part of the business," Guenther said. "Our vision was to bring in some young guys in the draft and we did that and they're playing. Obviously we're going through some growing pains right now with the young guys but hopefully the more and more snaps that they get at the back end of this year going into year two, we're going to see massive improvement out of those guys."
Still, Guenther acknowledged it hasn't been easy and said he's had to bite his lip a few times.
"There are certain things, breakdowns that we're having that we shouldn't have, that I'm not used to seeing," Guenther said. "It is a patience thing but I'm not the most patient guy. I want to get the stuff fixed quickly. That's part of the evaluation process with the guys that we have now moving forward the last eight games to see, hey, what guys we want to keep here and what guys we want to move on with.
"We have a vision. Jon and I have a vision of what it should look like and what it's going to look like down the road. Hopefully, we can just keep getting better every week but it's certainly been a challenge."
__
More AP NFL: https://apnews.com/NFL  and https://twitter.com/AP_NFL
---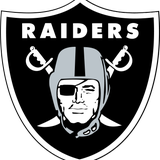 Get more from Las Vegas Raiders
Follow your favorites to get information about games, news and more
---