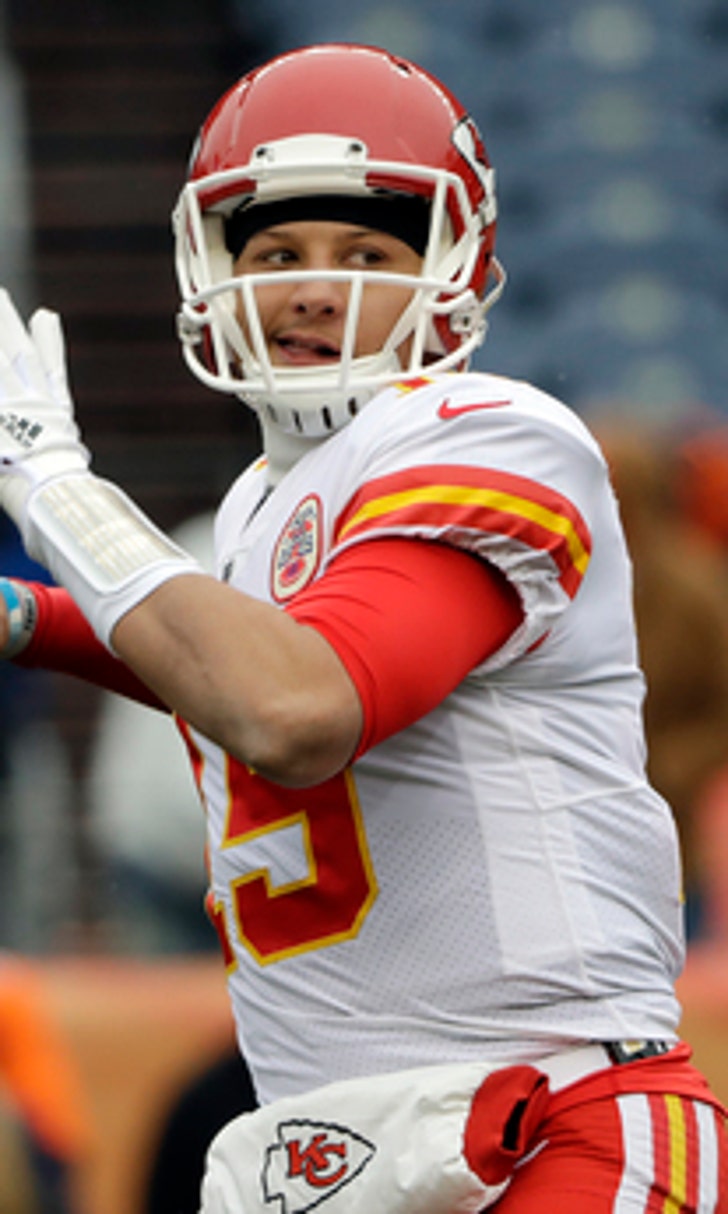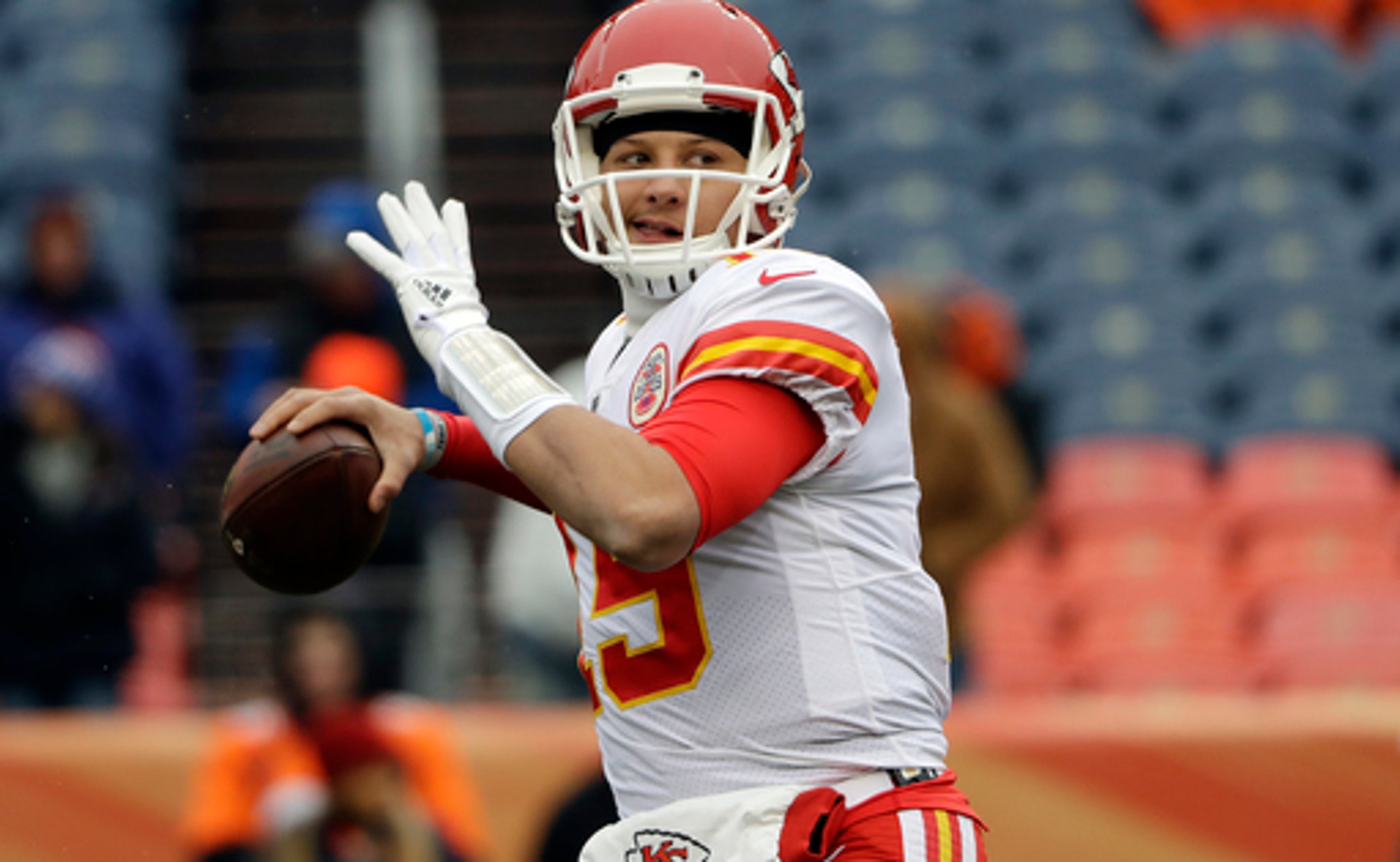 QB-in-waiting Mahomes shows flashes of talent in Chiefs win
BY AP • December 31, 2017
DENVER (AP) The Kansas City Chiefs got an enticing glimpse of their quarterback-in-waiting with the debut of Patrick Mahomes II.
Now, it's back to the present, with Alex Smith starting in the playoffs.
Here's something good to know: Should he be called upon, Mahomes can step in with little worries after leading the Chiefs to a winning field goal during a 27-24 win over the Denver Broncos on a frigid Sunday in the regular-season finale.
Next up, Tennessee on Saturday in the wild-card game at Arrowhead Stadium. And back under center, Smith, who got the day off with the game essentially meaningless. Well, meaningless except for Mahomes getting an extended look to see what he can do.
Mahomes, picked 10th overall in the 2017 draft out of Texas Tech, showed poise in the pocket all afternoon. He finished 22 of 35 for 284 yards and an interception. Just when it looked like his day was over - subbed out to give Tyler Bray some work - Mahomes was summoned back to the field. He led the Chiefs on a drive with just under three minutes remaining that set up Harrison Butker's winning 30-yard field goal as time expired.
''I thought he did a nice job. He had complete command out there,'' Chiefs coach Andy Reid said.
Smith played a role Sunday, too, helping the QB he's grooming to take his job one day get a handle on a Denver defense that's one of the best in the league.
For that tutorial, thanks.
''Alex is an awesome guy. He helped me the entire game, showing me what he was seeing out there, and showing me the things he was recognizing and giving me tips the entire game,'' said Mahomes, who showed up for his postgame news conference wearing a dazzling blue suit . ''You can't ask for a guy to be in front of you as well as Alex has been for me.''
Mahomes has spent all season watching and waiting while Smith topped 4,000 yards passing for the first time in his 13th NFL season. Having clinched the AFC West for a second straight season, the Chiefs (10-6) turned the offense over to Mahomes.
At times, he looked like a rookie, sailing a pass to a wide-open receiver that landed in the arms of Broncos safety Darian Stewart.
In other instances, he was downright electric, completing a long pass to Albert Wilson in the second quarter with safety Will Parks draped on him.
''I thought he ruined a couple of great plays,'' Reid joked. ''Listen, he did a nice job. He did a great job. You saw that in college, right? You saw that same thing in college and for him to be able to transfer it here to this level and you've (a Denver player) draped on you and you make a throw like that, there's not a lot of guys that can do that.''
Reid took out Mahomes and inserted Bray with about seven minutes left and the Chiefs up 24-10. Bray fumbled on the first play and it was scooped up by linebacker Zaire Anderson for a 38-yard TD to make it 24-17. After a three-and-out, Paxton Lynch led a tying score that culminated with a 6-yard pass to Demaryius Thomas with 2:58 remaining.
Put back in, Mahomes was at his best on the final drive. He seamlessly led the team into field goal range.
The real deal?
''I wouldn't call him the real deal, but he has an arm, though,'' said Broncos linebacker Brandon Marshall, whose team finished 5-11 to miss the playoffs for a second straight season. ''He has a cannon. He has a cannon, man. You see him just running this way and he throws it back across his body and the guy catches it. I think he has all the talent, he has all the tools, but I'm not going to call him the real deal.''
NOTES: Chiefs rookie running back Kareem Hunt scored on a 35-yard run on his only carry, securing the NFL rushing title over Todd Gurley and Le'Veon Bell, both of whom were inactive Sunday. To think, Hunt wasn't even going to play, but talked Reid into it. ''He told me he'd get it taken care of quick and he did that,'' Reid said. ... Chiefs punt returner De'Anthony Thomas broke his leg on the final play of the first quarter. He will stay behind in Denver to undergo surgery, Reid said.
---
For more NFL coverage: http://www.pro32.ap.org and http://www.twitter.com/AP-NFL
---
---