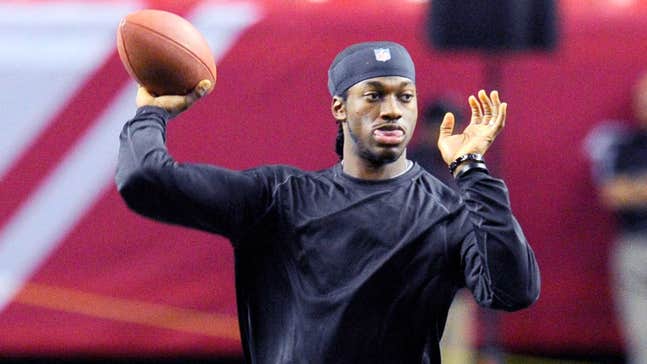 QB guru says RG3 will bounce back with new Redskins coaches
Published
May. 4, 2014 9:19 p.m. ET

The salvaging of Robert Griffin's NFL career began well before the Washington Redskins recently opened their offseason workout program.
Griffin solicited Terry Shea to conduct a six-day March workout session that the longtime quarterback guru described as focusing on "fundamentals just to get him back in time with what's so very important coming out of college, particularly that first year with the Redskins."
Such work is needed as the serious knee injury Griffin suffered as a rookie in a playoff game against Seattle -- as well as his rushed rehabilitation and return to the field -- led to a disastrous 2013 season. Griffin was 3-10 as a starter before mercifully being benched last December by head coach Mike Shanahan, who was subsequently fired and replaced by ex-Cincinnati Bengals offensive coordinator Jay Gruden.
"I noticed when Robert missed that a lot of his misses were high," Shea told co-host Zig Fracassi and me Sunday afternoon on SiriusXM NFL Radio. "That tells me he's just not transferring over that front foot and using his lower body as well as he should be.
"I really have to equate that partially to his injury. And then I think as the season wore on he got a little more frustrated with his performance and the team's performance. I think it all bottled itself up."
Griffin's strained dealing with the Shanahans -- Mike and his offensive coordinator son Kyle, who also was an offseason firing -- didn't help matters.
"He's such an engaging young guy and has so many unique qualities that he really thrives on relationships," Shea said of Griffin. "I know he had that with his Baylor coach (Art Briles). I sense that we have it when we work together and he reaches out to me like he does often. And I think he's going to find that with his new coach Jay Gruden, who obviously has quarterback experience and background.
"I think that's what Robert is going to really latch onto and you're going to see a much more confident and poised performance coming up."
Shea opined on what could cause a quarterback-coach relationship to sour.
"Sometimes coaches get too hung up on next week's opponent and the next game plan," said Shea, who has almost a half-century of experience as a head coach or assistant at the college and pro levels. "They forget that the quarterback. . . . Boy, there is so much pressure and it's such a fragile position week to week in the NFL that they lose sight of that.
"I think that's a product of youth when it comes to quarterback coaches and some NFL coaches who don't have enough experience to make sure of what's really important when it comes to coaches at quarterback."
More of the SiriusXM NFL Radio interview with Terry Shea can be heard here.
---
---