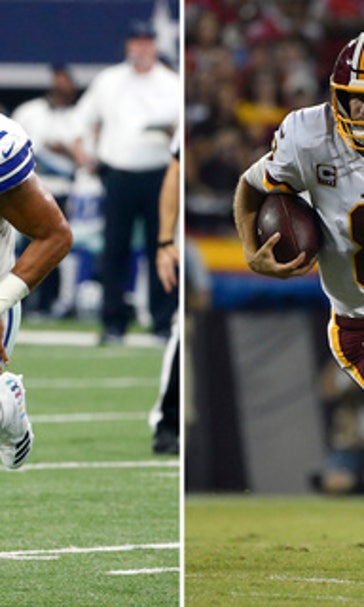 Prescott's Cowboys, Cousins' Redskins now in wild-card hunt
October 26, 2017

LANDOVER, Md. (AP) Carson Wentz's Philadelphia Eagles are the class of the NFC East, while Eli Manning's New York Giants are looking toward 2018.
That puts Dak Prescott's Dallas Cowboys and Kirk Cousins' Washington Redskins thick in the middle of the fight for a wild-card spot.
Prescott at 24 in his second NFL season and Cousins at 29 in his third full season as a starter face off Sunday in the first of their two matchups this season, which could go a long way to determining whose team makes the playoffs.
''We're 1-0 in our division now, and it's important to go get another win,'' Prescott said. ''That's our only focus.''
The Cowboys and Redskins are each 3-3 as their quarterbacks continue to evolve in different ways. Cousins continues to throw for 300 yards a game, as Prescott develops the various facets of his game.
''The most impressive thing about Dak last year was he looked like a 10-year veteran with the poise that he has and the command of the offense - very similar to what I see in Carson Wentz,'' Redskins coach Jay Gruden said. ''They're very similar-type quarterbacks: very effective, very smart.''
Wentz has already beaten the Redskins twice this season after Prescott defeated them twice as a rookie. Cousins is 0-4 in meaningful games against Dallas.
Almost halfway through this season, Cousins has 1,637 yards passing and 12 touchdowns, but plenty left to prove on the franchise tag for a second consecutive time.
However, Cowboys coach Jason Garrett is a believer.
''He can make any throw on the field,'' Garrett said. ''He really cuts the ball loose and allows them to not only move the ball efficiently but also make a lot of big plays, and that's what he's been able to do. It's a different supporting cast around him since he's been the starter, but he's certainly been a constant for them.''
Meanwhile, Prescott is adjusting to opponents' adjustments and running more as defenses anticipate his plan throwing the ball.
''I think he definitely became a better player,'' said running back Ezekiel Elliott, who's eligible to play at least one more game as the case over his suspension is fought over in court.
''Obviously he's a threat as a runner and he's done an awesome job this year just using his feet to extend plays and make big plays downfield.''
Some things to watch as the Cowboys visit the Redskins:
ONE MORE FOR ELLIOTT: With another hearing scheduled for Monday and a ruling possible next week, Elliott could be playing his final game of the season - or he could be eligible for every game the rest of the way.
''I take it week by week,'' Elliott said. ''Every week I prepare like I'm going to play.''
Elliott hasn't missed a game yet after NFL Commissioner Roger Goodell suspended him in August following a yearlong investigation that he had multiple physical confrontations in the summer of 2016 with Tiffany Thompson, his girlfriend at the time. The 22-year-old has 540 yards and four touchdowns.
''To me, Zeke's handled it really, really well,'' Garrett said. ''Obviously there's a lot of things going on off the field with him, but you wouldn't know it if you were around him each and every day.''
BRYANT VS. NORMAN: Assuming Josh Norman returns from a broken rib that sidelined him the past two games, it'll re-ignite the rivalry between the Washington cornerback and Dallas receiver Dez Bryant. Norman has had his on- and off-field battles with other receivers such as the Giants' Odell Beckham Jr., and he and Bryant get fired up to face each other.
''They're both highly competitive guys, and they both want to win,'' Gruden said. ''I have no problem with that. If it becomes a penalty or get thrown out of the game, obviously we have an issue.''
FULL STRENGTH: Dallas' defense had everyone it figured to be counting on for the first time last week against the 49ers. The Cowboys recovered two fumbles (special teams had a third) to end a three-game streak without a takeaway and had five sacks.
All-Pro linebacker Sean Lee missed the previous two games, and the Cowboys lost both at home despite scoring at least 30 points each time. Lee and Anthony Hitchens, who missed the first four games because of a preseason knee injury, have boosted the linebacking group, and defensive end David Irving has three sacks in two games following a four-game suspension.
INJURED REDSKINS: Gruden cut a day of practice off his team's usual schedule because of all the injuries that built up, most notably along the offensive line. Left tackle Trent Williams, center Spencer Long and right guard Brandon Scherff all have knee injuries and right tackle Morgan Moses has sprains in both ankles. On defense, linebackers Zach Brown (back) and Preston Smith (groin) are the most banged up, but not the only ones as Washington's depth is being tested.
NO MR. RELIABLE: The Cowboys' Dan Bailey, the most accurate in NFL history among kickers with at least 100 attempts, will miss the first game of his seven-year career with a groin injury sustained during the game in San Francisco. Mike Nugent, a 12-year veteran, will replace him for at least a game and probably more.
Bailey's career success rate of 89.9 percent is about 9 percentage points better than Nugent. The discrepancy is much larger from 50 yards and beyond - 69 percent for Bailey, 39 for Nugent.
---
Pro Football Writer Schuyler Dixon in Frisco, Texas, contributed.
---
More AP NFL: http://pro32.ap.org and http://twitter.com/AP-NFL
---
---