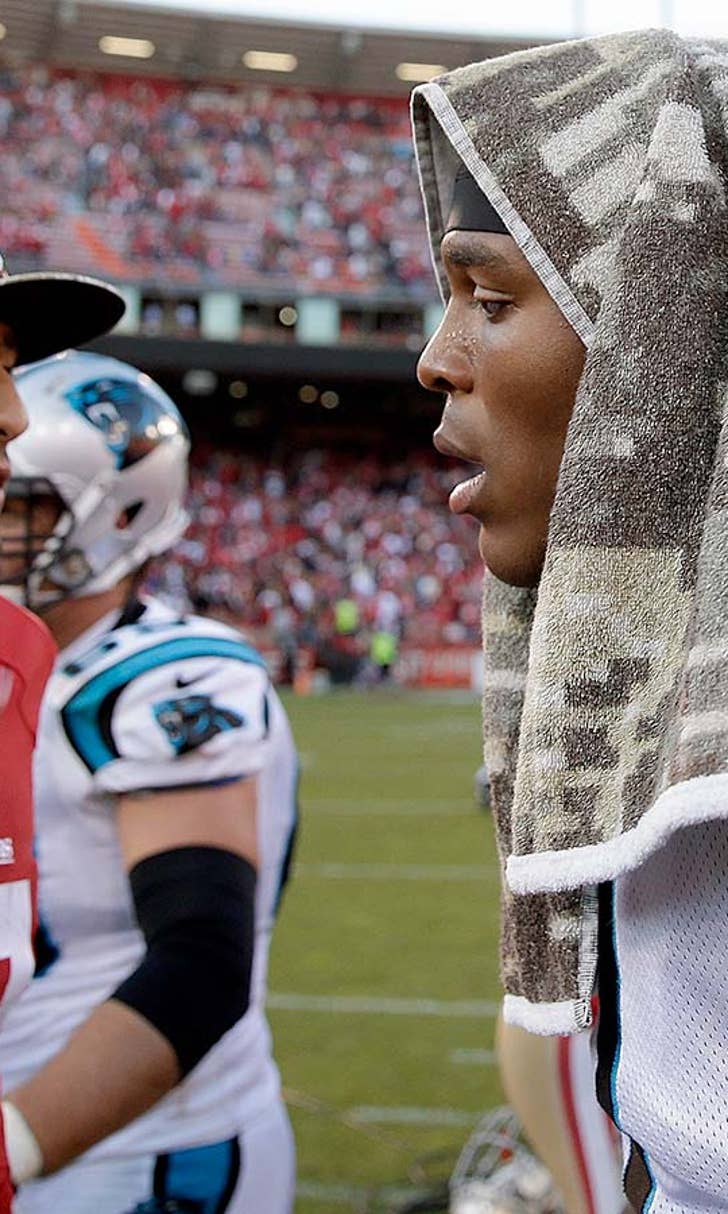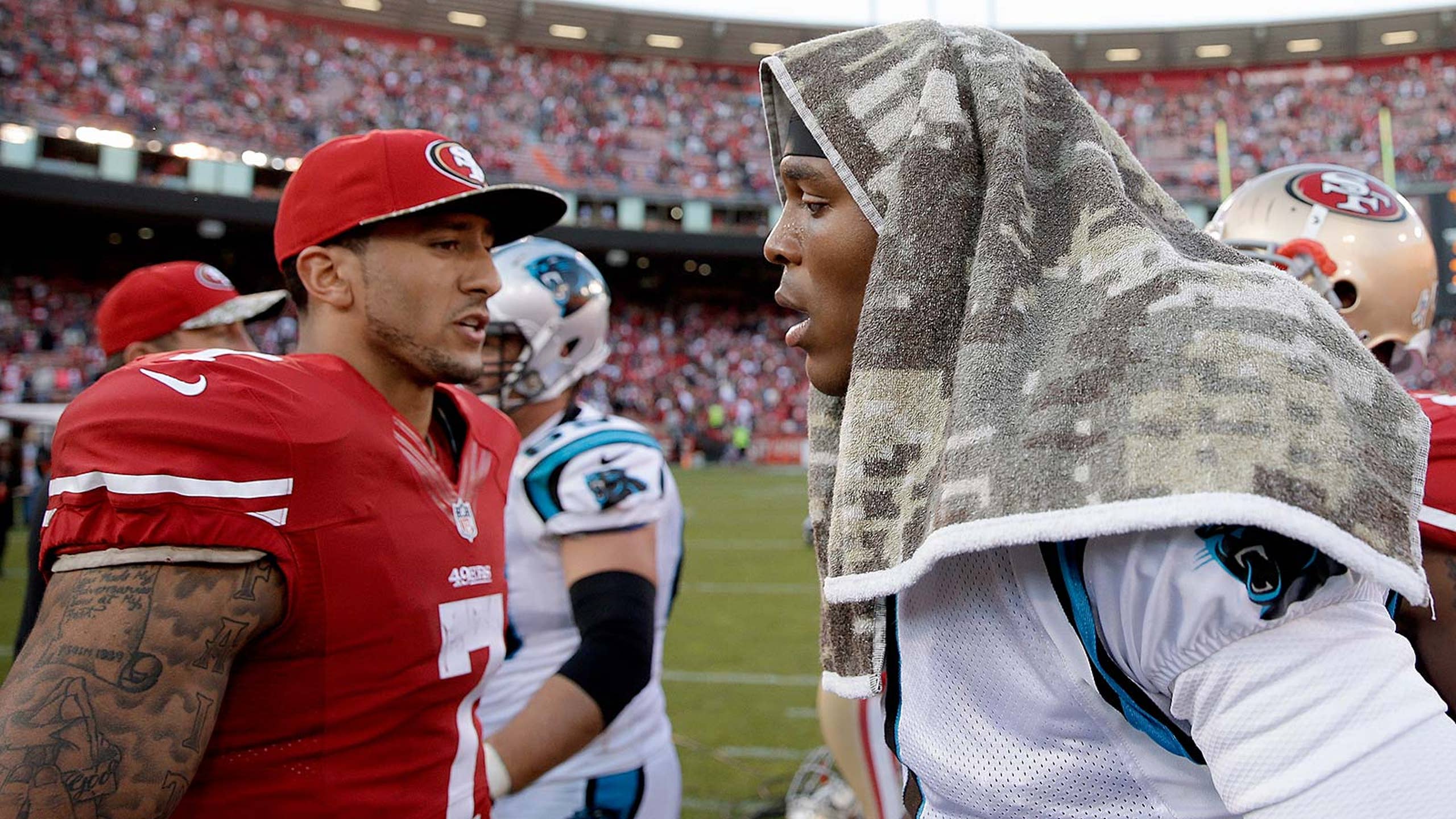 Playoff Cheat Sheet: QBs will be front and center in divisional round
BY Peter Schrager • January 9, 2014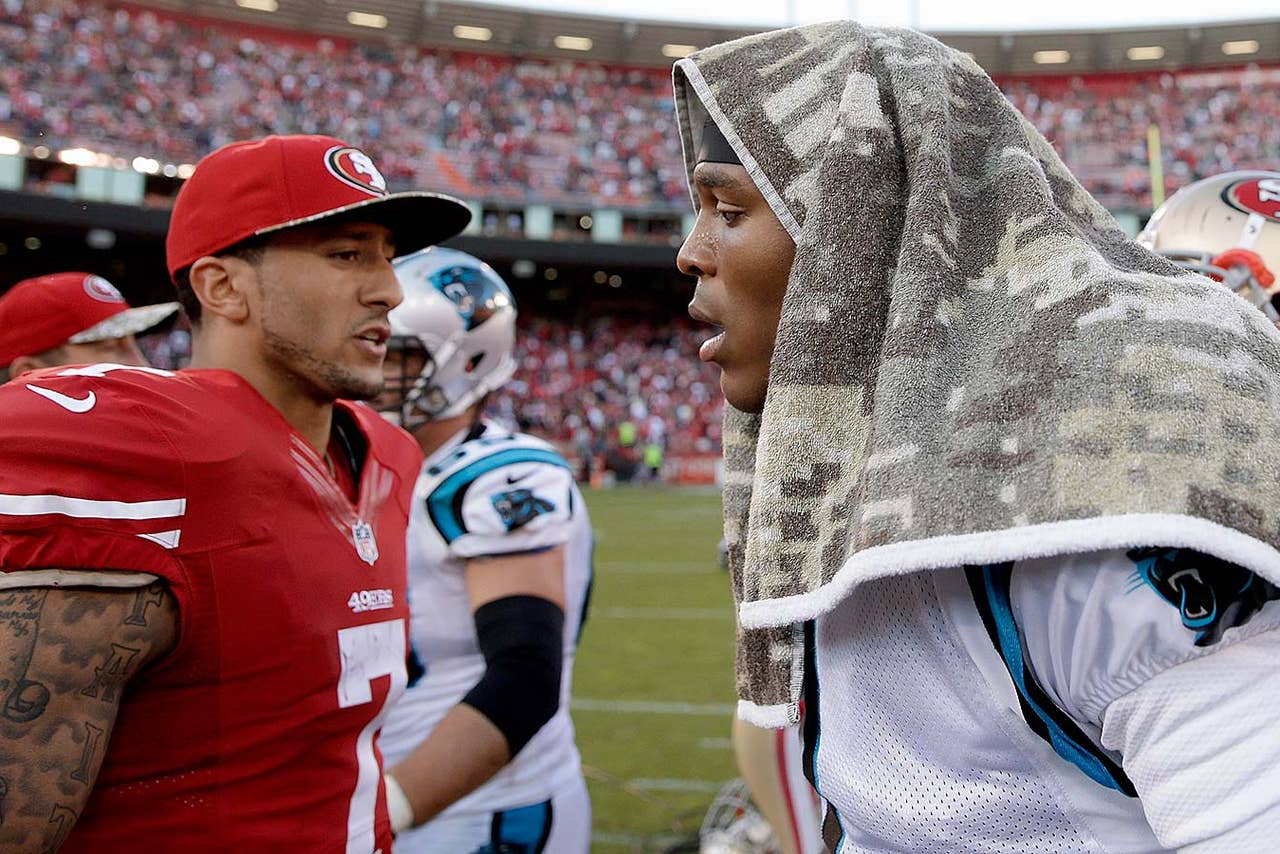 CHARLOTTE — Cam Newton and Colin Kaepernick roomed together at the 2011 NFL Draft Scouting Combine in Indianapolis. And though the two men don't text or speak often, there's a mutual respect for what the other player brings to the table. I asked Newton on Wednesday how he would describe his old roommate, and he went prehistoric on me.
"'Dinosaur' was a nickname one of my coaches gave me in college," Newton said. "He would always say, 'Your talents are rare, extinct.' No one really possesses that talent -- being a big guy, fast, agile and (having) the art of throwing that God has blessed only a few people with."
"Colin Kaepernick has it," Newton added. "It's scary to see. But I hope he will be tamed."
Dinosaurs. Not exactly the first word I'd think to use to describe two of the most modern, new-age quarterbacks in the game.
Carolina head coach Ron Rivera went a different route in describing the two physical freaks of nature. "I don't know if you'd call them 'dinosaurs' as much as you'd call them a rare breed just because of who they are physically," Rivera said on Wednesday.
The truth is, you won't find two different media personalities than Newton and Kaepernick. Though both live relatively quiet lives off the field, Newton is an engaging magnetic force in any room he walks in. He uses elaborate analogies, effuses praise for teammates and opponents, and takes time and deep thought in his responses to reporters' questions.
Kaepernick's not that guy with the media, nor will he ever be. He is a mirror image of his coach, Jim Harbaugh, and plays by the "less is more" media playbook. When I pressed him to give something — anything — as far as an anecdote or memory from the 2011 combine, the third-year quarterback paused for a moment on a conference call, and responded, "He was a really cool dude, just a great person."
And that's fine. Not all dinosaurs are alike. And regardless of how they act on a podium or with a reporter digging for a tale or juicy sound bite, all that really matters is that they both show up on gamedays.
I have no doubt both players will bring their very best this weekend. We've been blessed with some amazing playoff games, already, this postseason. I'm looking at the battle of these two former roommates to be the very best one yet.
Last Week's Record: 0-4 (Let's not discuss this ever again. Thanks.)
New Orleans (12-5) at Seattle (13-3): I'm excited about this one for several reasons. First, we get Kevin Burkhardt and John Lynch on a national FOX broadcast in the playoffs. If you haven't listened to these two call a game together yet, you're in for a treat. No bells. No whistles. No schtick. Just football.
As for the game, don't expect a carbon copy of what happened when these two teams played in Week 13. That was a blowout and an alarming setback for the Saints after a big Sunday night win over Carolina. Sean Payton's gone back to the run game in recent weeks, and without the deep threat weapons to compete with the Seahawks secondary, look for a few early New Orleans drives to try and establish the ground game.
Expect a lot of variety from Rob Ryan's defense. I've gone back and watched Seattle's past few games, and I can't say I'm overwhelmingly impressed with Darrell Bevell's offensive game plan. Ryan has the personnel to do a lot of the same things Arizona did when it beat Seattle up in Seattle three weeks ago. The Seahawks get the best of the Saints, but it's a lot closer than most people expect.
The Pick: Seahawks 24, Saints 20
The result: Seahawks 23, Saints 15
Indianapolis (12-5) at New England (12-4): No Vince Wilfork. No Jerrod Mayo. And now, no Brandon Spikes. The Patriots' top three defensive players are out for Sunday's game and no one seems to be blinking an eye.
What's new? Consider that the Patriots have lost Wes Welker, Aaron Hernandez, Danny Woodhead, Rob Gronkowski, Sebastian Vollmer, Brandon Lloyd, and Wilfork, Mayo, and Spikes — and you can make the argument that this is the best coaching job Bill Belichick's ever done. Will he win Coach of the Year? Absolutely not, which is an even greater testament to the job he's done. The bar's been set so high, that expectations are not lowered, despite the roster turnover and injury loss.
Andrew Luck is a special player, but it's not his time yet. The guy to watch? LeGarrette Blount — the quiet MVP of this Patriots offense down the stretch.
The Pick: Patriots 34, Colts 24
49ers (13-4) at Panthers (12-4): The 49ers locker room made for a special scene last Sunday night in the bowels of Lambeau Field. Jim Harbaugh rubbing beat reporters on the top of the head, rookie wide receiver Quinton Patton dancing at his locker and repeatedly slapping Michael Crabtree on the back, and an overall feeling of a team that's been there before.
The Panthers? This is all new for them. But this won't be a shootout, and after they get hit in the mouth a few times early on, those young Panthers players will not be in awe of the bright lights. They're built for a game like this. Carolina is home, their defense gave Colin Kaepernick trouble the last time they played and they're rested. Thomas Davis and Luke Kuechly will become household names on Sunday (if they aren't already) and Greg Hardy — the best free-agent pass rusher in the 2014 free agent class — will earn himself even more dough.
It'll be the game of the weekend, with both the quarterbacks and defenses bringing their very best.
The Pick: Panthers 24, 49ers 23
San Diego (10-7) at Denver (13-3): I went back and watched the Chargers' Week 15 regular-season victory in Denver, and have to say, they didn't just beat the AFC West champions in their building. They manhandled them.
Peyton Manning just completed the most statistically impressive season in NFL history and nobody really batted an eye. It's as if it won't even matter if the Broncos make another early exit in this year's playoffs.
Philip Rivers is playing the best football of his career, Melvin Ingram and Jarrett Johnson offer something entirely different to the defense this Broncos team faced last time, and there's no doubt in the Chargers' locker room that this team can make a run.
But Manning will find a way. If he doesn't, I'm not sure I can handle the headlines Monday morning.
The Pick: Broncos 34, Chargers 26
---
---