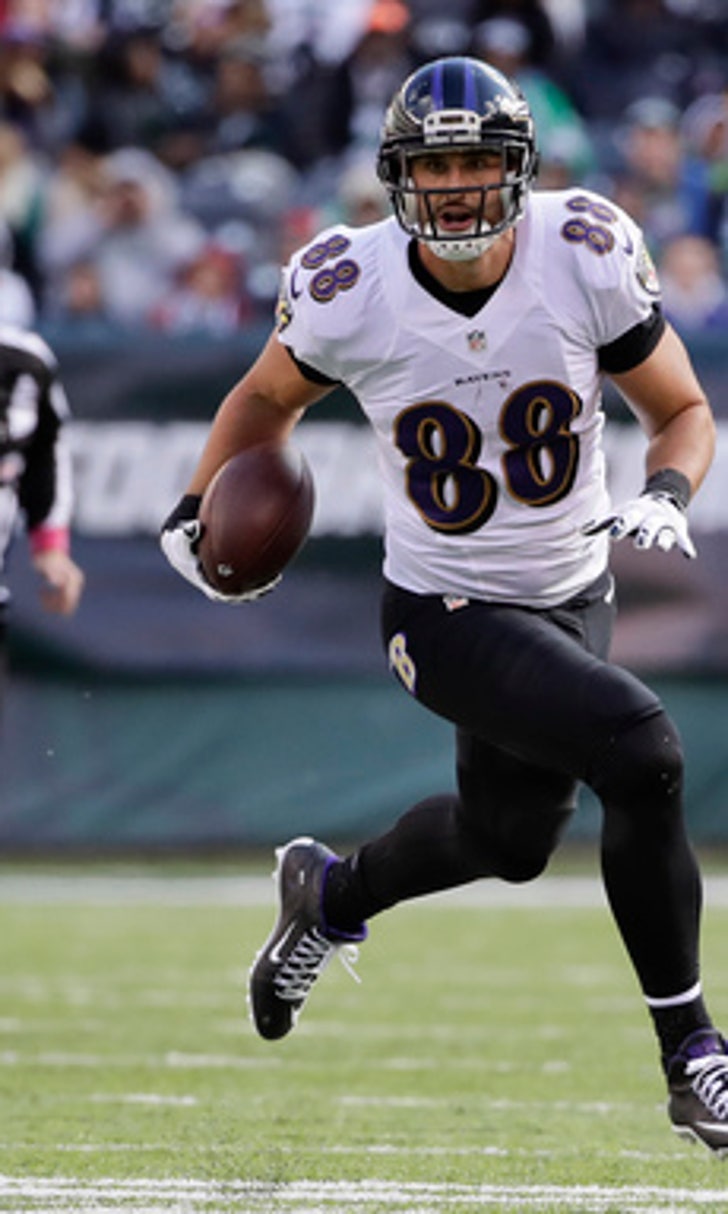 Pitta 'not delusional' about career-threatening hip injury
BY AP • June 15, 2017
OWINGS MILLS, Md. (AP) Leaning on crutches after enduring yet another operation on his burdensome right hip, Dennis Pitta spoke for five minutes without mentioning the dreaded R-word: retirement.
Yet, after his session with the media at the Baltimore Ravens training complex on Thursday, it became clear Pitta is aware his playing days are probably over.
''Listen, I've dislocated my hip three times. Take it for what it is,'' Pitta said. ''I'm not delusional. I know and understand kind of what that means.''
The Ravens released Pitta with an injury waiver on June 7, five days after he dislocated and fractured his hip during an offseason practice session. Pitta returned to action the previous two times he dislocated his hip, but now it appears another comeback simply is not possible.
''I think it will be a little bit more cut and dried this time,'' he acknowledged.
Pitta remains a welcomed guest at team headquarters, and he was greeted warmly by teammates and owner Steve Bisciotti this week as he watched Baltimore's three-day mandatory minicamp.
He found it tough to take, though, given that earlier this month he was working on the field to prepare for the 2017 season.
''Deja vu is one (way) to explain it. More of a nightmare,'' Pitta said of being sidelined again. ''It's weird to be out here and not being part of things. Just over a week ago I was out here practicing and feeling really good. Things change in an instant.''
Sometimes without warning.
''There wasn't any indication that my hip would give out again,'' he said. ''I remember telling my wife just a couple days before it happened I felt better than I ever have.''
And now, he's on crutches. Again.
''It's heartbreaking,'' Ravens linebacker Terrell Suggs said. ''But it's part of the game. We play a very brutal sport, and sometimes it claims us all.''
Pitta, 31, began his career with Baltimore in 2010. In 2012, he caught 61 passes for 669 yards and added another touchdown in the Super Bowl to help the Ravens beat San Francisco 34-31.
He first injured his hip in 2013 and hurt it again in 2014. Pitta played in four games in 2013, three in 2014 and sat out the entire 2015 season.
Last year, however, he returned to catch 86 passes, most by a tight end in franchise history.
So, if Pitta must step away from the game, he can take consolation in going out on a high note.
''There would have been a lot of doubt in my mind had I not come back and played last year feeling as good as I did,'' Pitta said. "It will be easier to make that decision this time around when that time comes. But I'm happy and fortunate that I was able to play last year and get another year under my belt.''
After Pitta walked away from the microphone, coach John Harbaugh stepped in and said the kind of things usually reserved for a player's retirement.
''Great guy, great Raven,'' the coach declared. ''Very proud of everything he's done here.''
---
More AP NFL: http://pro32.ap.org and https://twitter.com/AP-NFL
---
---