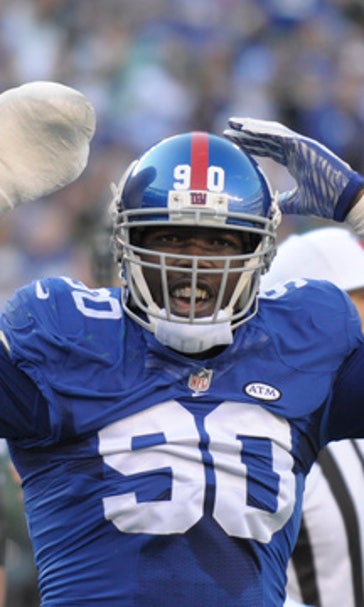 Pierre-Paul: ESPN's medical chart tweet invaded my privacy
BY foxsports • February 25, 2016
BOSTON (AP) It wasn't the report about his fingers being blown off. It was the picture of his confidential medical chart sent to almost 4 million Twitter followers that prompted New York Giants linebacker Jason Pierre-Paul to sue ESPN and reporter Adam Schefter for invasion of privacy.
Citing state privacy laws, Pierre-Paul asked a Miami-Dade County Circuit Court to award him at least $15,000 in damages over the report that followed his Fourth of July fireworks accident. The lawsuit filed on Wednesday also left open the possibility of punitive damages.
The suit concedes that the injury to an NFL star was a matter of public interest, a legal standard that limits his right to a privacy claim. However, it contends that the photo of his actual medical chart describing the injury to three fingers on his right hand was not.
But to win, Pierre-Paul will have to prove he was damaged by the release of the medical chart, and not just by the injury itself.
''Florida law makes it very difficult for Jason Pierre-Paul or anybody else that has a similar claim to prevail,'' said Darren Heitner, the owner of the Miami-area firm Heitner Legal who teaches sports law at the University of Florida Levin College of Law. ''We're dealing with a public figure. It's not as if Adam Schefter found some random person who was injured using fireworks on July 4.''
ESPN spokesman Josh Krulewitz declined comment on behalf of the network. Schefter did not immediately respond to an email seeking comment; the lawsuit quotes an interview he gave Sports Illustrated in which he called the chart ''the ultimate proof'' but conceded, ''In hindsight, I could have and should have done even more here due to the sensitivity of the situation.''
Pierre-Paul blew off parts of three fingers when one of the fireworks he was lighting to celebrate Independence Day exploded in his hand. Less specific reports of an injury circulated in the next few days before Schefter tweeted on July 8 a picture of the chart describing the amputation of Pierre-Paul's right index finger and the damage to two others.
It is illegal under both state and federal laws for the custodian of medical records to release them without a patient's consent; Jackson Memorial Hospital has fired two staffers that it said improperly accessed Pierre-Paul's records and said it settled litigation with Pierre-Paul.
Florida law also prohibits a third party ''from further disclosing any information in the medical record without the expressed written consent of the patient or the patient's legal representative.''
But when that third party is a journalist, the plaintiff would have to prove that the report did not involve a matter of public interest. (For punitive damages, Pierre-Paul would have to prove malicious intent.)
The lawsuit addresses this, claiming that ''while the amputation may have been of legitimate public concern, the chart itself was not.''
''I think it would be very hard for a ... jury to distinguish between the two and say one is so much more egregious than the other. It's not as if the medical record provided Pierre-Paul's Social Security number or other kinds of private information,'' Heitner said.
''The claim that there is some sort of difference between writing `ESPN confirms Jason Pierre-Paul had his right index finger amputated' and saying the same thing with the medical record attached - I think any person using common sense would dismiss that argument either way.''
Pierre-Paul missed the first eight games of the season but started the remaining eight. He managed only one sack and struggled to finish plays with his hand wrapped to protect it.
Pierre-Paul had surgery on the hand after the season, hoping to improve flexibility. He is scheduled to be a free agent this offseason, but is expected to attract less attention - and a smaller contract - than before the injury.
Heitner said Pierre-Paul's return to the field showed that any damage to his reputation - or his play - was the result of the accident, and not Schefter's report.
''If the facts were true, it's very likely that this information would have broken soon thereafter,'' Heitner said. ''So what reputational harm is attached to this action by Adam Schefter?''
---
Jimmy Golen covers sports and the law for The Associated Press. Follow him on Twitter at: http://www.twitter.com/jgolen
---
---