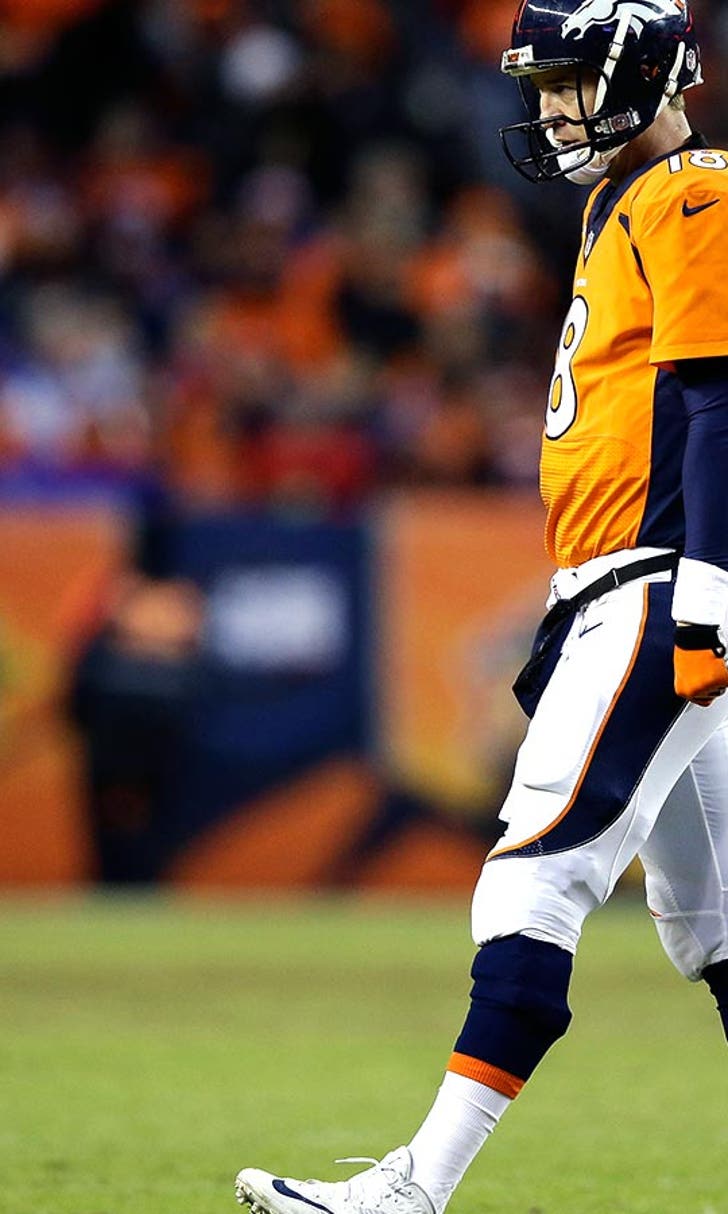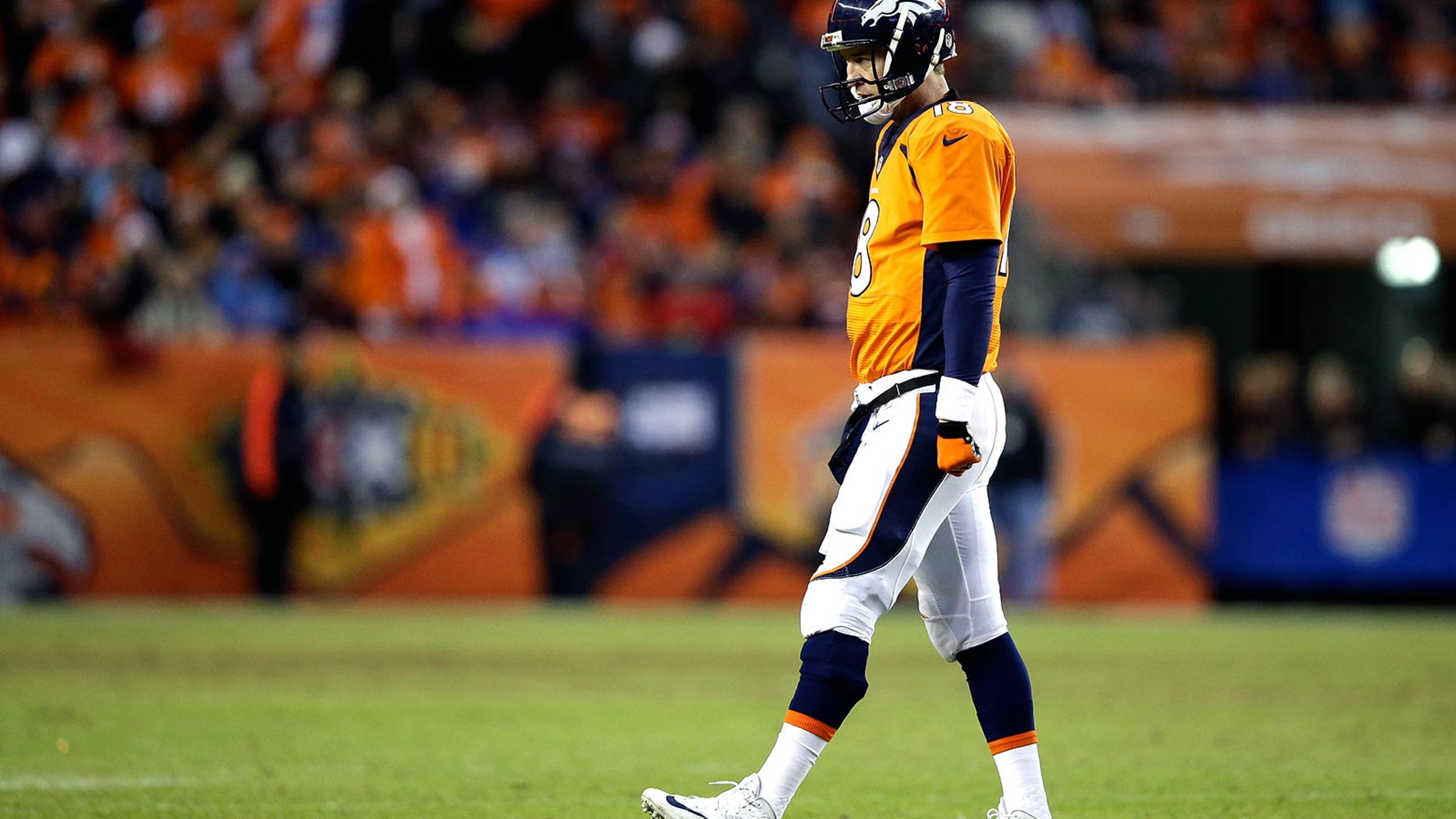 Peyton Manning disputes reports that he was more banged up than he let on
BY foxsports • January 12, 2015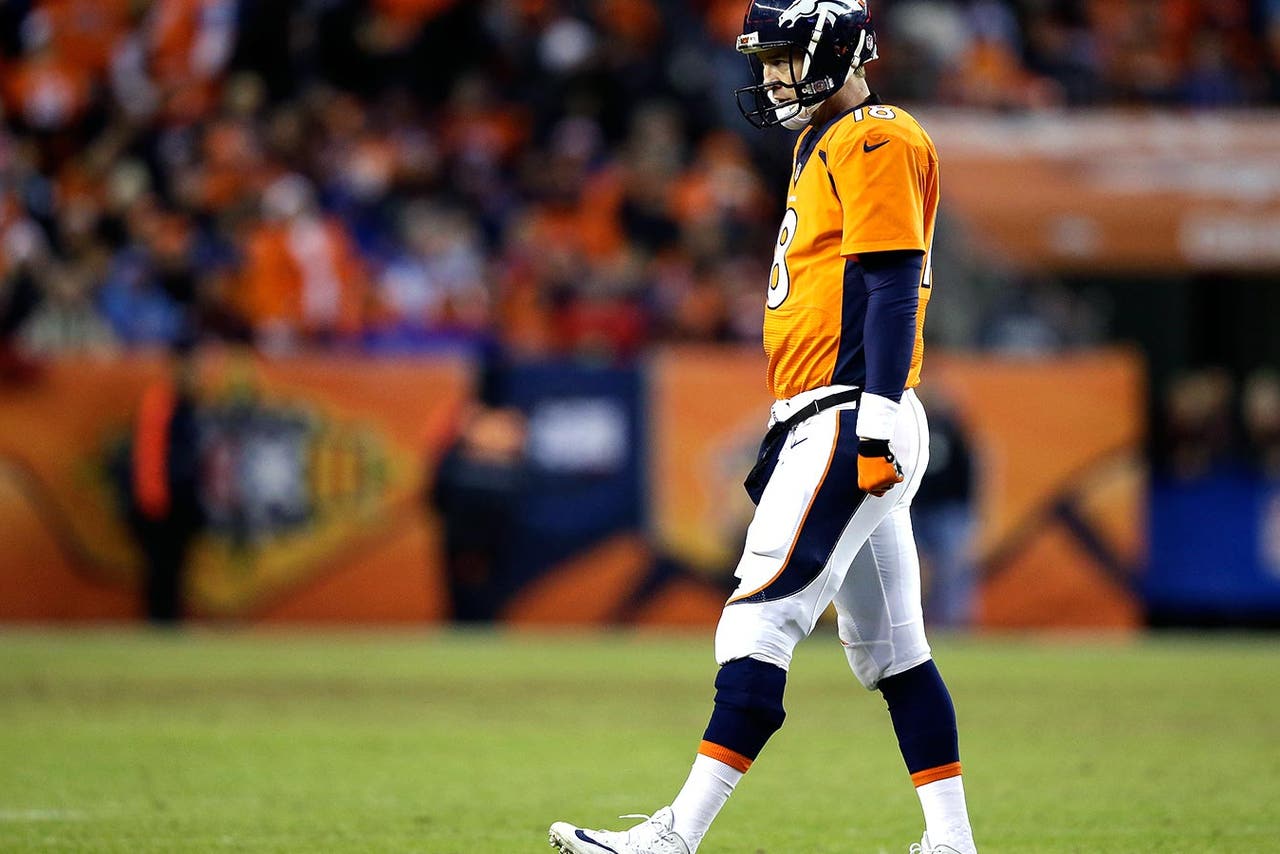 Denver Broncos QB Peyton Manning played the final month of the regular season and Sunday's playoff game with a torn right quad muscle, ESPN reported Monday.
However, a Broncos source told FOX Sports Insider Mike Garafolo that the word "tear" never was used in reference to Manning's internal injury. Instead, it was characterized as a strain and not a severe tear.
The injury, however severe, likely occurred during the Broncos' win over the San Diego Chargers on Dec. 14, according to the ESPN report. An MRI exam after that game confirmed the injury. FOX Sports Insider Jay Glazer reported Manning actually had injuries to both quads.
This would help explain the drop-off in Manning's production in that span. In the three games since the injury is believed to have happened, Manning threw just three touchdown passes and four interceptions. He topped 275 yards passing only once.
However, Manning disputed Monday's report that his injury was more serious, saying "that would be news to me." He said he felt he could manage his right quadriceps injury, adding it felt good heading into the playoff game.
Manning blamed the injury on dehydration from a stomach bug the night before the Chargers game. He missed the team's next practice, on Dec. 18, although he participated in the walkthrough that day. And he skipped the two days of practices during the team's bye week after Denver earned the No. 2 seed in the AFC playoffs. He practiced all of last week.
Following Sunday's 24-13 loss to the Indianapolis Colts, coach John Fox — who parted ways with the Broncos on Monday — was asked if Manning was healthy. Fox said everybody's banged up at this time of year, ''but he's definitely healthy enough to play in the game.''
Afterward, Manning was noncommittal about his future, telling reporters, "I can't give a simple answer without processing it. I can't say that. I could not say that."
If Manning's injury was worse than he let on, his teammates sure didn't see it.
Receiver Wes Welker said he couldn't tell if Manning was hiding the extent of his injury over the past month, and cornerback Chris Harris Jr. said he got no such indications at practice — although he acknowledged practices weren't the best barometer.
"Practice is easy for a quarterback: you don't have to move, you don't have to run," Harris said. "You probably couldn't tell that Aaron Rodgers was hurt until the game and then you could see him running with a limp. But in practice, he probably looked like it was nothing."
Manning overthrew his receivers eight times Sunday and came up empty on 11 drives after leading Denver to a touchdown on its first possession. He's never been a good scrambler — he's had minus-49 yards rushing in his three seasons in Denver — and he threw an incompletion on third-and-5 instead of taking off despite a 20-yard gap between him and any defender.
Linebacker Brandon Marshall said Manning looked stronger, if anything, on Sunday, perhaps due to the rest, "but you knew he wasn't all the way 100 percent. Nobody was."
Backup QB Brock Osweiler told The Associated Press that Manning's playing through the pain was ''a great testament to his character, his toughness, how much he loves the game, his passion for this game. He did everything he possibly could for this football team and that's what makes him a special football player.''
The Associated Press contributed to this report.
---
---