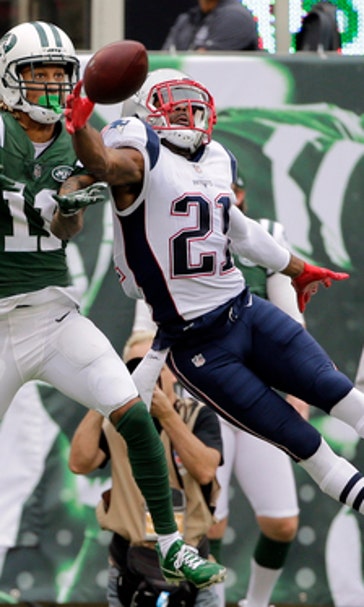 Patriots have flaws, but sit again on top of AFC East
October 15, 2017

EAST RUTHERFORD, N.J. (AP) Tom Brady was visibly frustrated, the way he usually gets when things aren't being done to his usual standards.
The New England Patriots' star quarterback shouted at his teammates to pick it up after falling behind 14-0 to the New York Jets on Sunday.
''Every time he gets mad, you know he's in the game,'' said tight end Rob Gronkowski, who caught two touchdown passes. ''It gets you fired up. Sometimes you get scared you got him fired up.''
It usually ends up with Brady leading the Patriots to a win , just as it did in a 24-17 victory at MetLife Stadium. It was the 187th regular-season win of Brady's career, an NFL record that broke a tie with Peyton Manning and Brett Favre.
''I wish we had done better, but we won,'' said Brady, who was limited early in the week with a sore left shoulder. ''Probably a lot to learn from it. I wish we could have played better offensively. We got down early and came back. A good series before the half. We hung in there at the end.''
Brady and the Patriots (4-2) now sit in their familiar perch atop the AFC East - despite their flaws.
''We just didn't execute as well as we needed to,'' he said. ''I think that's probably the big things, just execution. We'll keep at it. It's only the sixth game of the year, so there's a lot to figure out.''
The Patriots were playing their first game in 10 days after beating Tampa Bay 19-14 on Oct. 5, and appeared a bit rusty early against the surprising Jets (3-3).
''You don't want to be panicking,'' Gronkowski said. ''We've been in that situation before. ... You can't be going down and not get any points when you're down 14-0. Make sure you go down and get some points so you can feed off it as a team and the defense can feed off it.''
That's exactly what the Patriots did, earning Brady his record-setting victory.
''That's what we're all here for, is to win games,'' coach Bill Belichick said. ''We've been very fortunate to have had Tom at the helm for a lot of those wins.''
Here are some other things to know about the Patriots' close victory over the Jets:
WHAT FUMBLE?: After Stephen Gostkowski's 28-yard field goal gave New England a 24-14 lead 50 seconds into the fourth quarter, New York appeared to make it a one-score game on its next possession . Austin Seferian-Jenkins took a short pass from Josh McCown and reached over the goal line for what was initially called a touchdown by down judge Patrick Turner.
But officials reviewed the score with the league offices in New York and said the video replay showed that Seferian-Jenkins slightly lost control of the ball when Malcolm Butler nudged it loose as the tight end was crossing the plane of the goal line. Seferian-Jenkins didn't regain control until after he had stepped out of bounds, resulting in a fumble and a touchback.
''I'm pretty sure everybody's going to look back and say that was a B.S. call,'' Jets wide receiver Jermaine Kearse said.
Referee Tony Corrente said after the game that the decision was ''pretty obvious'' after reviewing all angles.
STILL LEAKY: The Patriots came in ranked last in the NFL in overall defense and did little to change that with their performance against the Jets.
New England allowed 408 total yards, and its 32nd-ranked pass defense gave up 354 yards passing to McCown.
''We might bend,'' Butler said, ''but we don't break.''
GRONK'S BACK: After missing New England's last game with a thigh injury, Gronkowski returned and finished with six catches for 83 yards and two scores. He also had a team-high 10 targets.
''It went smooth,'' Gronkowski said. ''We got the victory.''
Rookie safety Jamal Adams defended Gronkowski for much of the game, and the first-rounder had perhaps the worst performance of his young career.
''Just gave them up,'' Adams said.
QUICK START: The Jets' focus during the week was on starting faster in games, with offensive coordinator John Morton running what he called a ''live'' walkthrough to start practices to create a sense of urgency.
McCown capped a 13-play, 88-yard opening drive with a 1-yard TD pass to Seferian-Jenkins while also converting three third-down situations. New York's third drive resulted in a 31-yard TD catch by Jeremy Kerley. After that, though, the Jets failed to get back into the end zone.
''Obviously, we broke stride there and didn't keep pace the way we'd like,'' McCown said.
NO MORAL VICTORY: While little was expected of the Jets coming into this season as New York revamped its roster with an aggressive rebuild, the team entered Sunday with a chance to claim first place in the division.
They played the Patriots tough, but by no means felt good about hanging in with the defending Super Bowl champs.
''This isn't over,'' defensive lineman Kony Ealy said. ''We're fine. No one in here is down. This isn't the end of the world. This doesn't knock us off the tracks or anything. We're going to keep pushing. We're going to get back to work and prepare for Miami.''
---
For more NFL coverage: http://www.pro32.ap.org and http://www.twitter.com/AP-NFL
---
---