Panthers QB Newton off to best start of 5-year NFL career
Published
Oct. 12, 2015 2:54 p.m. ET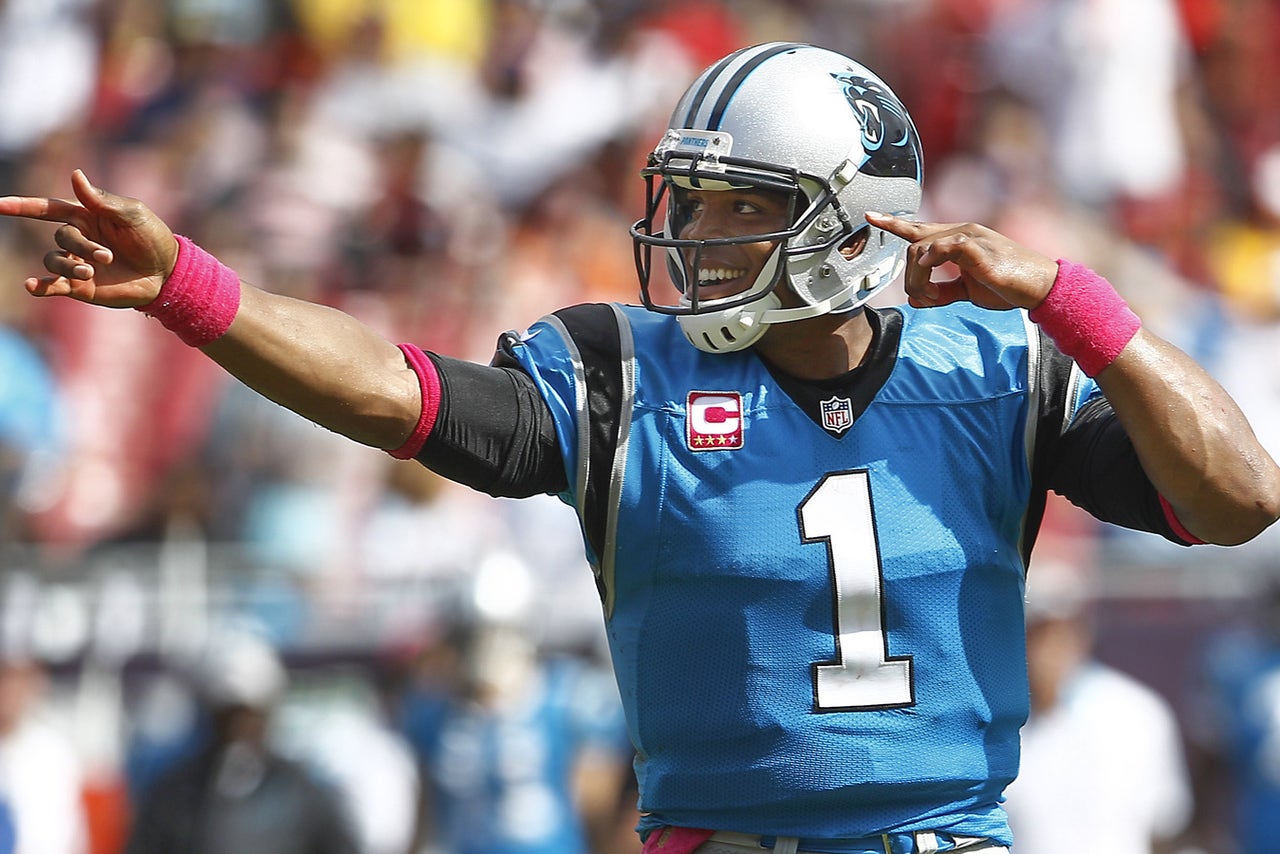 CHARLOTTE, N.C. (AP) Cam Newton is off to the best start of his NFL career.
Now the question becomes whether the Carolina Panthers fifth-year quarterback can carry over that success on Sunday against his primary nemesis, the Seattle Seahawks.
Newton continues to make strides in his development as an NFL quarterback for the unbeaten Panthers and has a career-high passer rating of 88.5 behind seven touchdowns and only two interceptions. He's also run for two scores.
But when it comes to the two-time defending NFC champion Seahawks, Newton has struggled.
He's 0-4 against Seattle, including a 31-17 loss in last year's NFC divisional playoffs in which he threw a fourth quarter interception that was returned 90 yards for a touchdown by safety Kam Chancellor.
Newton only has three touchdowns passing and no TDs rushing in four games against Seattle. His QB rating (73.4) is the worst among teams he's faced at least three times in his career, according to STATS.
Panthers offensive coordinator Mike Shula believes a more poised Newton is better prepared this time around.
''Really, on game day, he's had a real good sense of ownership of getting our guys in the right position, seeing some one-on-ones for the soft parts of coverage,'' Shula said Monday. ''Just the comfort level . . . that's kind of shown itself a little bit.''
But Shula also knows Seattle has been a huge challenge for Carolina.
The Panthers have not scored more than 17 points in any of their last four meetings with Newton at the helm. And despite the Seahawks penchant for surrendering fourth quarter leads this season, Shula said, ''They're really good.''
''We've got to make first downs and stay out of long yardage,'' Shula said. ''They thrive on long yardage and they thrive on turnovers.''
Newton has thrived on not turning the ball over this season and extending drives with his arm and his legs.
He's averaging nearly 11 carries per game this season - by far the most of his career. Some of those are by design, but Newton has also used his 6-foot-5, 245-pound frame and exceptional speed to break containment and move the chains.
Newton is pleased with his play so far this season, but said there are still areas to improve upon saying ''The perfect game is still out there.''
''Consistency of my position knowing when to do and not to certain things,'' Newton said last week. ''And technique and having great feet in the pocket and trusting the protection, knowing the protection and having the offense running fluid.''
Players were off Monday and return to practice Tuesday to begin preparations for Seattle.
Shula wants to see Newton's 55.4 completion percentage increase.
He'd also like to limit the quarterback's carries as the season progresses. Newton is on pace to carry the ball 172 times.
''I think you always have to have a concern on your starting quarterback taking too many hits and exposing him to hits that a running back would take,'' Shula said. ''It's a fine line on giving him too much and knowing that he is so talented that (his running) helps us win football games.''
Shula acknowledged there's a strong desire in the Panthers locker room to beat the Seahawks, but he said it's important for Newton to stay within the offensive scheme and not try to do too much and win the game by himself.
That said, Shula feels good about the development of his quarterback.
''His poise is much better,'' Shula said. ''But he's got to go prove it every week. We all do.''
---
AP NFL website: www.pro32.ap.org and www.twitter.com/AP-NFL
---
---