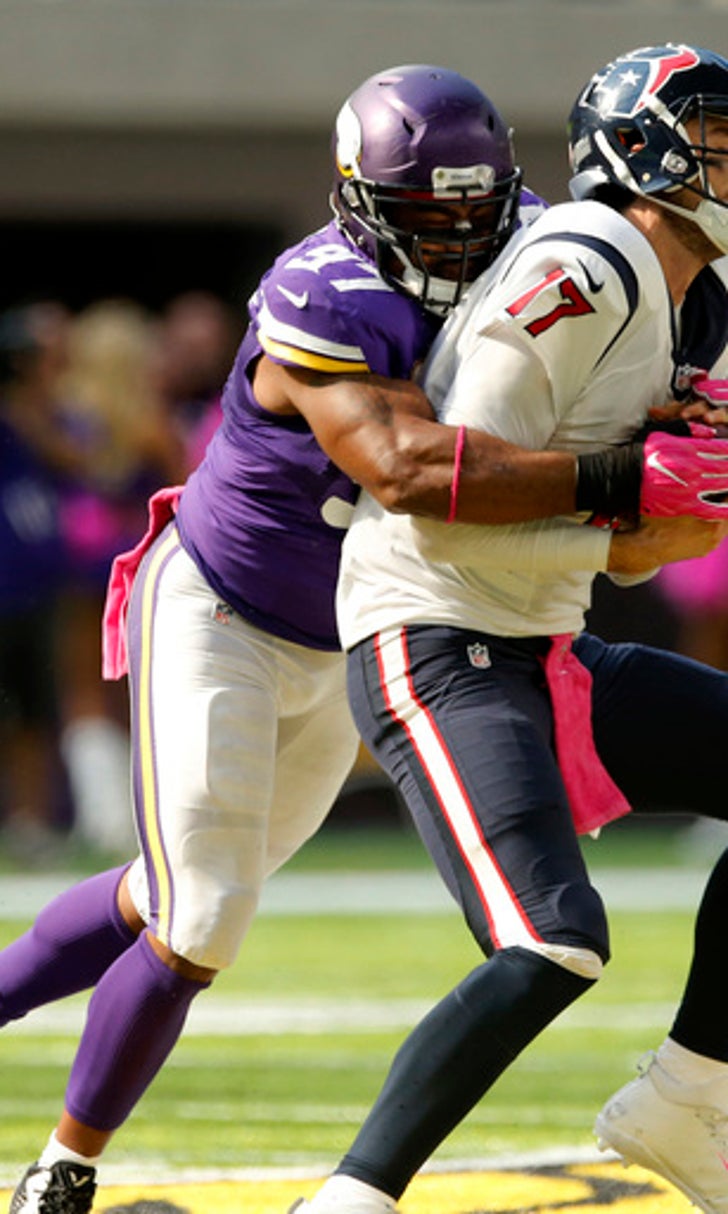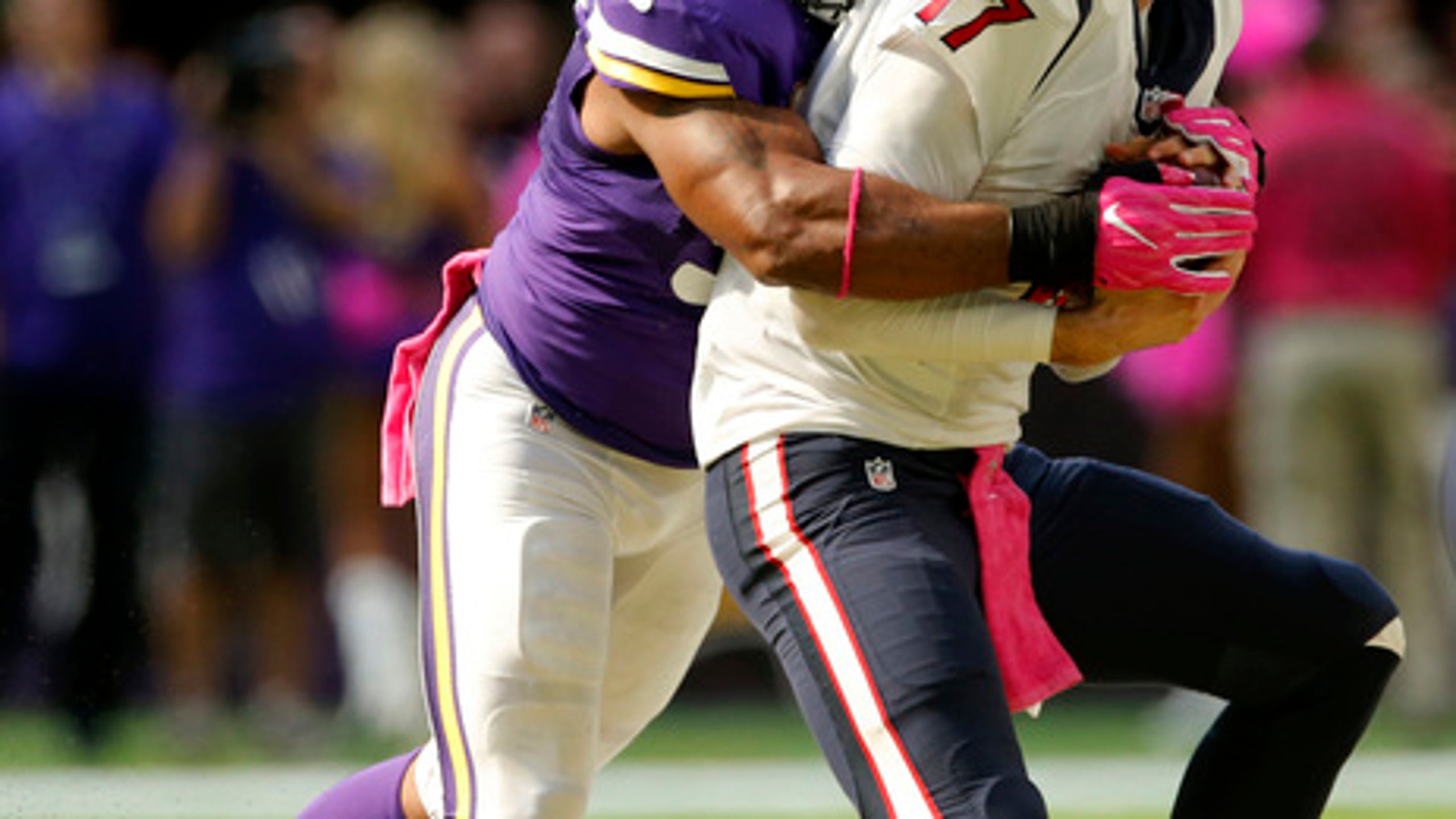 Osweiler struggling to live up to $72 million contract
BY foxsports • October 9, 2016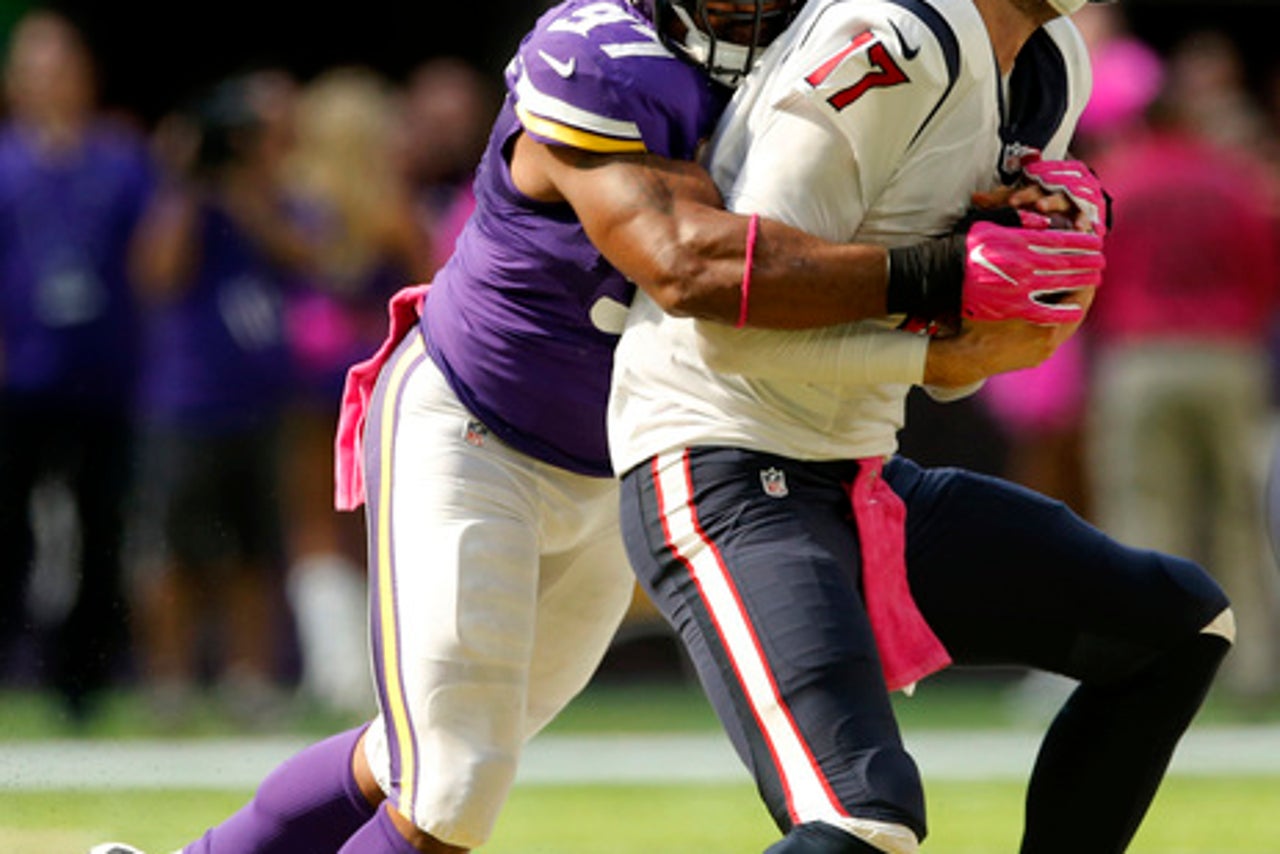 MINNEAPOLIS (AP) His team was sharp in practice during the week, and Brock Osweiler brought a belief to Minnesota that he could help the Texans take home a win.
The Vikings, with their relentless pass rush up front and coverage down the field, were ready with the reality check for Houston's $72 million man.
Maintaining the NFC's only perfect record, Sam Bradford and the Vikings (5-0) built a big early lead before unleashing their defense on Osweiler and the Texans on the way to an easy 31-13 victory on Sunday.
''I knew we had a great challenge ahead of us, but I felt confident in what we could do,'' said Osweiler, who finished 19 for 42 for 184 yards, one interception and a late touchdown pass while taking four sacks. ''So I'm very disappointed in the outcome today, and I'm very disappointed in how I played.''
The Texans (3-2) were denied on 12 of 13 third downs, unable or unwilling to do much other than dump off short passes after the Vikings scored touchdowns on their first two drives. Houston's only two first downs in the first 26-plus minutes both came by penalty on Vikings cornerback Xavier Rhodes, who was otherwise busy hounding DeAndre Hopkins.
Lamar Miller had eight carries for 20 yards during a dud of a performance by the Texans that looked a lot like the 27-0 loss at New England two weeks ago. Osweiler was under near-constant pressure in the pocket as 66,000 fans roared for the Vikings defense under the translucent roof at U.S. Bank Stadium.
''The crowd noise doesn't affect me or anything like that,'' Osweiler said. ''I try to use my feet as an internal clock of when I have to throw the ball away or when the ball needs to come out to a check down, but certainly there's always room for improvement after a loss like this.''
Coach Bill O'Brien tried his best to take the blame, perhaps in part because of the pressure on Osweiler, who signed a four-year contract that's worth as much as $72 million with a whopping $37 million guaranteed. That was for a guy who had seven starts coming into 2016.
Not only was Hopkins a nonfactor until the late score, but Will Fuller wasn't targeted until the first play of the second half. The rookie had only one catch, a head-scratching fourth-and-16 call in the third quarter at the Vikings 39 that netted 4 yards on a screen play.
''I thought that we had a good practice week, but it didn't show up on Sunday,'' O'Brien said. ''That's a reflection of the game plan, especially offensively, and it just wasn't good enough. That's a reflection on me, and I'm serious. I don't know any other way to tell you. I'm not trying to cover for anybody.''
Houston has been hunting for a while for a quarterback to help make that deep run in the playoffs that has eluded the 15-year-old franchise. Matt Schaub was an important part of the 2011 and 2012 teams that each reached the AFC semifinals after winning one postseason game, but since he was hurt in 2013 the Texans have started seven quarterbacks since: Case Keenum, Ryan Fitzpatrick, Brian Hoyer, Ryan Mallett, T.J. Yates, Brandon Weeden and now Osweiler.
Osweiler's play for an injured Peyton Manning last year with eventual Super Bowl champion Denver made him the hot quarterback on the market, and the Texans were an obvious fit. Having the season opener at home against Chicago provided Osweiler a relatively comfortable way to debut during a 23-14 victory , but these games against the Patriots and the Vikings have exposed his inexperience.
''When you're out there and you're part of the offense, your job is to put points on the board,'' Osweiler said. ''Right now with our two road losses, we haven't done that. That's where it starts. We need to score more points. It starts with me. I need to do my job better.''
---
Online:
AP NFL website: http://www.pro32.ap.org and AP
---
---