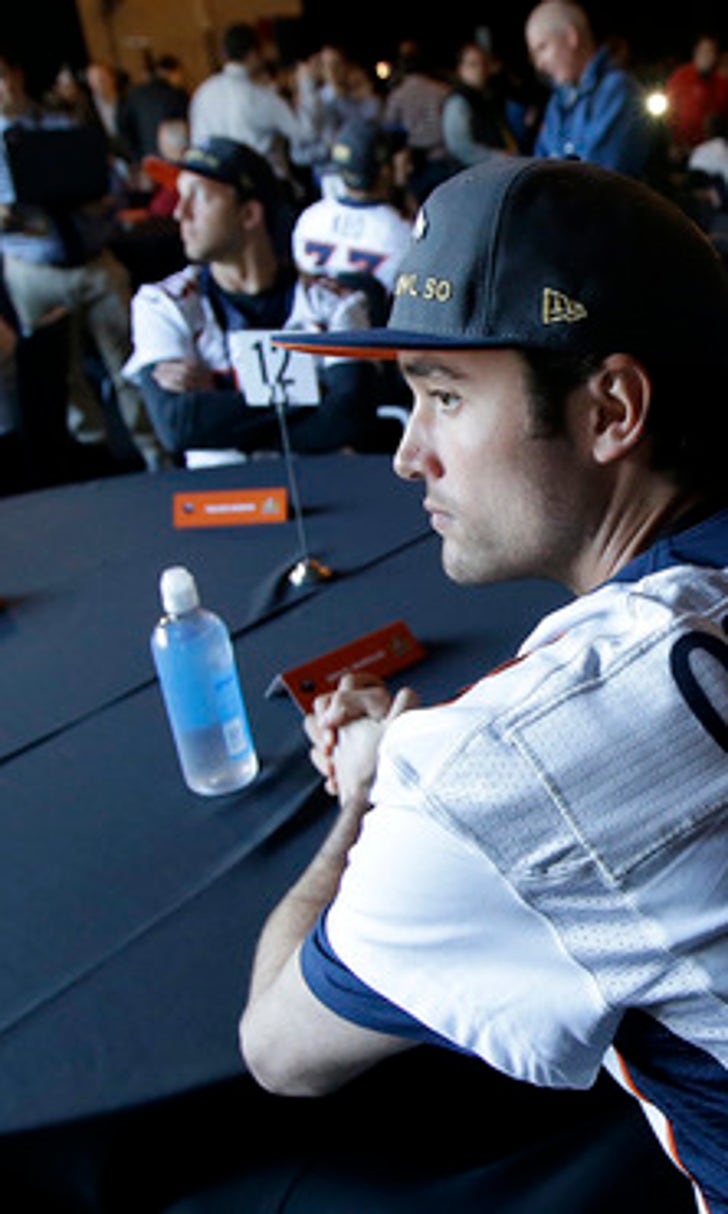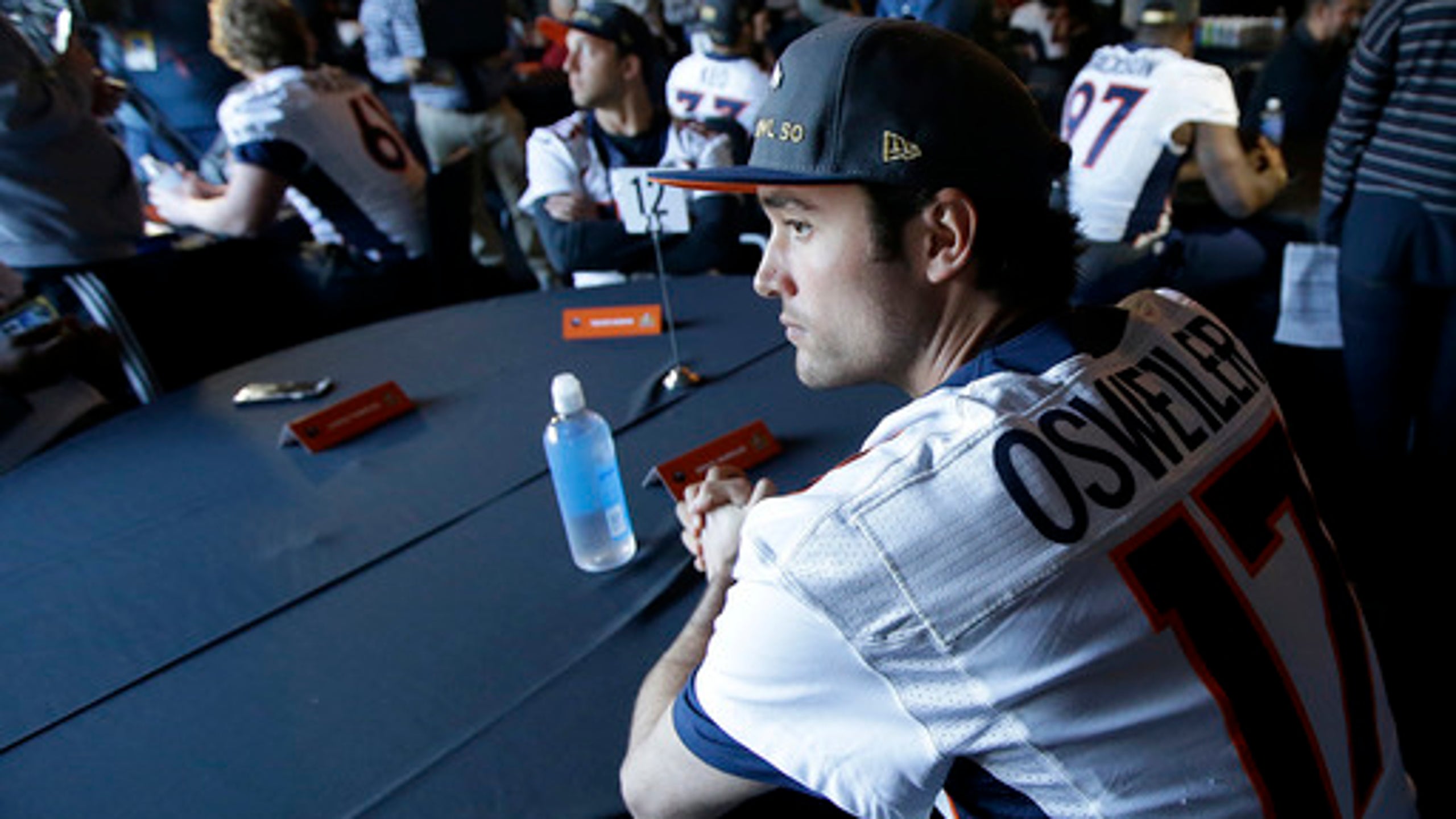 Osweiler and Anderson are better than your average backups
BY foxsports • February 3, 2016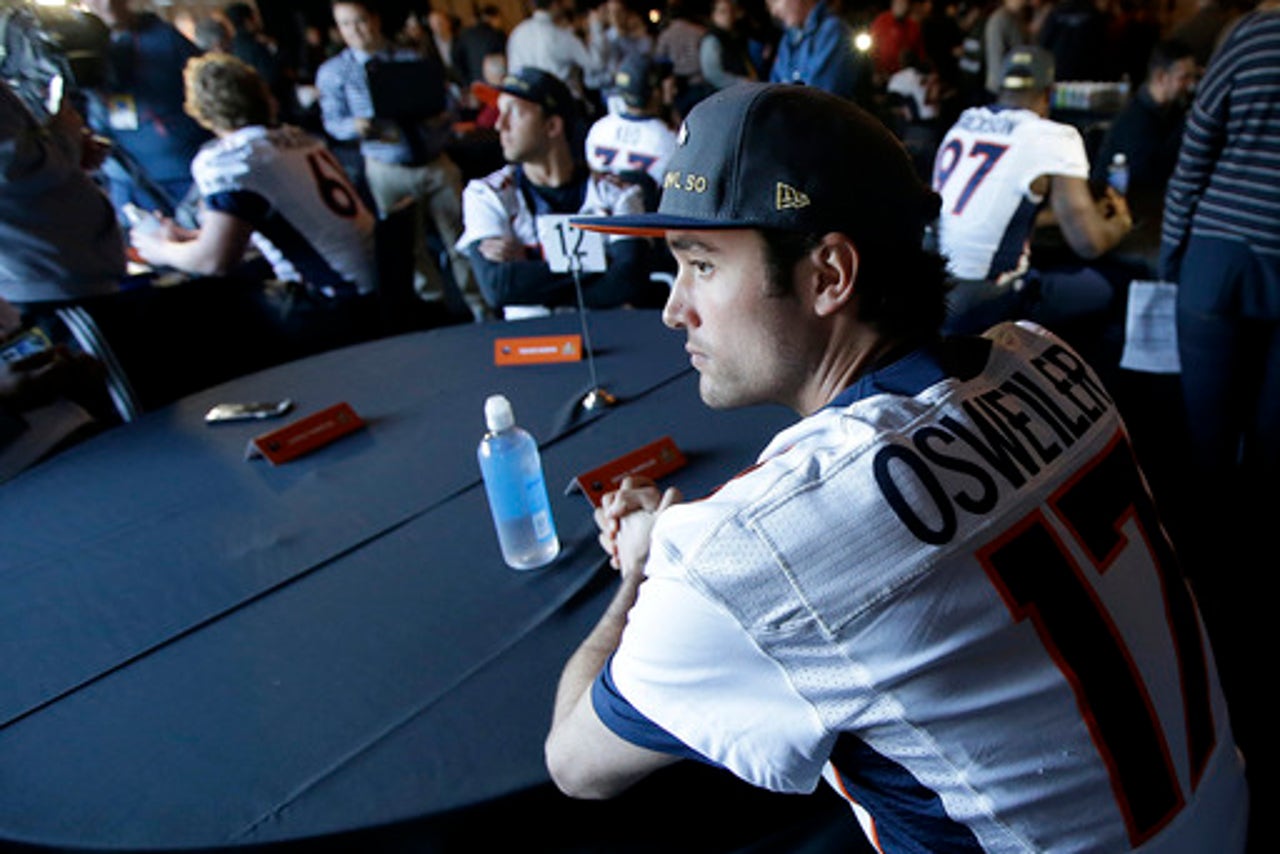 SAN JOSE, Calif. (AP) Backup quarterbacks are always one play away from being the man, and preparing for the Super Bowl is no different.
If Peyton Manning or Cam Newton go down with an injury on Sunday, the championship could come down to Brock Osweiler or Derek Anderson. These aren't your average backups.
Osweiler was 5-2 as a starter this season. Anderson is a former Pro Bowl pick.
The Broncos were Osweiler's team after Manning missed most of the second half of the season because of a foot injury. He was the starter going into Week 17, but got pulled for Manning and the Broncos rallied to beat San Diego to clinch the No. 1 seed. A loss would've dropped them to the fifth spot in the AFC.
If he gets the call against the Panthers, Osweiler is confident he can lead Denver to victory.
''Obviously, the Super Bowl is extremely special and something you work toward your entire life,'' Osweiler said. ''But you work the same way you did all season and if something unfortunate happens to Peyton, I'll be ready to step in.''
A second-round pick from Arizona State in 2012, Osweiler has patiently watched Manning and soaked in as much knowledge as he can from one of the NFL's best quarterbacks.
''You learn so much,'' he said. ''You learn things from managing the game in certain situations like the two-minute drill. You learn about ball security and how important it is to protect the football. You learn how to attack different coverages. There's a laundry list and I'm going to dive into those in the offseason and see what went well and what didn't go well and learn from those.''
Osweiler completed 61.8 percent of his passes and threw 10 touchdowns and six interceptions. It wasn't easy returning to the sideline after getting a taste of the action.
''It's tough because as a competitor you want to be out there,'' he said. ''But the bottom line is we're winning and that's what makes me truly happy.''
Osweiler will be a free agent after the season, and other teams will likely court him as a starter. Some might be worried about his durability, after four injuries in seven starts. Manning may retire, and Broncos boss John Elway wants to keep Osweiler.
''We're hoping to get something done with Brock this offseason,'' Elway said. ''Obviously Brock is a guy that came in and played very well for us this year. We wouldn't be here without him. We needed both quarterbacks. We wouldn't be here without both of them.''
The Panthers turned to Anderson last year after Newton was injured in a car accident and he led them to a pair of wins on their way to a division title. Anderson was 10-5 as a starter for Cleveland in 2007 and went to the Pro Bowl that year, but he lasted only two more seasons with the Browns. He started nine games for Arizona in 2010 and joined the Panthers with Newton in 2011.
''This right here is why I chose to stay in Carolina,'' Anderson said. ''I knew we were going in the right direction. It's about winning games and being in the Super Bowl.''
He's not changing his routine this week, even though the stakes are much higher.
''I'm a very regimented person and I'll be ready to go,'' he said.
---
AP NFL website: www.pro32.ap.org and www.twitter.com/AP-NFL
---
Follow Rob Maaddi on Twitter: https://twitter.com/AP-RobMaaddi
---
---