Once-surly Tom Coughlin grew to love his players, and vice versa
BY Mike Garafolo • January 4, 2016
Tom Coughlin's former players say it all the time -- they never fully appreciated everything he represented, everything he was telling them and why he was so hard on them until days, months or years later.
Playing for Coughlin meant biting one's lip at times and trying to remember he was being so difficult all in the name of winning. So it was for Brandon Jacobs one day against the Eagles in 2007, when the Giants' coach summoned the 6-foot-4, 250-something-pound running back to the sideline.
"He pulled me out of the game and said I wasn't running as hard as I should be running, when in reality I was getting hit 3 yards in the backfield and there wasn't too much I could do," Jacobs told FOX Sports by phone Monday, a few hours after Coughlin stepped down as Giants coach after 12 seasons. "I got pissed off with him. I told him, 'Coach, I will whup your ass. I will beat your ass.'
"And, you know, we made up. But sometimes, when I thought he was full of s***, I let him know. But also, I bought into what he was selling and it ultimately made me better."
Jacobs paused, then in a moment of reflection, brought the story home.
"I may have thought he was full of s***, but he wasn't. He was right," he said. "The time he looked at me running, he was right. I wasn't running hard enough. I could've absolutely run harder.
"But he took that ass-lashing from me and I took it from him and we went on and won the Super Bowl."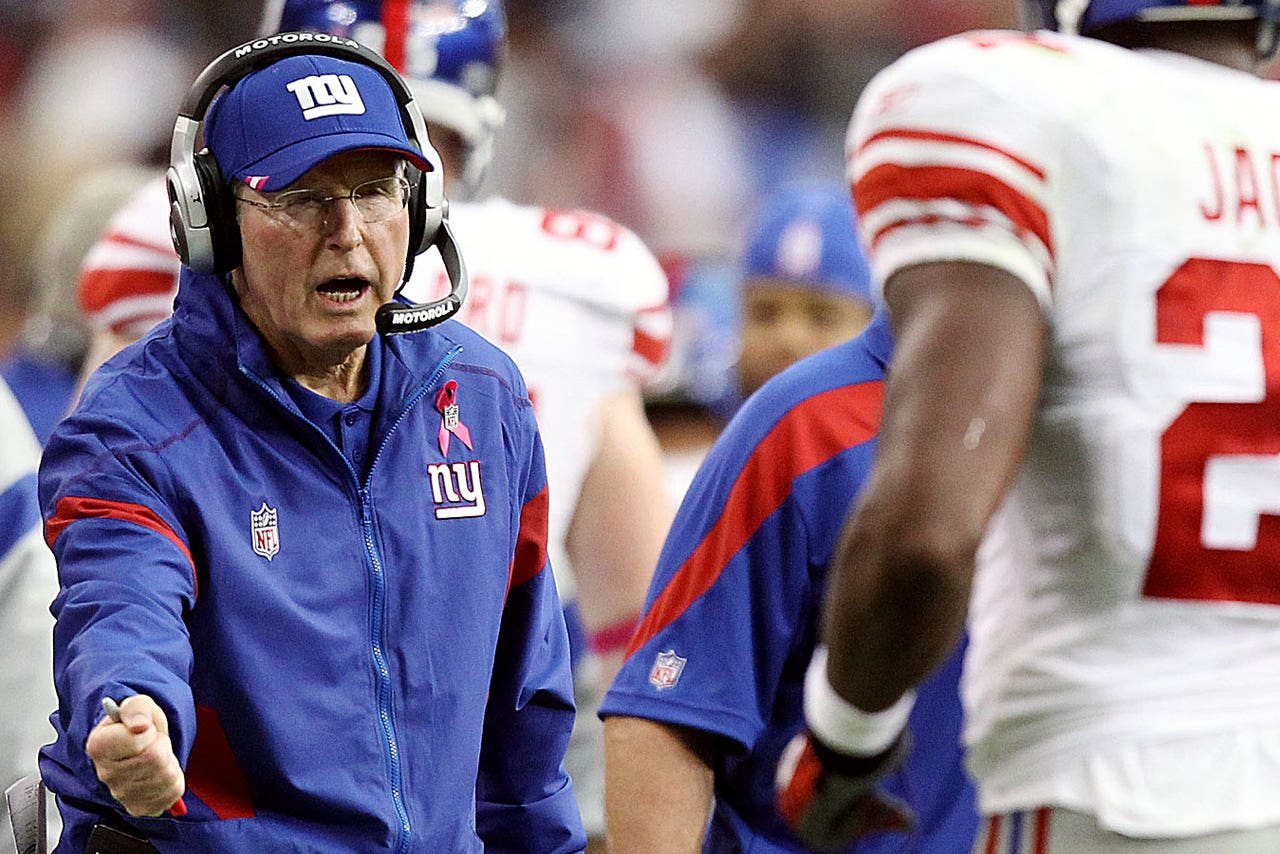 Coughlin tangled with Brandon Jacobs and other Giants players, but they eventually learned he had the best of intentions.

In the era of the pampered athlete, there hasn't been a more stern, throwback coach than Coughlin, who led the Giants to a 102-90 record in the regular season, an 8-3 mark in the playoffs and two Super Bowl upsets of the New England Patriots, one of which ended their perfect season.
Coughlin isn't retiring. He didn't mention the R-word in his statement, and a source told FOX Sports the 69-year-old would coach again in the right situation. Frankly, it's difficult to picture the hard-driving, longtime coach doing anything other than studying film, drawing up game plans and barking at players like he once undressed punter Matt Dodge after Dodge kicked to DeSean Jackson instead of booting it out of bounds as he was supposed to do.
But the possibly-unfinished story of Coughlin the future Hall of Fame coach is about more than X's and O's.
It is a tale of transformation that began when the one-time Giants assistant returned to East Rutherford, N.J., in 2004, this time as a head coach. After going 68-60 with the expansion Jacksonville Jaguars but falling short of a Super Bowl appearance there, Coughlin was intent on changing the culture of what he perceived was a soft Giants locker room Jim Fassel left behind.
It didn't go so well at first.
Coughlin's rules of being 5 minutes early for meetings, keeping both feet on the ground while sitting, wearing suits and black socks for road trips, wearing high socks on the practice field and more rankled veterans such as Tiki Barber and Michael Strahan. It was a rough first season, especially with panicked rookie quarterback Eli Manning's struggles turning a 5-4 playoff contender into a 6-10 team in need of a lot of work.
The on-field results quickly changed, with the Giants winning the NFC East in 2005 and making the playoffs in 2006, only to be bounced by the Eagles in the first round. After that game, team president John Mara talked to a dejected Coughlin in the locker room within sight of reporters but out of earshot, as the media looked on and wondered whether Mara, along with chairman Steve Tisch and treasurer Jon Tisch, would fire the man who was the last coach their late fathers had hired.
The organization stuck by Coughlin. One magical Super Bowl season later, after David Tyree's helmet catch and Plaxico Burress' touchdown, a rare display of patience in the NFL was more than justified.
Of course, it never would've happened if Coughlin hadn't listened to ownership's suggestions he change his ways and start becoming more player-friendly.
"One of the first couple of years he was there, he was walking by a player who said, 'Good morning, Coach.' And (Coughlin) said, 'What's so good about it?' It was like, 'Damn, really?' " former Giants center Shaun O'Hara recalled.
"That was the way he was and then, and when you fast forward a couple of years it was like a different guy. He'd come up to you and say, 'How are you doing? What's going on?' He was more engaging. There was absolutely more of an effort on his part to interact and show, 'I care about you as a person as well, and I'm not just looking at you for the number you wear on your jersey.' "
Jacobs recalls the dread he felt when cornerback Kevin Dockery, an undrafted free agent who signed with the team in 2006, ran onto the practice field in 2007 with socks so low they didn't even show above his cleats.
"He used to scream, 'Go back inside and put on socks! Who do you think you are?! This isn't a golf course!" Jacobs said.
On this day, Coughlin looked at Dockery's ankles and didn't say a word.
"That's when I saw it change," Jacobs said. "That's when we started buying what he was selling."
The Giants traded for kicker Lawrence Tynes in the 2007 offseason. As Tynes was set to leave Kansas City to attend minicamp that June, his wife went into premature labor with twins. Coughlin told him to stay with his wife as long as he needed.
"The first batch of flowers I get from anyone in the world is from Tom Coughlin," Tynes recalled. "I was a member of the team for about a month and had met him one time. That set the tone for what kind of person he is. It gave me a feeling for where I was in an uncertain moment in my career and who was leading our team."
Jacobs even recalls Coughlin joking with the team more openly during that season and the ones that followed, such as when he would project game predictions from the media onto the screen during meetings. 
"He'd say something like, 'This guy didn't pick us to win, but, guess what guys, they can kiss my ass!' " Jacobs said, echoing a line Coughlin said in the locker room after the final game of the 2010 season that saw the 10-6 Giants miss the playoffs.
A year later, the night before Super Bowl XLVI, Coughlin told the players something he'd never told another team in over four decades as a coach: "I love you."
It was moments like those that changed the players' perceptions of Coughlin, though they never doubted him as a coach. Jacobs is one of many players to say he's never seen a coach who has had a team more prepared for every single game than Coughlin.
Manning has never played for anyone other than Coughlin in the NFL. The reality that was about to change hit the 35-year-old 2004 No. 1 overall pick as he addressed reporters on Monday. Long known as someone who rarely shows emotion, Manning choked back tears as his voice cracked.
"The meeting today, just thinking it could be the last one with Coach Coughlin up there," Manning said, "it was tough."
It has been an emotional few days for the Giants and the Coughlin family, who showed up en masse to Sunday's game against the Eagles wearing "Coughlin Crew" shirts. Among them was Chris Snee, the former Giants guard and Coughlin's son-in-law who somehow managed a potentially awkward situation perfectly. In fact, O'Hara claims Snee's bringing his kids to practice helped reveal a different side of Coughlin to the players.
"If the Giants hadn't drafted Chris Snee," O'Hara said of the 2004 second-rounder, "I don't know if we'd ever have gotten to see that side."
But they did. And they're grateful for it, more so now than ever.
"He's one of the greatest men I've ever been around, for what he's done for me and my family and always believing in me, always putting me in a position to be great," said Jacobs, who coaches his son's youth football team in the stern manner he learned from Coughlin. "The stuff he did for a lot of other players that were going in the wrong direction and how he gravitated to us as players and men, he made an imprint on my life and the lives of others.
"Tom Coughlin should run for President."
---
---