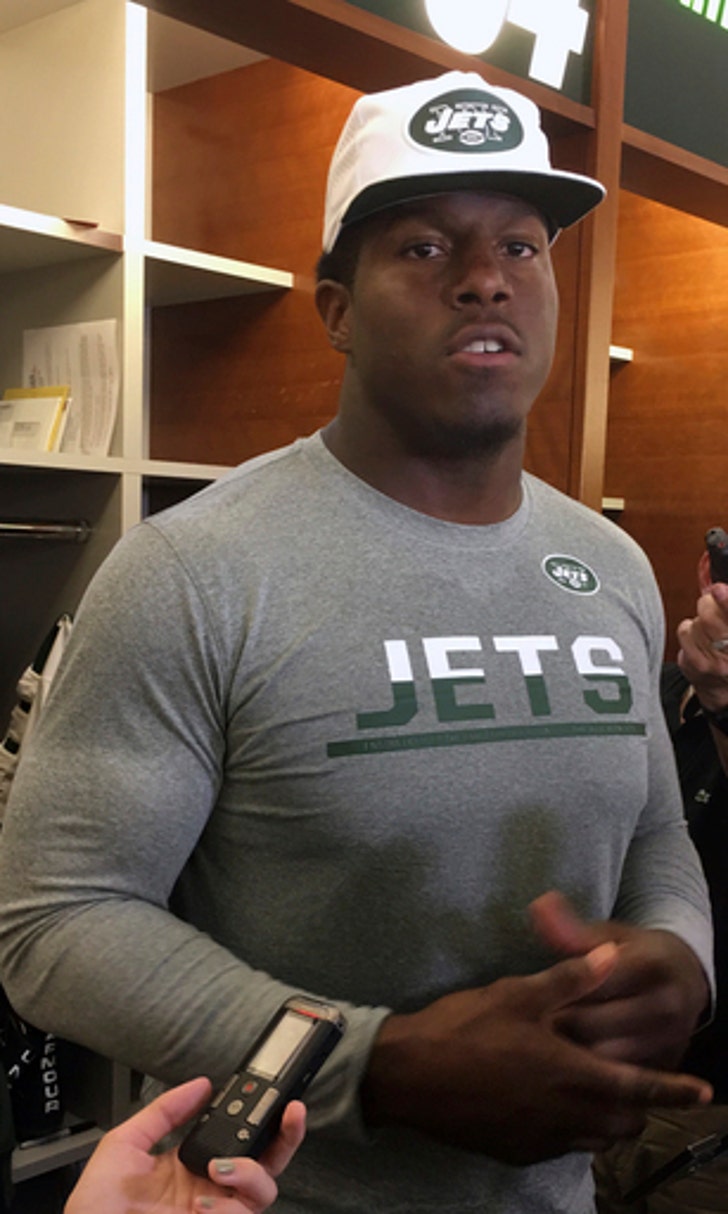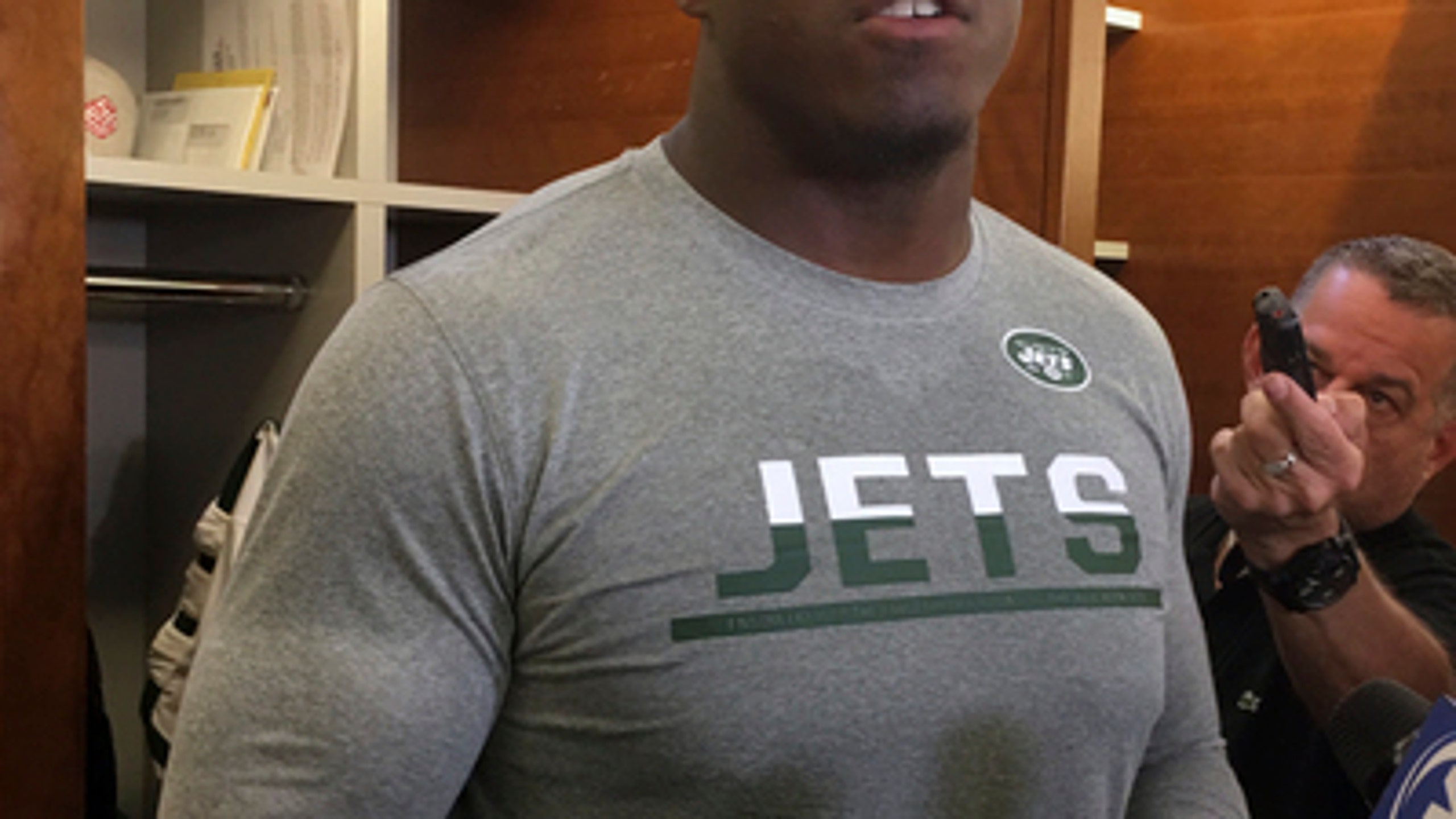 Once a Super Bowl star, Ealy eager for fresh start with Jets
BY AP • September 8, 2017
FLORHAM PARK, N.J. (AP) Kony Ealy was a rising star just a few years ago, making NFL history on football's biggest stage.
The young defensive end's career then suddenly sputtered, and he was traded and cut in a span of a few months. Now with the New York Jets, Ealy hopes to have found a home and is eager to put the past behind him.
''It just fills my tank up with a lot of gas, man,'' a smiling Ealy said after practice Friday. ''Able to get out here and just be able to perform, I'm not worried about any extra things that are going on. I just want to come out here and put a good show on. That's it.''
The Jets claimed Ealy off waivers from New England on Aug. 27, and he has a chance to revive his career and make his mark on New York's defense.
''Being disruptive,'' Ealy said of his role with the Jets. ''Anything I can do to help. In this defense, we're all about getting after the ball, whether it's the quarterback, running back or receiver. That fits my platform of what my ability is, and that's what I think I bring to the table.''
Ealy knows a little bit about performing in a big spot. The 2014 second-round pick of Carolina out of Missouri capped his second NFL season by tying Reggie White and Darnell Dockett for the Super Bowl record with three sacks in the Panthers' 24-10 loss to Peyton Manning and the Denver Broncos.
He also became the first player in Super Bowl history to have multiple sacks and an interception. Ealy also forced a fumble in the Super Bowl and could have been a leading contender for MVP honors if the Panthers won.
Last season, he played in all 16 games for Carolina, but started only six. He had five sacks for the second straight year, but fell out of favor when he struggled with consistency and never developed into a dominant pass rusher.
Ealy was traded from Carolina to New England in March along with a third-round draft pick for the Patriots' second-rounder. Five months later, Bill Belichick cut him .
''It didn't work out in Carolina because of personal reasons and it didn't work out in New England because of the scheme,'' Ealy said. ''I'm not going to make any excuses or fault anybody for that. It just didn't work out. God didn't have it in my plans for me to be at those places, so I'm taking advantage of where I'm at now and I'm going to make the best of my opportunity here.''
Jets defensive coordinator Kacy Rodgers thinks the adversity Ealy has faced might turn out to be a blessing in disguise.
''I think the reality of being cut and hitting the streets has helped him,'' Rodgers said. ''He's come in here and done everything we've asked of him. I can't speak on him when he was in Carolina or New England, but since he's been in this door, he's done everything we've asked him to do.''
Ealy is still just 25 and has 14 regular-season sacks. He's currently listed as the backup to Leonard Williams for the season opener Sunday at Buffalo, although Rodgers acknowledged - without going into detail - that the Jets will ''definitely have a unique role for him'' this season.
Rodgers and the coaching staff have been pleased with how ''very hungry'' Ealy has been to learn the defense. In the preseason finale against the Eagles, Ealy had three tackles, a sack and a forced fumble - just four days after joining the Jets.
''We like the way he's practicing and he's been motivated since he came in the door,'' coach Todd Bowles said. ''I can't say he has extra motivation, but I know he's motivated.''
Ealy was briefly reunited with cousin Sheldon Richardson, also a former teammate at Missouri. But New York traded Richardson last Friday, just five days after Ealy arrived. Ealy's presence actually helped make Richardson expendable for the Jets.
''I hadn't played with him since college, so it would've been really great to kind of strap it up again and go out there and play with him,'' Ealy said. ''But at the end of the day, this is a business and you've got to treat it as such. I know. I've been on two different teams.''
And, he's hoping the third team's a charm.
''These guys that I'm playing with, they made me feel as comfortable as I was in Carolina,'' Ealy said. ''The coaches, I'm grateful for them because they've really dedicated their time and are just making sure that they're not putting a lot on me but at the end of the day, I'm playing fast and I'm learning things and I'm getting it down pat.
''I feel really comfortable. I'm going to go out there this weekend and I'm going to have fun.''
NOTES: Bowles ruled out S Rontez Miles (eye) and TE Jordan Leggett (sore knee) for the opener. Every other player on the active roster is probable.
---
For more NFL coverage: http://www.pro32.ap.org and http://www.twitter.com/AP-NFL
---
---