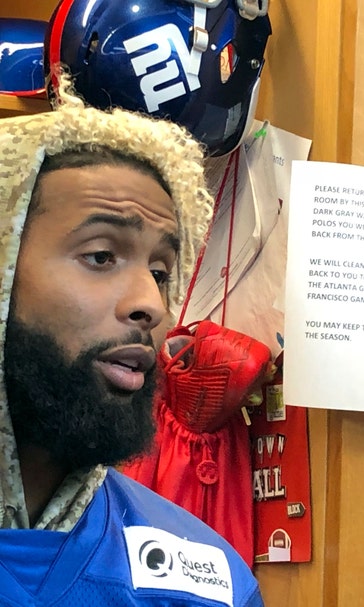 Odell Beckham Jr. upset with losing and frequent PED tests
September 20, 2018
EAST RUTHERFORD, N.J. (AP) — Odell Beckham Jr. is sick of losing and frustrated with seemingly being asked to take tests every other week by the NFL for performance-enhancers.
Beckham tweeted about the tests Thursday before the Giants (0-2) practiced for Sunday's game in Houston against the Texans (0-2).
"It's actually funny how I 'randomly' get tested every other week," Beckham wrote. "Dear @NFL please stop sending these people, ur takin away from meeting times and film... thanks."
Beckham has never been suspended by the league for using a banned substance.
As far as losing, Beckham hasn't been on the field for a win since the end of the 2016 season. He was hurt in Game 5 last year, breaking his ankle against the Chargers.
There are limits to the amount of times a player can be tested.
Under the 2018 NFL Policy on Performance Enhancing Substances, the program is run by an independent administrator. A computer randomly picks up to 10 players a week to be tested.
Players may have their urine and or blood tested a maximum of 24 times annually for reasonable cause. Offseason tests are limited to a maximum of six urine and/or blood tests per player.
Once informed they have been chosen for testing, players have three hours to submit a sample.
The program was set up in collective bargaining between the league and the NFL Players Association.
Hours after his tweet, Beckham seemed more tolerant about the tests, which he said were for performance-enhancers.
"Yeah, that's like steroids. I'm looking big!" said the 25-year-old who recently became the NFL's highest-paid receiver. "This is like performance-enhancing stuff. I pretty much get tested every week. I'll just take it as a compliment."
Beckham had had an up-and-down season in returning from his injury. He had 11 catches in the opener against Jacksonville and was limited to four against Dallas this past weekend. There were long stretches against the Cowboys where he was not involved in the offense.
"It's tough, but I think that's the part where I've grown up the most, is just being able to stay in it and know that it's always one play that's right there," said Beckham, who is averaging almost 11 yards a catch. "It's always one play away."
While the Giants have scored 28 points in two games, Beckham thinks the offense can be potent.
"I feel personally, I could score two touchdowns every game," said Beckham, who has not scored this season. "I feel like Saquon (Barkley) could score two every game. There are other people on this team who could score every single game.
"That's over 35 points. It's just a matter of executing it and making it happen, really. But it doesn't seem out of reach for me in my mind, I don't want to win 24-21. I'm trying to win 52-18, whatever they score."
The most recent time Beckham won a game was the regular-season finale against Washington in 2016. New York lost the playoff game to Green Bay and started last season with five straight losses. Beckham only played in four of those games, missing the season opener with an ankle injury. So he is on a personal six-game losing streak.
"I don't remember the last time I won a game was," he said. "Maybe some cards or something, but not an NFL football game. I haven't won one in a long time. It's definitely not a good feeling, not something you come here to do. You don't come here to lose, you just don't."
NOTES: CB Eli Apple (hamstring) and LB Olivier Vernon (high ankle sprain) did not practice. It seems unlikely they will play this weekend. ... LB Connor Barwin (knee) and TE Evan Engram (ankle) were both back on a limited basis and are expected to play Sunday. ... Giants special teams coach Thomas McGaughey has been taking a trip to Houston for months to get cancer treatment. He plans to see his wife and children again but he won't have much time. "Game day is game day. It's a business trip. I just went home on Monday. It's one of those deals, you go ahead and go play, get on the plane and go back home."
---
---