Tom Brady
Tom Brady
Now it's a party: Kraft's re-entry adds sizzle to Deflategate fight
Published
Jul. 29, 2015 3:37 p.m. ET

They're all in, now.
Every last one of them.
Including the most important piece of the puzzle.
It's the Patriots versus the world, and like any great empire -- yes, with Bill Belichick's 196 playoff and regular-season wins since becoming coach in 2000, New England is just that -- they're going to fight for what they believe is rightfully theirs. A lesson from world history: Empires are hard to take down, especially when there are no internal divides. And this empire isn't going anywhere soon.
Patriots owner Robert Kraft was the missing piece in all of this. Until he weighed in Wednesday on the league's refusal to reduce Tom Brady's Deflategate suspension, this was a war being fought by soldiers. Now, Patriots Nation has its general back.
Since his abrupt and surprising "company man" about-face at the NFL's league meetings in May, Kraft had been an owner on an island in the eyes of Patriots fans. He accepted a penalty -- a hefty one, at that (two draft picks and a $1 million fine) -- and nobly waved a white flag that he didn't necessarily need to wave in front of the rest of the league's owners. His quarterback, his team and his fan base were being dragged through the mud, and the owner -- regrettably, he says now -- did what he thought was best for the overall corporation. He deferred to the shield, for the good of the game.
We may never know what was said, whatever verbal agreements were made or not made, and what was insinuated through back-room handshakes and hushed-toned conversations in the days between the Patriots' release of the bombastic "Wells Report in Context" and Kraft's backing down at those league meetings a few days later. Whatever it was, whatever it wasn't -- it doesn't matter now. We won't know what was discussed when Kraft was photographed taking a leisurely stroll with Commissioner Roger Goodell in ritzy Sun Valley, Idaho, on July 9, either. Again, it doesn't matter now.
Regardless of whether a deal was made to take it easy on Brady in the appeals process, it's of no circumstance given that he'll still miss four games.
The book was thrown at Brady when the suspension was announced. And now, it's been thrown again. Fool me once . . .
Now, Robert Kraft is back in on this, and for at least the 2015 season it could make for the juiciest storyline of all. On Wednesday, he was the same fiery defender of the throne that he was when he first addressed Deflategate, all fire and brimstone coming off that plane the Monday of Super Bowl week.
"The decision handed down by the league yesterday is unfathomable to me," Kraft said Wednesday, pulling no punches. "For reasons that I cannot comprehend, there are those in the league office who are more determined to prove that they were right rather than admit any culpability of their own or take any responsibility for the initiation of a process and ensuing investigation that was flawed."
Kraft didn't just attack the league's process (and in turn, his Sun Valley strolling partner, Goodell), but he also insinuated that an employee within the league office has been feeding ESPN with false information, shaping the public conversation and controlling the tone around Deflategate throughout. Tom E. Curran of Comcast New England suggested this to Goodell during the commissioner's press conference at those May meetings. Goodell dismissed the question and moved on to the next topic -- the prospect of Los Angeles football or a game being played in Germany, or whatever else was next in line.
The "11 of 12" balls story, which was proven to be factually inaccurate in the 243-page Wells investigation, has never been redacted or revised. By much of the casual (or non-casual) football-viewing public, it is still viewed as fact.
But it's all out on the table now -- the ugly underbelly of a war no one expected would last this long. If anything, this week's actions -- and fiery statements from both sides -- fueled the fight even further.
Brady versus Goodell and the NFL was a tasty enough storyline, but the Kraft-Goodell showdown takes this to another level. Bad cellphone destruction jokes will dominate late-night talk shows, and the semantics of whose lawyering up with whom and in what municipality will bleed into our sports news throughout August and September. But that Kraft-Goodell relationship -- now forever tainted, forever changed -- is the one worth tracking closest here.
Remember, it was Kraft who stood and hugged Jeff Saturday at a podium when the 2011 work stoppage ended, the face of the owners reaching out to the NFLPA with open arms. It was Kraft who publicly defended Goodell a few years back when people began questioning the commissioner's salary. It was Kraft who stood up in front of a national audience on "CBS This Morning" to defend Goodell's handling of the Ray Rice case. Kraft did more than merely support his beleaguered comrade throughout that situation, he raved about the job he was doing.
"The way he has handled this situation himself, coming out with the mea culpa in his statement a couple weeks ago, or 10 days ago, and setting a very clear policy of how we conduct ourselves in the NFL, I thought was excellent," Kraft said on the show last September. "Anyone who is second-guessing that doesn't know him."
And this is hardly just any relationship frayed.
Kraft is back on the side of his fan base and his quarterback. And we're just getting started. 
---
---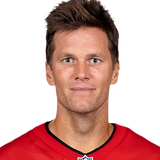 Get more from Tom Brady
Follow your favorites to get information about games, news and more
---