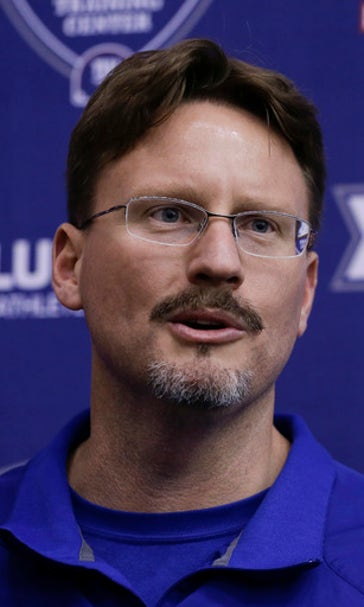 Notre Dame's Williams getting long-shot tryout with Giants
May 7, 2016

EAST RUTHERFORD, N.J. (AP) To say that Ishaq Williams is a long shot to make the New York Giants might be an understatement.
Players who come to rookie and free agent minicamps in the spring on a tryout basis usually don't make it past the three-day camp.
Williams has greater odds. The one-time Notre Dame lineman/linebacker has not played in roughly two years after being cited in an academic fraud investigation involving five players.
He played in an All-Star game in Texas in January, but that's been the extent of his football. He was able to keep his scholarship and is close to graduating, but it wasn't easy. He ballooned to 290 or so pounds and only recently got down to 253.
Williams refused to talk about the academic problems, saying his focus is on the future.
''I have this opportunity with all that happened and I still have the opportunity to move forward and chase my dream,'' said Williams, who played at Lincoln High School in New York City.
It's clear that Williams is trying to make an impression on Giants coaches. It seemed that he was going full speed on every play.
''That's what I need,'' Williams said. ''I have to show something that the coaches can't ignore. I have to be there on every down, I can't afford to make bad decisions and loaf.''
Williams played in all 13 games and had 22 tackles in 2012 for the Fighting Irish. He saw action in 11 games as an outside linebacker in 2013, making his first career start against Air Force on Oct 26. That would be his last game.
His suspension followed, and it nearly ended his football career.
There were times when Williams thought he might not play again. Family and friends told him to hang in.
''I started to get my second wind and started to give it my all,'' he said. ''I have been doing this since I was 7 years old, so I might as well give it a try and see what happens.''
Even getting a tryout was not easy. He had to train for months and attend pro days to attract attention.
Giants coach Ben McAdoo knows Williams faces a challenge.
''I mean, it is not something that you can go out to the playground and play,'' McAdoo said. ''You need it to be on a team and be around a team. It is tough to simulate the game. That is why having the big lapse between the end of the season and the offseason program is such a challenge.''
Williams isn't worried. He gave it everything he had on Friday.
''I think it would be hard not to be here and have these opportunities,'' he said. ''It's just great to be here.''
---
AP NFL website: www.pro32.ap.org and www.twitter.com/AP-NFL
---
---