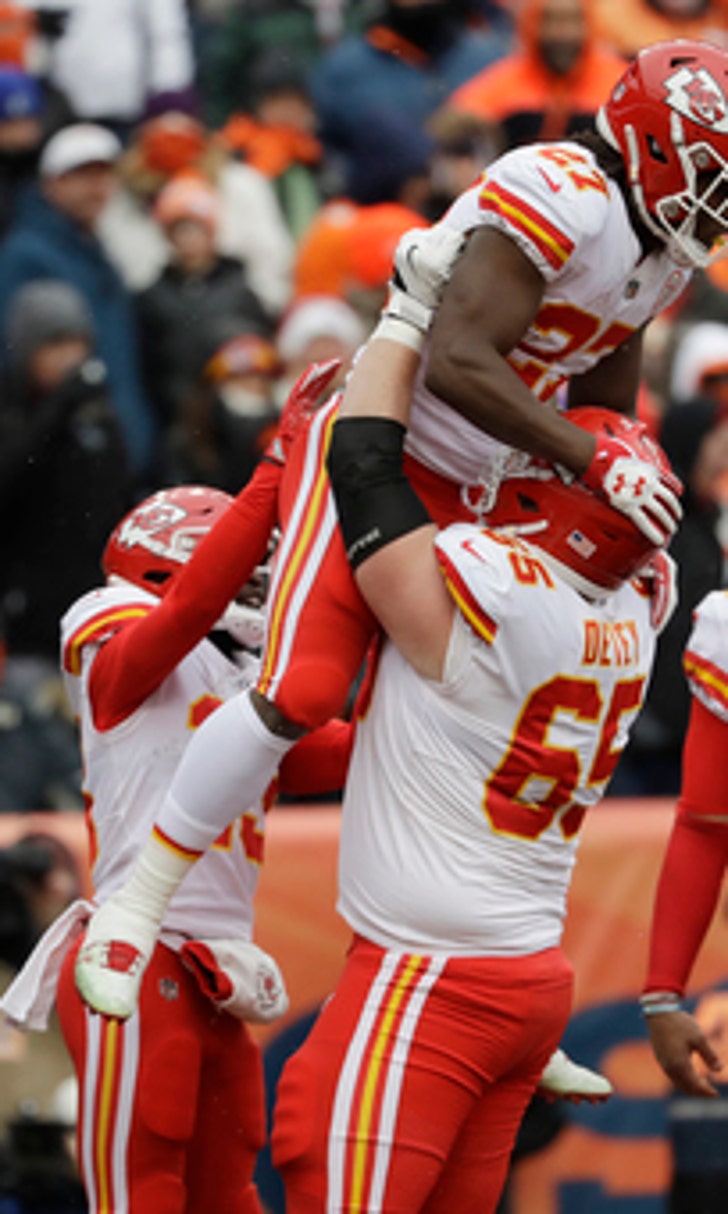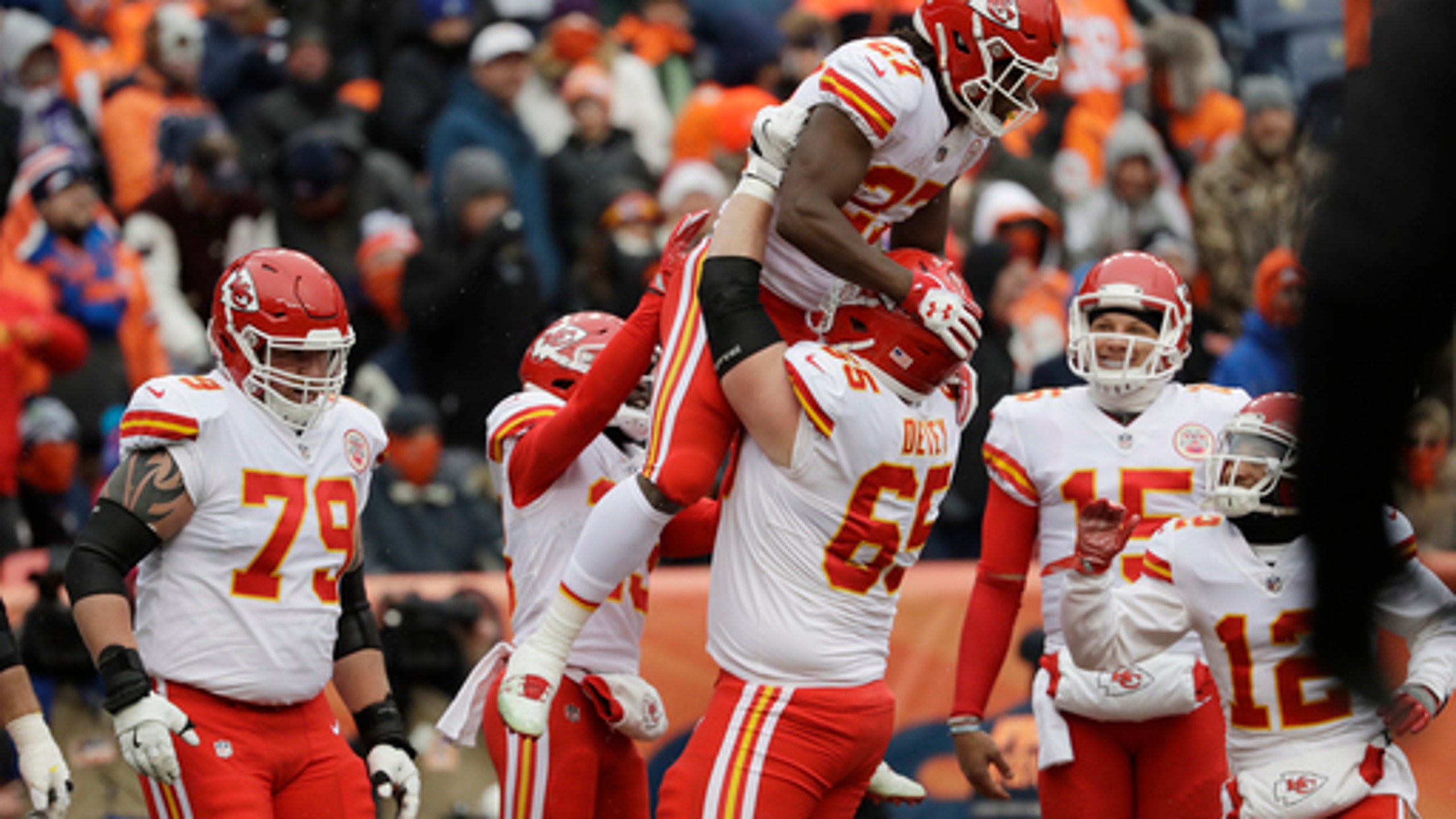 NFL rushing champ Kareem Hunt ready for playoff test
BY AP • January 3, 2018
KANSAS CITY, Mo. (AP) Kareem Hunt has been running through challenges all season.
First, there was the challenge of taking over the starting job in Kansas City when veteran running back Spencer Ware, who was supposed to form a two-headed monster with him, went down with a season-ending injury during a preseason game against Seattle.
Then there was the challenge of living up to expectations, which soared after Hunt ran roughshod over New England in the season opener and kept climbing after a string of incredible performances.
There was the inevitable challenge of breaking through the rookie wall, too. Hunt struggled along with the rest of the Chiefs during a midseason swoon that saw them lose six out of seven, putting their once-iron grip on the AFC West in jeopardy with a few games left in the regular season.
The next challenge: The Titans' bruising rush defense, now that Hunt has led the Chiefs to their second straight division title and into a wild-card game on Saturday at Arrowhead Stadium.
''I always believe in myself. I always think I'm going to make something happen,'' said Hunt, a third-round pick out of Toledo. ''When Ware went down, I had an opportunity to step in and fill a role.''
He filled that role in record-setting fashion, too.
Hunt successfully persuaded coach Andy Reid to let him play last week against the Broncos, even though the division had been decided and playoff position set, so that he could take aim at the league rushing title.
Hunt only needed one carry to scamper 35 yards for an early touchdown, enough yardage to send him past the Rams' Todd Gurley with 1,327 yards in just over 15 games.
Hunt is the second straight rookie to win the rushing title, following the Cowboys' Zeke Elliott, and the sixth to accomplish the feat in the Super Bowl era.
The only other Chiefs to lead the league in rushing are Priest Holmes and Christian Okoye.
All of that seemed possible when Hunt eclipsed 100 yards rushing in four of his first five games, including a 172-yard performance against the Chargers.
And none of it seemed possible six weeks later, when Hunt was held to 17 yards on 11 carries by Buffalo in another miserable outing.
At that point, the rookie wall seemed very real - even if Reid mostly laughed it off.
''We look at it right around Game 12, you kind of see where they're at and if they have a bad play you say, `Whoop! There's the rookie wall,''' Reid said, dripping with sarcasm.
''Sometimes I think that gets a little overrated, but we haven't seen that with him. He's done well and I think we're probably a little hypersensitive to that when you get around the middle of the season, that 12th game.''
If there was any such wall, the modest-to-a-fault Hunt eventually broke it down. He ran for at least 90 yards and a touchdown in three consecutive games to clinch the division title, putting Hunt in a position to nab the NFL rushing crown in the final game of the regular season.
''Talk about explosive player,'' said Titans coach Mike Mularkey, marveling at Hunt's ability to ''go the distance every time'' the young running back touches the ball.
Hunt averaged 4.88 yards per carry this season, second only to the Saints' Mark Ingram, and his 35 carries of at least 10 yards trailed only Gurley for most in the league.
''I just go out there and play football every game,'' he said, ''and really don't look at the big picture. Just go out there and control what I can control and make plays and good things happen.''
Hunt faces a big test this weekend in Tennessee, which rolls into Arrowhead Stadium allowing 88.8 yards rushing per game - the best in the AFC and fourth-best in the league.
They've only allowed one 100-yard rusher all season. That was Gurley in Week 16.
''We have our chance in the playoffs,'' Hunt said, ''and we just have to keep it rolling.''
NOTES: CB Phillip Gaines (dislocated elbow) went on injured reserve Wednesday and DT Stefan Charles was signed to provide depth. DLs Jarvis Jenkins and Rakeem Nunez-Roches have been hobbled by injuries, so Charles gives the Chiefs insurance if those guys are unavailable. Neither of those defensive linemen practiced Wednesday.
---
For more NFL coverage: http://www.pro32.ap.org and http://www.twitter.com/AP-NFL
---
---