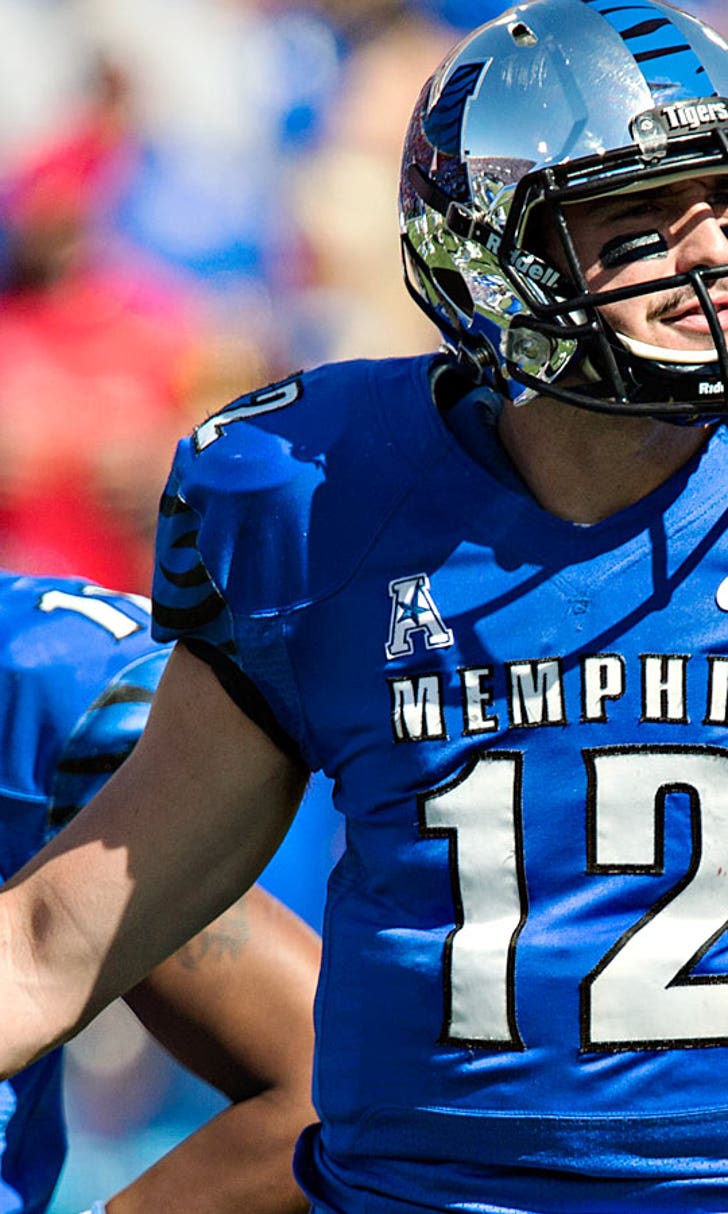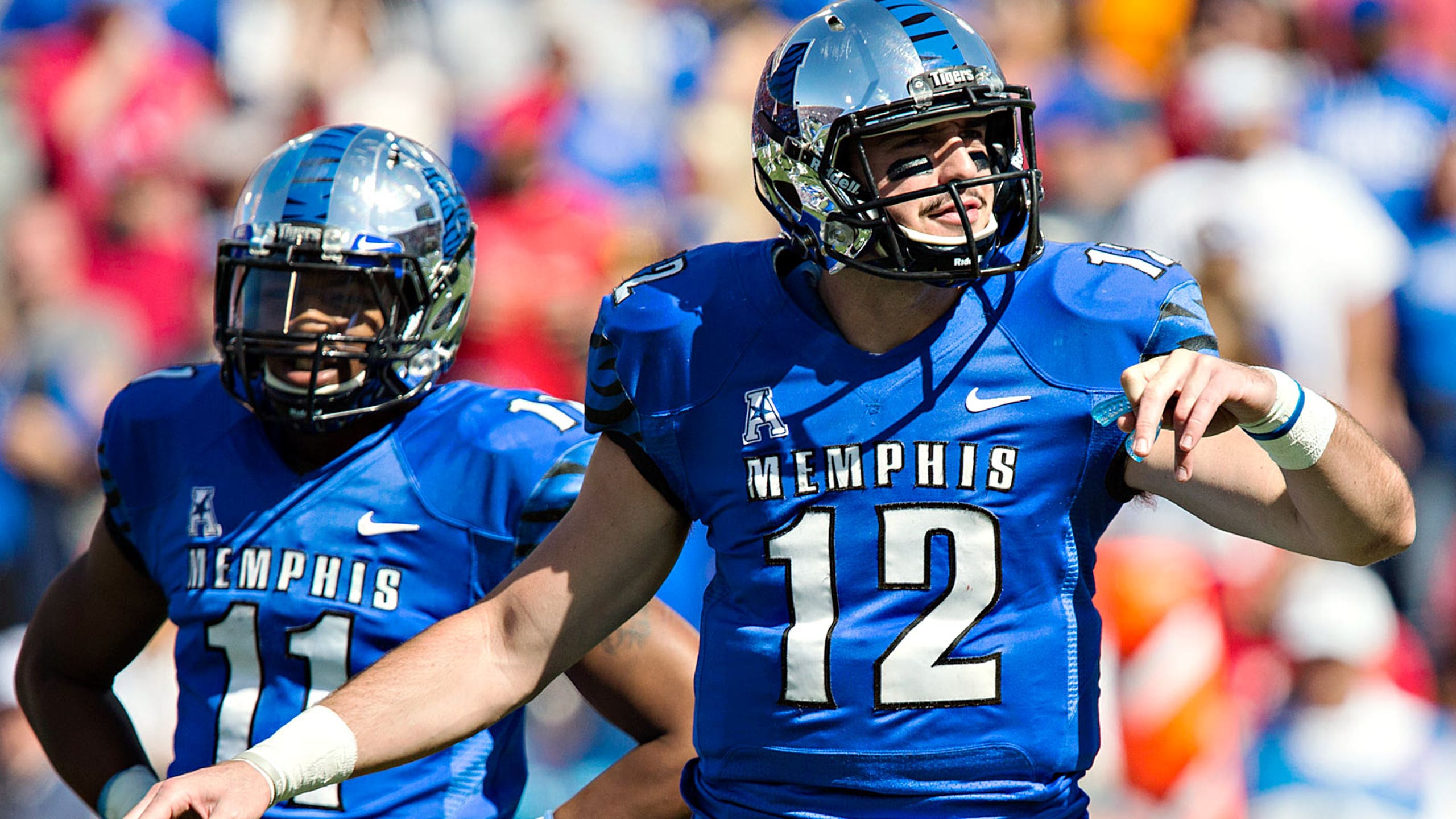 NFL Mock Draft v1.0: Why Cowboys should be searching for Tony Romo's successor
BY Peter Schrager • December 30, 2015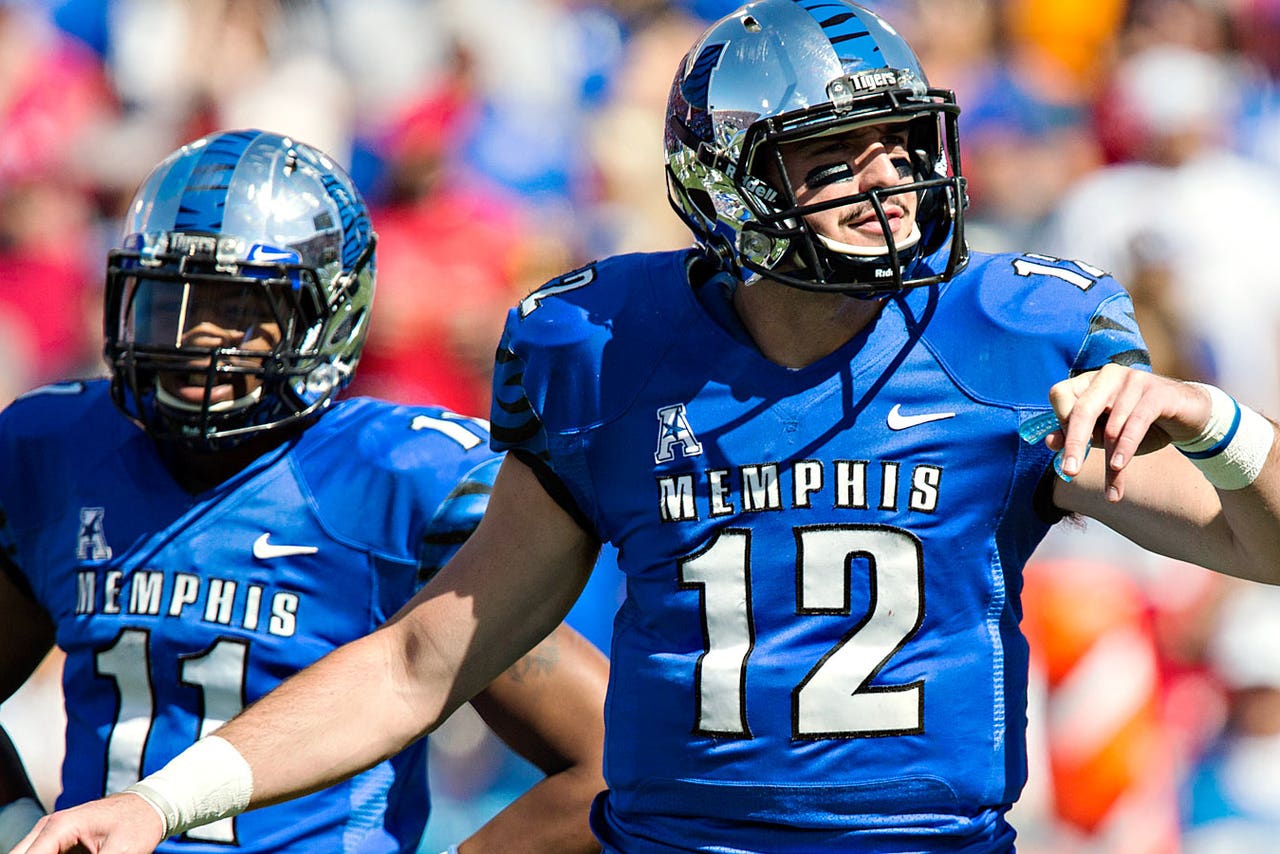 Putting a mock draft out in December is not an easy task, but it's what we do. Here's my first reveal of many months of conversations with NFL personnel men and decision makers. As we head into Week 17, with a few big bowl games still on the docket, use this as a guide as to what players would make good fits each NFL team. In the coming months, I'll have a better idea of what teams like which specific players, but for now -- this is more about the players and team needs.
With several more to come between now and the actual draft weekend in April, here's my FIRST NFL Mock Draft.
Obviously, Black Monday, free agency, coordinator hiring and firing, the Senior Bowl, the Combine, Pro Days, and offense and defensive scheme decisions will help shape and mold this as we move towards April. But for now consider this the blueprint. Dig in. Don't agree with me? Let me hear about it. Tweet me at @PSchrags or email me at PeterSchrager@gmail.com.
***These players are ALL DRAFT ELIGIBLE. There's a mid-January deadline for all underclassmen to declare draft eligibility.***
1. Tennessee Titans: Laremy Tunsil, OT, Ole Miss:
Tennessee could be looking at a new general manager and coaching staff as of next week, but I believe they'll go with Tunsil, regardless of who is making the decisions and what schemes they're running. Tunsil broke his fibula and was suspended for seven games by the NCAA, but he's got all the goods to be the first left tackle selected in April's Draft. You've got to protect Mariota's blind side. This is the man to do it.  
2. Cleveland Browns: Joey Bosa, DE, Ohio State:
I know most mock drafts have the Browns drafting a quarterback and moving on from Johnny Manziel, but I don't think that's necessarily the case. A lot of this depends on 1) who is coaching this team next year and 2) who is running the front office. But I do know ownership likes Manziel and believes in him, and Bosa's a local favorite out of Ohio State. Is Bosa the next JJ Watt? Probably not. But he's a very good pass rusher who'll only get better. That's more than what the Browns can say for any of their pass rushers on the roster at the moment.
3. San Diego Chargers: Jalen Ramsey, DB, Florida State:
Ramsey is a guy who can do it all in a defensive backfield, matching up with small, shifty slot receivers or handling the towers like Calvin Johnson or Mike Evans. He's a track-and-field star, can tackle, and has been one of the leaders on a very successful Florida State team for multiple seasons. Is he a safety or a corner? I'm not sure. But he's damn good and a great fit for whatever San Diego wants to do on D, moving forward.
4. Dallas Cowboys: Paxton Lynch, QB, Memphis
Cowboys fans got a glimpse of what life without Tony Romo could be like this season, and it wasn't pretty. No veteran journeyman or practice squad fixture (Kellen Moore) can replace a franchise quarterback. Especially in Big D. Barring a trade (Manziel?) or a notable free-agent acquisition, the Cowboys should look to pick Romo's successor this year. Lynch is 6-foot-7, surprisingly mobile and very accurate. He's a mold of clay, still, and could use a few years of learning from Romo before being elevated to the No. 1.
5. San Francisco 49ers: Jared Goff, QB, California:
The hometown hero comes home to try to save the 49ers offense. The 49ers are among the worst teams in the league in offense and in total yards, and though Blaine Gabbert has been decent as a short-term stop gap, he probably isn't the long-term answer. I'd say Colin Kaepernick's days in a 49ers uniform could be done, too. There will be a grand debate all offseason on Paxton Lynch versus Jared Goff, and I actually think Connor Cook works his way into the conversation, too. For this team, Goff has the size, pedigree, and the local flair.
6. Miami Dolphins: Jaylon Smith, LB, Notre Dame
The Dolphins have Ndamukong Suh on the inside, Cam Wake as a pass rusher, and will likely try to bring back promising Olivier Vernon this March. In a division owned by Tom Brady, you can never have enough pass rushing talent. Smith is the top player on my board and one of four or five truly special game changers in this draft class.
7. Jacksonville Jaguars: Vernon Hargreaves III, CB, Florida:
The Jags have a nice, young core on offense, including second-year men Blake Bortles, Allen Hurns, Allen Robinson and Marqise Lee. Hargreaves is a star who held two of the top wideouts in the country -- Travin Dural and Laquon Treadwell -- under 100 receiving yards this year. He lacks ideal size (5-foot-11), but has the instincts to be a star. Jaguars fans love their Gators.
8. Baltimore Ravens: Mackensie Alexander, CB, Clemson:
Alexander is 5-foot-10, has the swagger and confidence of a top NFL cornerback, and has handled some of college football's top receivers, including Notre Dame first-round talent Will Fuller. He doesn't have to come out this year (redshirt sophomore), but I'd be surprised if he doesn't. Number one cornerback is rapidly becoming one of the most important positions on the entire roster. Alexander can be that guy.
9. Tampa Bay Buccaneers: DeForest Buckner, DE, Oregon:
The 6-foot-7, 290-pound athlete tore up the Pac-12 this season. He had 12 tackles for a loss in just a nine-game season. Arik Armstead was a top 20 pick last year. I think Buckner goes top 10. Tampa's desperate for some help with the pass rush. Buckner's a good get here.
10. New York Giants: Myles Jack, LB, UCLA:
Jack's season was cut short with a torn ACL and he's rehabbing on his own, having declared for the draft days after the injury. The Giants just need playmakers. On both sides of the ball, of course, but there's few on the D. Jack was one of the most talented players in college football the past two years and is a first-round pick. He can do a lot. I like him in New York.
11. New Orleans Saints: Robert Nkemdiche, DT, Ole Miss:
The New Orleans D was awful again, and the salary-cap situation is a mess, meaning the Saints can't get their draft picks wrong. There have been a string of red flags already on Nkemdiche, which might make teams nervous. But I also know the scouting community is absolutely in love with the kid's size (6-5, 296 pounds), speed and potential. Dominant player with some off-the-field questions. I think a team will roll the dice in first 15 picks. Why not New Orleans?
12. Philadelphia Eagles: Ronnie Stanley, OT, Notre Dame:
The Eagles offensive line has been kept together with scotch tape and high hopes. Stanley is an athletic big man who could use some guidance on his footwork and technique, but can start right away.
13. Detroit Lions: Laquon Treadwell, WR, Ole Miss:
Treadwell's likely the top receiver in this draft and I've seen other mock drafts list him as a top-five pick. Me? After a year in which Kevin White, DeVante Parker, Phillip Dorsett and Breshad Perriman made little impact in their rookie campaigns, I'm not sure Treadwell goes that high. He's 6-foot-3, 215 pounds and appears to be all the way back from the leg injury. Calvin Johnson's the player to watch here. If his contract is restructured, he'll be back at a more reasonable price. If not, I'm not sure he'll be making $24 million next year. Either way, Treadwell would make for another weapon for Matt Stafford.
14. Chicago Bears: Shaq Lawson, DE, Clemson:
The Bears need pass rushers and defensive help in the front seven. Lawson brings it off the edge and was virtually unstoppable this year. He'll be the prime attraction in the Clemson-Oklahoma battle on New Year's Eve. I haven't seen him in the top 20 of many mock drafts thus far, but I think he ends up going that high.
15. Buffalo Bills: Darron Lee, OLB, Ohio State:
Rex Ryan's defense in Buffalo this year has performed worse than Jim Schwartz's did the previous season. I'd be surprised if Mario Williams is back as a Bill next year, too, with his contract and production this season. Lee is small for an NFL linebacker (235 pounds), but flies all over the field and can rush the quarterback. Good fit for a Buffalo team that's still just a few pieces away.
16. Oakland Raiders: Su'a Cravens, S/LB, USC:
Cravens can be a Deone Bucannon type who roams as either safety, play the nickel and dig in as a linebacker. There have been Troy Polamalu comparisons his entire career at USC. That's a stretch, but not that far off. There's a great USC connection, here, with defensive coordinator Ken Norton and head coach Jack Del Rio both having Trojan ties. I'd be surprised if Oakland doesn't beef up the D in the draft. Charles Woodson's retirement opens the possibility for a new man to roam and operate the defensive backfield. This is much earlier than other mock drafts have him, but I like Cravens to Oakland.
17. Indianapolis Colts: Taylor Decker, OT, Ohio State:
Indianapolis may have a new coaching staff and new pieces in the front office. Either way, they need to protect Andrew Luck. They got a lot out of a bunch of spare parts this year. Time to draft another stud to go with Anthony Castonzo. Decker is 6-foot-7 and 325 pounds but can move.
18. St. Louis Rams: Connor Cook, QB, Michigan State
Cook may end up being the first quarterback selected when it's all said and done. For now, St. Louis at 18 is my best guess. He's won big games at the college level, has the size and comes from a pro-style offense. His leadership ability -- he wasn't a college captain at Michigan State his senior year -- will be picked apart between now and draft day. Be ready.
19. Atlanta Falcons: Emmanuel Ogbah, DE, Oklahoma State:
Ogbah's a 6-foot-3, 280 pound defensive end who can get to the quarterback. He's been great the past two years. Ogbah has a high motor and has recorded 24 sacks the past two years. Vic Beasley was a strong pick last year in the first round. Add Ogbah and Dan Quinn's defense gets another sack master.
20. Pittsburgh Steelers: Jarran Reed, DT, Alabama:
Reed is a 6-foot-4, 315-pound run stuffer who's been the anchor of a really talented Alabama defensive line. The Steelers are young and talented up front, but I could still see Reed being the pick here. He won't put up huge numbers against Michigan State on New Year's Eve, but watch him occupy blockers and create opportunities for his line mates.
21. Houston Texans: Christian Hackenberg, QB, Penn State:
James Franklin has done no favors to Hackenberg's once-promising college career. If he comes out this spring (he doesn't have to), I could see his original college coach Bill O'Brien scooping him up in the first round. Laugh all you want. This is a good match.
22. Washington Redskins: Tre'Davious White, CB, LSU:
Washington's defense has had its ups and downs, and the defensive backfield has exceeded expectations. That doesn't mean they couldn't use a little depth. White's started 31 of 34 games and fared well against Amari Cooper last season. Well-regarded player in scouting community.
23. Seattle Seahawks: Jack Conklin, OT, Michigan State:
Conklin's a gamer. Whether he's a tackle or guard at the next level will be figured out. For a while there, the Seattle offensive line was a major issue for the Seahawks. It's gotten healthy and much better. They could still use a little depth here.
24. New York Jets: Reggie Ragland, LB, Alabama:
Ragland is one of those physical, downhill players you can line up inside and start for 10 years. The Jets are set at linebacker for now, but there's never enough talented LBs for a roster.
25. Kansas City Chiefs: Vadal Alexander, G, LSU:
A big, talented guard out of an NFL factory, Alexander could be a late first-round pick. The Chiefs got a lot out of their interior offensive line this year with guys who weren't exactly hot draft prospects. Alexander is a mauler. Good fit inside on a tough team.
26. Minnesota Vikings: Josh Doctson, WR, TCU:
The Vikings found a gem in Stefon Diggs in the fifth round last year. They can still use another receiving threat for young Teddy Bridgewater. I'm higher on Doctson than others and though he's coming off an injury, he has tremendous mitts and a long 6-foot-3 frame. He's my second wideout in this draft.
27. Green Bay Packers: A'Shawn Robinson, DT, Alabama:
Robinson's not as celebrated as Reed, his teammate, but could end up being a better pro. He's 6-foot-3, 320 pounds and is actually much lighter on his feet than you'd expect. The Packers have offensive deficiencies this year on the outside, but I'd think another big boy inside on D would be smart, too.
28. Denver Broncos: Cody Whitehair, G, Kansas State:
Offensive guard is never a sexy pick, but often it's a smart one. The Broncos offense took a step back in 2015, and the line play -- despite the Evan Mathis signing -- did, too. Whitehair is a 6-foot-4, 310-pound road paver.
29. Cincinnati Bengals: Kenny Clark, DT, UCLA:
The deepest roster in the league scoops up another talented player who can contribute right away. Clark is 6-foot-2, 315 pounds and is a menace in the middle.
30. Arizona Cardinals: Kendall Fuller, CB, Virginia Tech:
The next in a long line of Fuller family defensive backs. Fuller lost most of the 2015 with a knee injury and surgery, but the kid can ball. Bruce Arians wants competitors. His brother was the 14th pick in the draft a few years back. I think Kendall can be even better.
31. Carolina Panthers: Germain Ifedi, OT, Texas A&M:
In the past two years, Jake Matthews and Cedric Ogbuehi have been first-round tackles out of Texas A&M. I think Ifedi's one, too. He's 6-foot-5, 325 pounds and can play either side at tackle or inside at guard.
(Note: New England Patriots' pick forfeited due to Deflategate)
---
---