Las Vegas Raiders
Las Vegas Raiders
NFL defers decision to reinstate Raiders LB Aldon Smith
Published
Dec. 30, 2016 4:04 p.m. ET

ALAMEDA, Calif. (AP) Suspended Oakland Raiders pass rusher Aldon Smith will not be reinstated by the NFL this season.
NFL spokesman Brian McCarthy said Friday that the league has deferred a decision on Smith's petition for reinstatement and will begin consideration in March. Pro Football Talk first reported the decision by the league.
Smith had been suspended in November 2015 for violating the league's policy on substance abuse. He was eligible to be reinstated on Nov. 17, 2016, and met with commissioner Roger Goodell earlier this month to make his case to return. But the league has decided to wait instead.
Oakland coach Jack Del Rio clearly was not pleased with the league's choice to put off a decision until 2017.
''Little disappointed, honestly,'' Del Rio said. ''Obviously it's not my job to make a ruling, but from everything I've gathered he's done his duty to take care of all the things he needs to take care of.''
Del Rio noted that Smith is still paying a price while other players who have also had off-field issues have been permitted to return.
''I see some of the guys that have been allowed back and my question is, what's the difference?'' Del Rio said. ''If a guy has a chance he should have a chance to make a living. I don't really agree with what's gone down, but it's not my job. We'll move on as a team. That's what we have to do, but I'm a little disappointed.''
The Raiders (12-3) finish the regular season on Sunday in Denver and will be making their first playoff appearance since 2002.
Smith's current suspension stemmed from an arrest in August 2015 on charges of drunken driving, hit and run, and vandalism, which led to his release by the San Francisco 49ers. That was Smith's fifth run-in with the law since joining the NFL as a first-round pick by San Francisco in 2011.
Smith signed with Oakland in September 2015 and played nine games before being suspended for a second time by the NFL.
He also missed the first nine games of the 2014 season while serving an NFL suspension for violations of the league's policies on substance abuse and personal conduct. He missed time during the 2013 season to undergo treatment at an inpatient facility following his DUI arrest that September.
Smith also reportedly entered a treatment center this summer after video linked to his Periscope account showed possible marijuana use. Under NFL policy, a player suspended for substance abuse is prohibited from using drugs or alcohol during the ban.
The commissioner has sole discretion to determine if, or when, a player will be allowed back in the league, and failure to follow the treatment plan is considered a significant factor in that decision.
Despite his problems, the Raiders signed Smith to a two-year contract in April. They have been unable to have direct contact with him during the suspension, but have kept tabs on him through his agent.
---
For more NFL coverage: www.pro32.ap.org and http://twitter.com/AP-NFL
---
---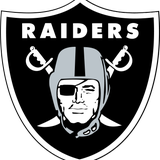 Get more from Las Vegas Raiders
Follow your favorites to get information about games, news and more
---