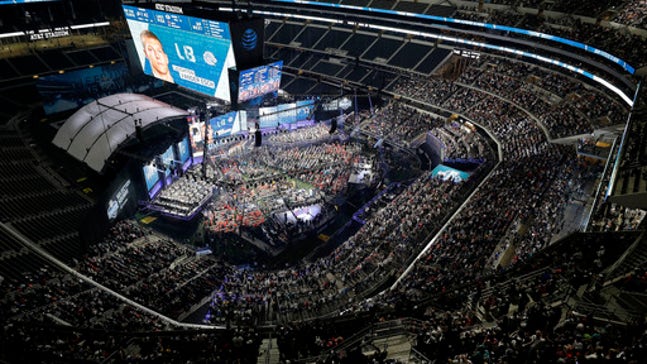 NFL awards the 2019 draft to Nashville, home of the Titans
Updated
Mar. 4, 2020 2:16 p.m. ET
ATLANTA (AP) The NFL draft is heading to Music City.
League owners awarded the 2019 draft to Nashville during their annual spring meetings on Wednesday, clearly impressed with the city's turnout for events such as the NHL Stanley Cup Final and a party to unveil redesigned uniforms for the Tennessee Titans.
''You're now on the clock,'' NFL Commissioner Roger Goodell quipped to the Nashville contingent, led by Titans controlling owner Amy Adams Strunk.
The draft was held in New York City from 1965-2014, but the league has been moving it to different cities in recent years, looking to bolster its profile even higher.
Chicago was the site in 2015-16, Philadelphia hosted in 2017 and this year's draft was held at AT&T Stadium in Arlington, Texas , home of the Dallas Cowboys.
''It has become one of the most anticipated events of the year,'' Goodell said. ''It's one of the events we're continually focused on (to determine) how we can to be more effective, larger and frankly, an opportunity for our fans to engage in football during the offseason. We had a great experience in Dallas this year. They did a wonderful job.''
Now, Nashville will be hosting for the first time .
''It's a big day for Nashville,'' Strunk said. ''Being entrusted with one of the league's premier gatherings is an honor and a responsibility that we take seriously.''
Nashville was chosen over several other bids, including a combined one from Cleveland and Canton, Ohio, home of the Pro Football Hall of Fame. The Northeast Ohio group remains hopeful to land the 2020 draft, which would coincide with the league's centennial.
''The Hall of Fame in partnership with the Cleveland Browns, the Cleveland Sports Commission and Visit Canton stand ready to host the NFL draft in 2020 should we be selected,'' said Hall president and CEO David Baker. ''In the meantime, the Hall and the entire Canton region remains focused on preparing for the once-in-every-other-lifetime opportunity in 2020 to celebrate the NFL's Centennial in Canton, the birthplace of the league.''
Nashville's bid was boosted by tens of thousands of people turning out last year for a party that shut down a big section of downtown when the Predators played for the Stanley Cup. Also, some 20,000 turned out on a cold night in April to see the Titans' new uniforms and attend a free concert by Florida Georgia Line.
The city hosted the 2003 NHL entry draft, the 2014 Women's Final Four and the 2016 NHL All-Star Game.
''As we all know, Nashville has a well-deserved reputation as a city that loves the big stage, loves the big party and, more importantly, knows how to throw a big party,'' Strunk said.
---
AP Sports Writer Tom Withers in Berea, Ohio, contributed to this report.
---
For more AP NFL coverage: www.pro32.ap.org and www.twitter.com/AP-NFL
---
---