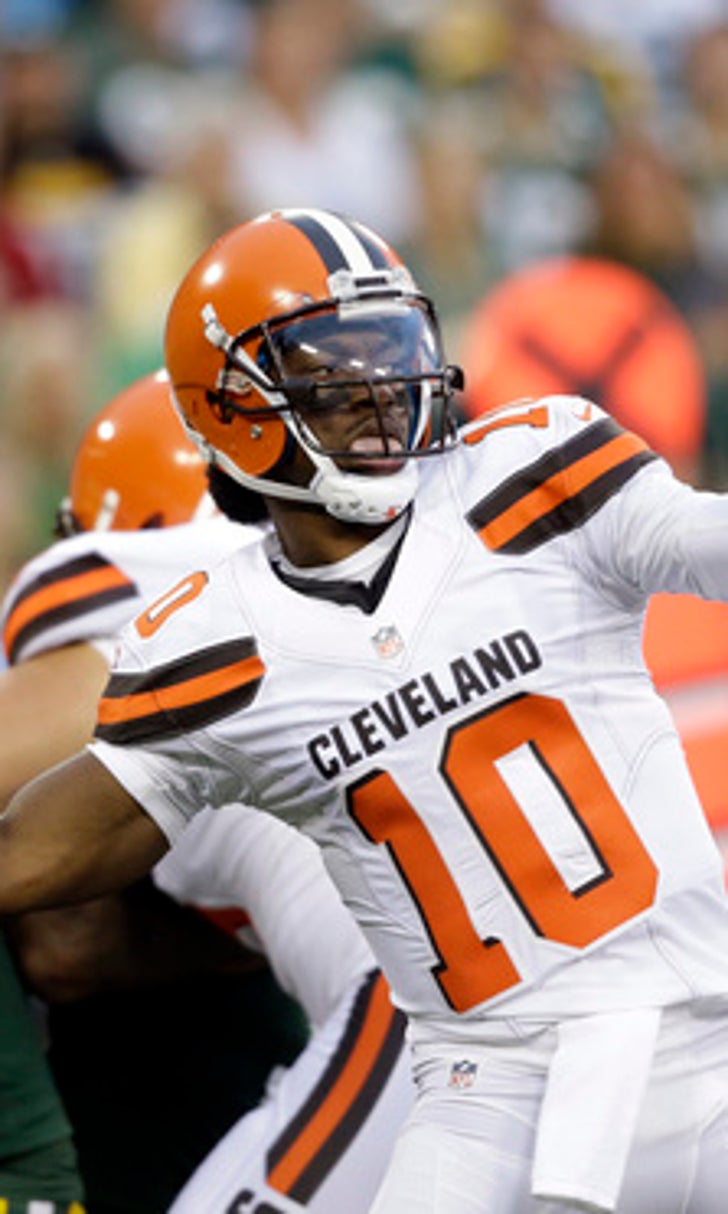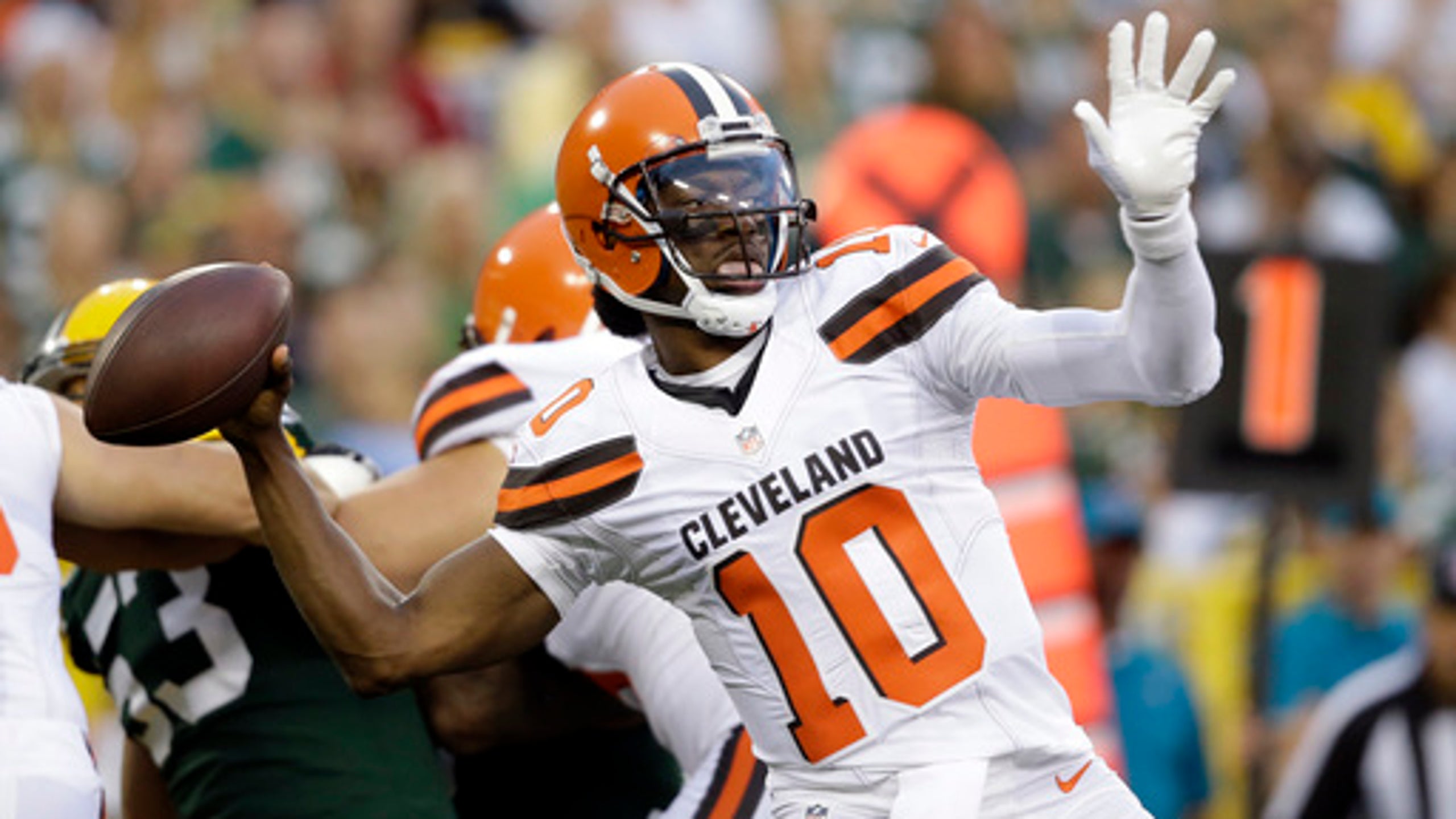 NFL 2016: Hu(g)e job: Jackson takes on rebuilding Browns
BY foxsports • September 5, 2016
CLEVELAND (AP) There are rebuilding projects and then there are the Cleveland Browns, a floundering franchise currently on the wrong end of the NFL's food chain.
Fixing the Browns is a daunting task, some might argue an impossible one. But Hue Jackson, who has gotten a second head-coaching gig after a five-year wait, believes he's just the man for the job.
''I've bit off the apple,'' he said.
Yeah, and it's pretty rotten.
The Browns haven't been relevant in years. With just two winning seasons and one playoff appearance since 1999, they've spent more time shuffling in front offices, coaches and starting quarterbacks - they're on No. 25 in 17 seasons - than anything else and there is little reason to think the 2016 season will be any different.
Don't tell that to Jackson, who went 8-8 with Oakland in 2011 and is convinced better days are ahead for the brown and orange.
Jackson oozes optimism, even if he knows deep down that Cleveland's return to respectability won't take place without hard work, patience and some luck. He's accepted that Cleveland's new front office of analytical thinkers must gut the framework of the Browns' roster before any true development can occur.
Jackson must now balance the progress he sees in young players with results on the scoreboard.
''It's hard,'' said the 50-year-old Jackson, who spent the past two seasons as Cincinnati's offensive coordinator. ''It's really hard and that's one thing that is new for me. There's a certain result that you are expecting and you've seen and you want to accomplish all the time. But I've learned that there's a process and I'm in the process, the beginning stages of it, but I also know myself well enough to know that we're going to win.
''When that's going to be, I don't know the answer to that, but I know we're going to win.''
Cleveland's success this season will hinge on whether quarterback Robert Griffin III can revive his career with the Browns following a freefall with Washington. With Jackson's urging after he worked out the 26-year-old QB, the Browns signed RG3 to a two-year, $15 million contract - a low-risk, high-reward investment that could accelerate the Browns' reconstruction or force the team to use a high draft pick next year on a quarterback.
From his days with the Raiders, Jackson learned he can't do it alone. It takes a village to raise a team, and that no matter how hard he work, how he stays in his office pouring over a game plan or how many times he shows a rookie wide receiver how to run the proper route, things aren't going to go according to plan.
''You've got to have the wherewithal to deal with that,'' said Jackson, the Browns' fifth coach since 2010. ''Some people can and some people can't. I understand that you're not going to win them all and you're not going to lose them all, but somewhere in the middle. But hopefully you win more than you lose.''
As they embark on what's expected to another rough season, here are five more things to watch with the Browns:
DIFFERENT GRIFFIN: He showed flashes of his former speedy self in training camp, but Griffin is a far cry from the player whose scintillating skills electrified the league as a rookie in 2012. He can still throw the deep ball, but the Browns need Griffin to be accurate on those intermediate throws and pick up first downs when flushed from the pocket.
GORDON WAITS: Perhaps the most perplexing player in football, wide receiver Josh Gordon will sit out the first four games serving his latest drug suspension. The former Pro Bowler has said all the right things about staying clean to this point, and now the Browns have to trust he'll be true to his word until he's eligible.
Gordon has been suspended for 27 of Cleveland's last 32 games.
MONEYBALL: The recent release of linebacker Paul Kruger (30) and trade of three-time Pro Bowl punter Andy Lee (31) crystallized the front office's intent to make the Browns younger while acquiring assets. Cleveland is stockpiling draft picks - the team currently has two first- and second-round picks in 2017 - to revamp its roster.
YOUNG AND WRECKLESS: Rookie defensive linemen Emmanuel Ogbah and Carl Nassib will have prominent roles this season under coordinator Ray Horton, who loves to blitz and blitz some more. Nassib, who led the nation with 15 1/2 sacks last season at Penn State, had an impressive preseason.
NO FAVORS: Cleveland's schedule is brutal with five road games in the first seven weeks and no bye until Dec. 4. Making matters worse, one of those two home games is Tom Brady's return from his four-game ''Deflategate'' suspension and the Patriots QB just may take out some pent-up frustrations against Commissioner Roger Goodell against the Browns.
---
AP NFL website: www.pro32.ap.org and www.twitter.com/AP-NFL
---
---