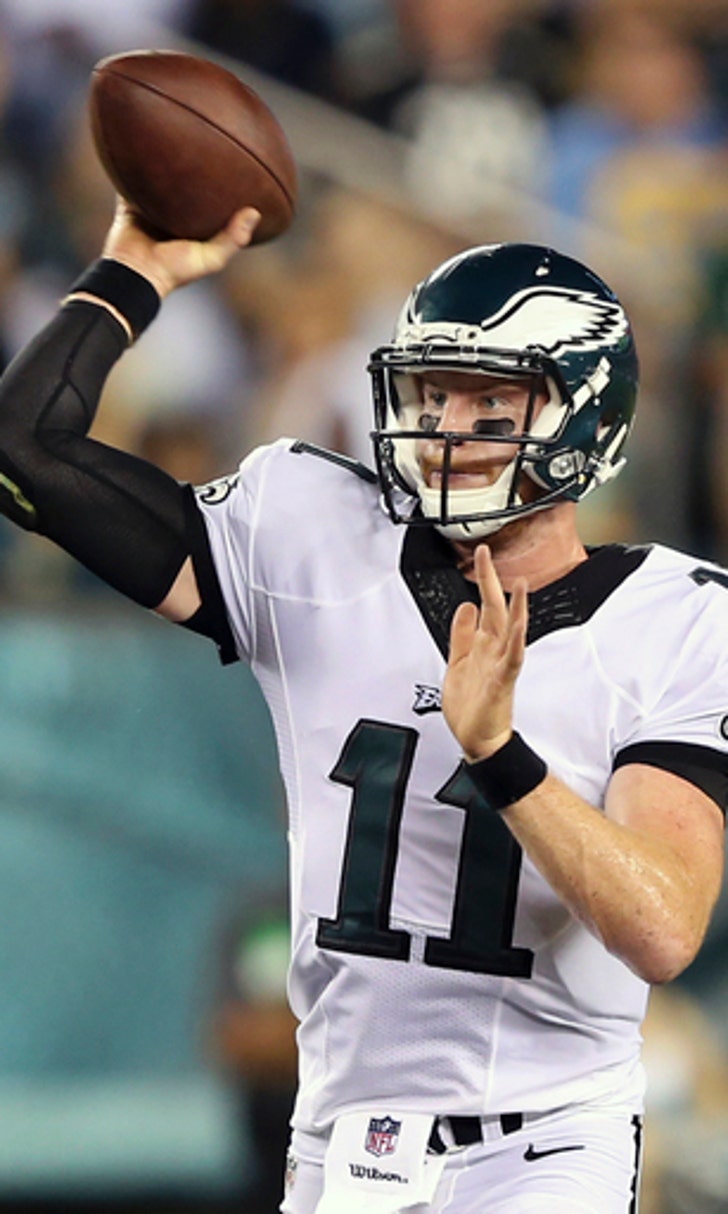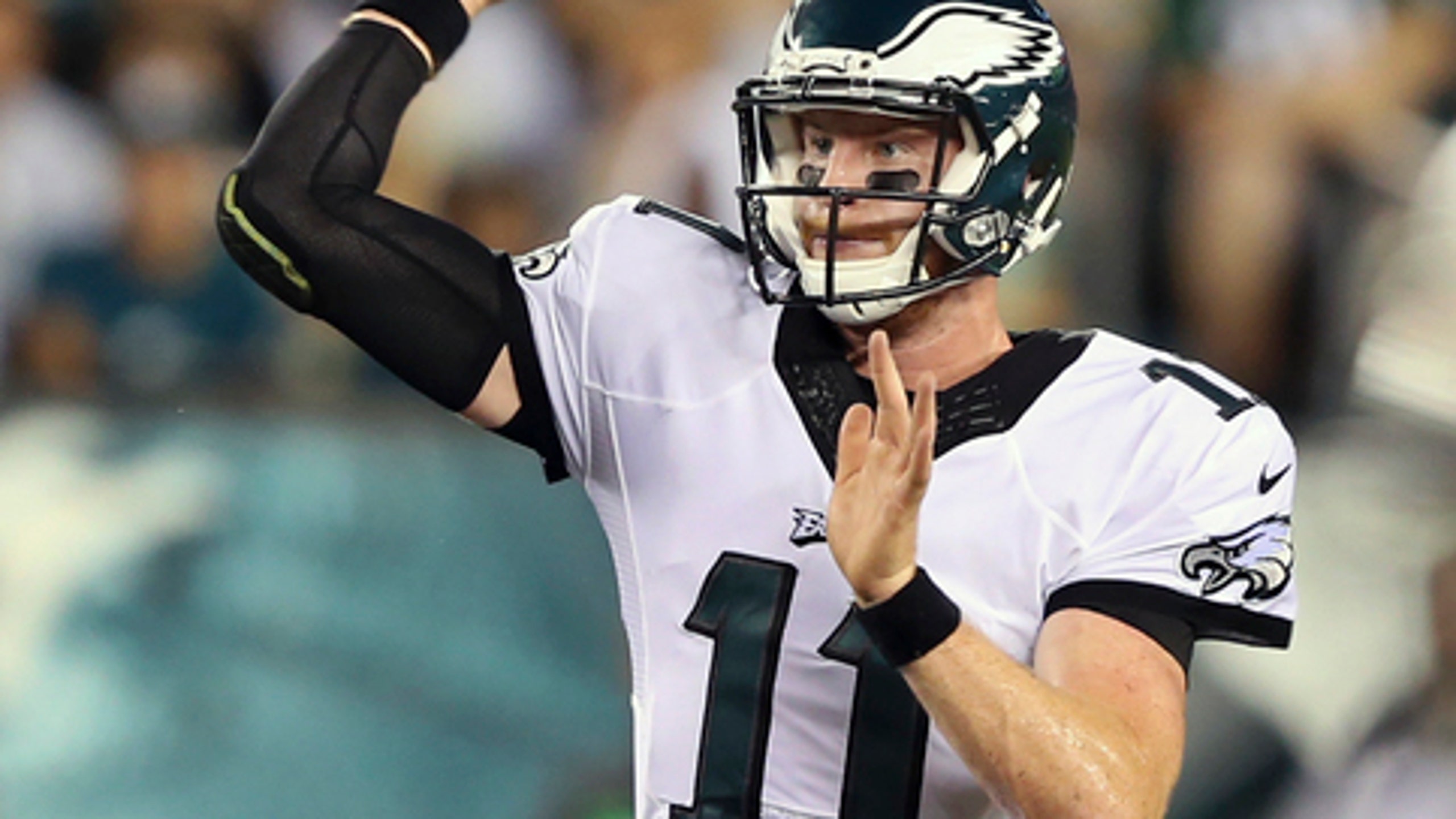 NFL 2016: Eagles go all in on Carson Wentz from the start
BY foxsports • September 5, 2016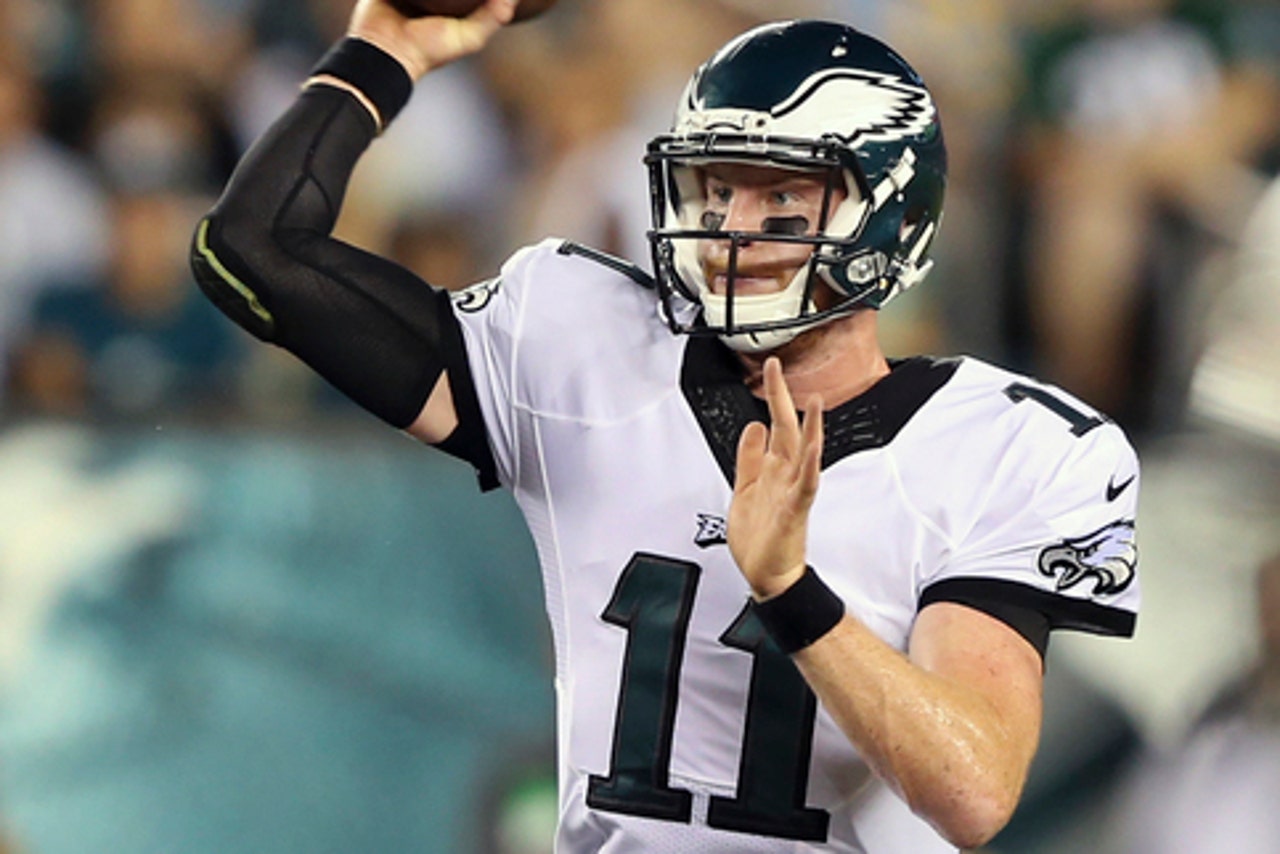 PHILADELPHIA (AP) Andy Reid made Donovan McNabb sit behind Doug Pederson and wait nine games to get his first NFL start. Pederson won't let Carson Wentz wait at all.
Pederson and personnel boss Howie Roseman changed up the blueprint that worked out well for the Philadelphia Eagles in 1999.
Back then, Reid was the first-year coach. Pederson was the inexperienced starter. McNabb was the rookie No. 2 overall pick waiting for a chance to start.
Now, Pederson is the new coach. Carson Wentz is the rookie No. 2 overall pick. Chase Daniel and his 77 career pass attempts is the veteran backup.
But instead of waiting, Wentz will start right away.
''He's such a special guy. This stage is not too big for him,'' Pederson said.
Reid and McNabb went to five NFC championship games together and one Super Bowl, a loss to New England. So now it's Wentz's turn to try to bring a city starved for a football championship its first Vince Lombardi Trophy.
The Eagles accelerated the Wentz Era by trading Sam Bradford to Minnesota just eight days before the season opener. The blockbuster trade means they'd rather rebuild this season than try to contend in a weak NFC East. Then again, they could still compete in this division.
''As coaches, we fully expect to win right now, and it's my job to instill that into the players that we have a good football team here and we're very capable of winning now,'' Pederson said. ''But at the same time, you're looking down the road and you're trying to put pieces together for the future.''
Wentz injured his ribs in his NFL debut and missed the final three preseason games. But coaches were impressed with his workouts and progress in the film room.
''When you meet with (coaches) and you hear their thoughts on Carson and his readiness, mentally and physically, it makes you feel very confident in being able to do such an aggressive move a week before the season starts,'' Roseman said.
Wentz will certainly need time to develop. But a revamped defense was impressive under new coordinator Jim Schwartz and the team went 4-0 in the preseason. The 2008 Detroit Lions also were 4-0 in exhibition games before going 0-16. But there's this: Since 1990, 28 of the 53 teams that had an undefeated preseason made the playoffs.
Here are some things to know about the Eagles:
RYAN'S RUN: Ryan Mathews is a featured running back again a year after outperforming DeMarco Murray in an odd rotation. Mathews averaged 5.1 yards per carry last season and has twice rushed for more than 1,000 yards, but he has missed 23 games in six seasons. Versatile returner Darren Sproles and Kenjon Barner also will get carries.
FOUND DORIAL: The Eagles acquired talented WR Dorial Green-Beckham from Tennessee after the Titans gave up on the 2015 second-round pick. Green-Beckham could be a steal if he lives up to his potential. Nelson Agholor, a 2015 first-round pick, has plenty to prove. So does Josh Huff. Jordan Matthews, the team's most accomplished wideout, sat out the preseason because of a knee injury.
LINE PROBLEMS: RT Lane Johnson remains in limbo because he expects a 10-game suspension for violating the NFL's substance abuse policy. So there's uncertainty upfront. Pederson plans to start Johnson until he's banned. Allen Barbre waits to shift from LG to RT to replace Johnson. Brandon Brooks is the new RG. C Jason Kelce tries to rebound from a poor season. Eight-time Pro Bowl LT Jason Peters is showing signs of decline.
SCHWARTZ ATTACK: After watching one of the worst defenses in the league three straight seasons under Bill Davis, fans are thrilled Schwartz is here. The defensive line led by Pro Bowl tackle Fletcher Cox is excellent, linebacker Jordan Hicks is a rising star, and the secondary is improved. The unit wreaked havoc in the preseason, forced plenty of turnovers, and was particularly impressive against Andrew Luck and the Colts.
TEAM HARMONY: Now that coach Chip Kelly is gone, it seems everyone gets along. Roseman, banished from his GM job last season, has regained personnel power and has an excellent working relationship with Pederson. Owner Jeffery Lurie and Roseman hope Pederson brings the stability and success his mentor, Reid, brought to Philadelphia for more than a decade.
---
AP NFL website: www.pro32.ap.org
---
Follow Rob Maaddi on Twitter: https://twitter.com/AP-RobMaaddi
---
---