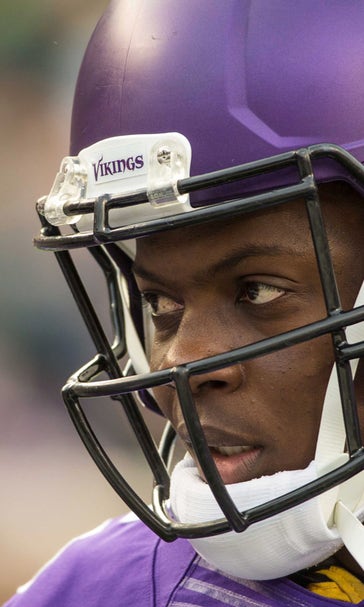 NFC North Notebook: Teddy Bridgewater should scare the Packers
December 22, 2015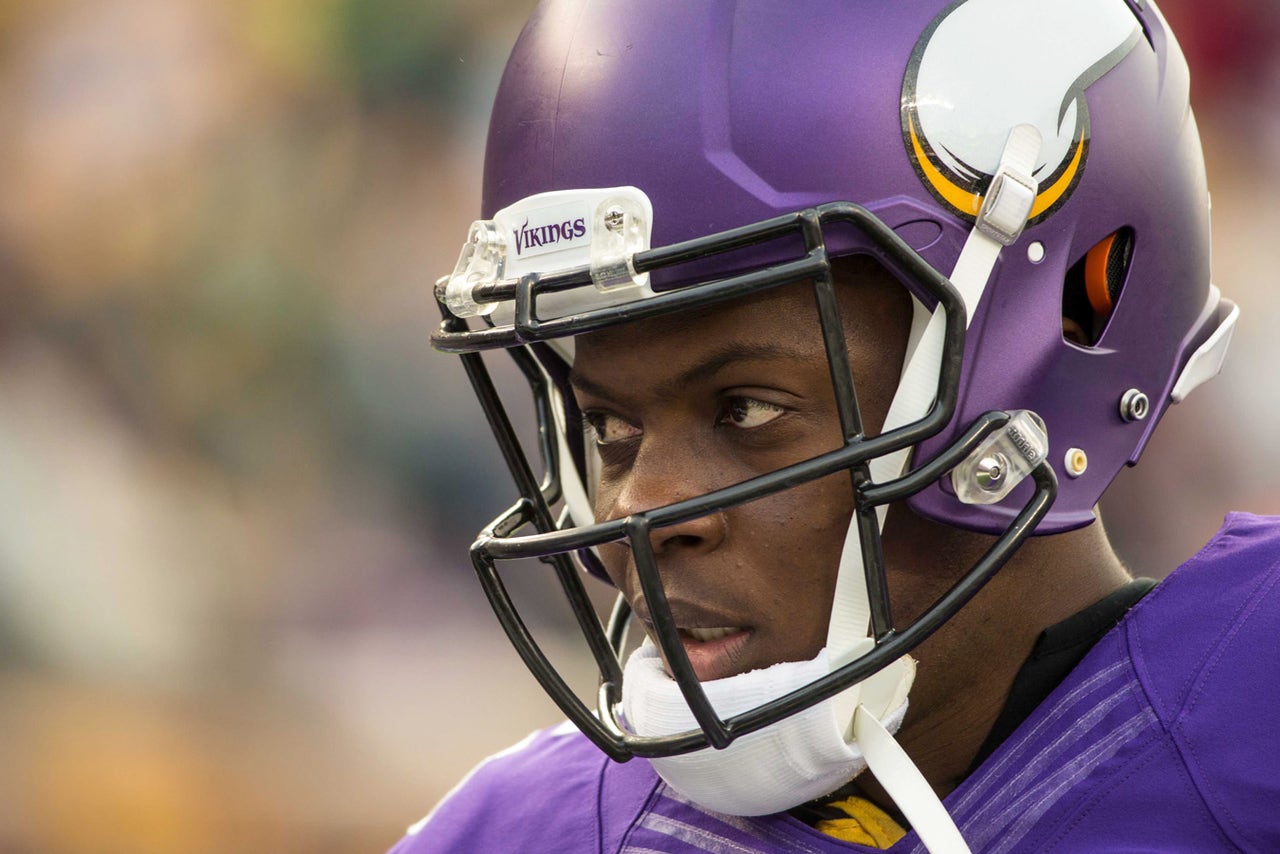 The Green Bay Packers lead the NFC North with a 10-4 record, but they have a good reason to be looking over their shoulders. The Minnesota Vikings trail them by one game with sights set on a division title.
This isn't a typical Vikings team, featuring an All-Pro running back in Adrian Peterson and mediocre players everywhere else. This year's squad has a franchise quarterback, and he's coming alive with the playoffs fast approaching.
Teddy Bridgewater, a second-year signal-caller, has taken control of Minnesota's offense the past two weeks.
Although the Vikings fell in the final seconds of their Week 14 matchup with the Arizona Cardinals, Bridgewater set a career high with 335 passing yards. Then, in a blowout win over the Chicago Bears on Sunday, he set another career high with four touchdown passes -- plus a fifth score on the ground.
Peterson has noticed a difference in Bridgewater's demeanor during this stretch of stellar play.
Via Tom Pelissero of USA TODAY Sports:
The fight this kid has, the determination, the willpower -- I've been talking about it all year. These past two weeks, I've seen a different look in his eyes.
This weekend, the Vikings will host a New York Giants team without star wide receiver Odell Beckham Jr., who is expected to serve a suspension after letting his emotions get the better of him in a loss to the Carolina Panthers. This is a game the Vikings should win, since it's their final home game of the regular season and the Giants are in disarray.
The Packers, on the other hand, go on the road to face the NFC West-leading Cardinals. This might be their toughest matchup of the season, so there's a very good chance Green Bay and Minnesota will have identical records when they meet at Lambeau Field for their rematch in Week 17.
Peterson, who leads the league with 286 rushing attempts (and 1,314 yards), will continue to get his fair share of touches. However, if Bridgewater keeps up his impressive production down the stretch, he might be the biggest threat to Green Bay's divisional dominance.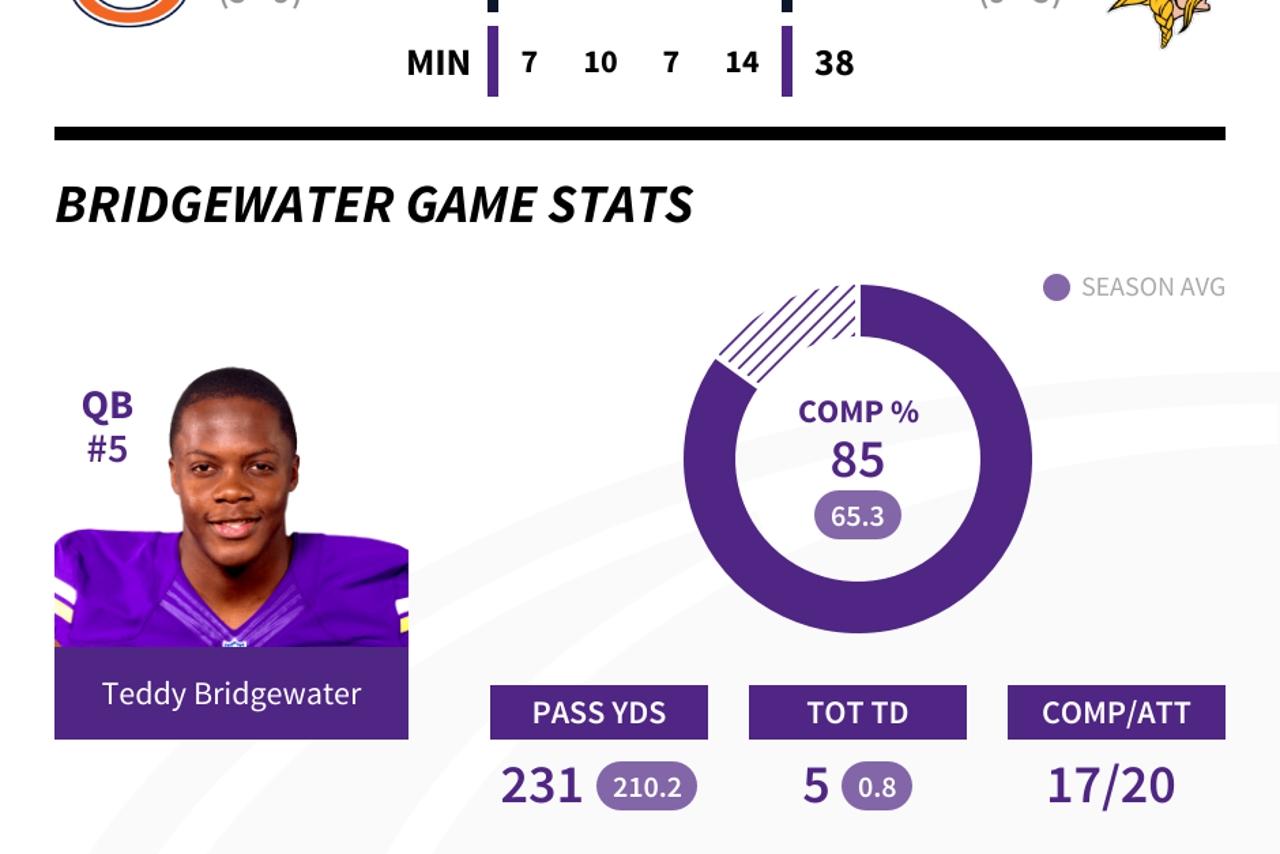 Fox's first season is falling apart
Chicago Bears fans tolerated the team's slow start, since it's John Fox's first season as head coach and the franchise underwent a massive overhaul in the offseason.
However, a strong stretch in the middle of the season got Chicago's hopes up. From Week 4 to Week 12, the Bears won five out of eight contests. The streak of solid play culminated with an impressive road win over the Green Bay Packers on Thanksgiving.
After that game, the Bears were 5-6 and appeared to be poised for a late-season run. Since then, they've lost three games in a row.
This certainly isn't the way Fox wanted to end his first season with a new team.
Via the Bears senior writer Larry Mayer:
As we've talked about our record, it's disappointing. I think it's disappointing probably to our fans. I know it is to us in this building, whether you're a player or a coach or administrator.

That was probably one of our better performances, that Green Bay game. [But] that was four games ago. We've had three games since. We had opportunities. Yesterday was probably our poorest performance of those three games.
A disappointing ending to this season won't give Bears fans much hope for the future of the Fox era, but the team has a great opportunity to finish on a high note. Chicago's last two games of the season are against the Tampa Bay Buccaneers and the Detroit Lions -- two very beatable teams.
With two wins, the Bears can finish with a 7-9 record. That's not terrible for a team going through a rebuild, so there's still a chance for Fox to build some momentum heading into 2016.
Ebron's big night makes bigger statement
Eric Ebron has been under the microscope since the Detroit Lions selected him with the 10th-overall pick in the 2014 NFL Draft. When fellow tight end Brandon Pettigrew went down with a knee injury last week, the harsh spotlight burned a little bit brighter.
In a 35-27 win over the New Orleans Saints on Monday night, Ebron silenced his critics with four receptions for 79 yards -- the second highest yardage output of his still-young career -- including a long catch of 45 yards and an 18-yarder that set up Joique Bell's game-winning touchdown plunge.
---
---