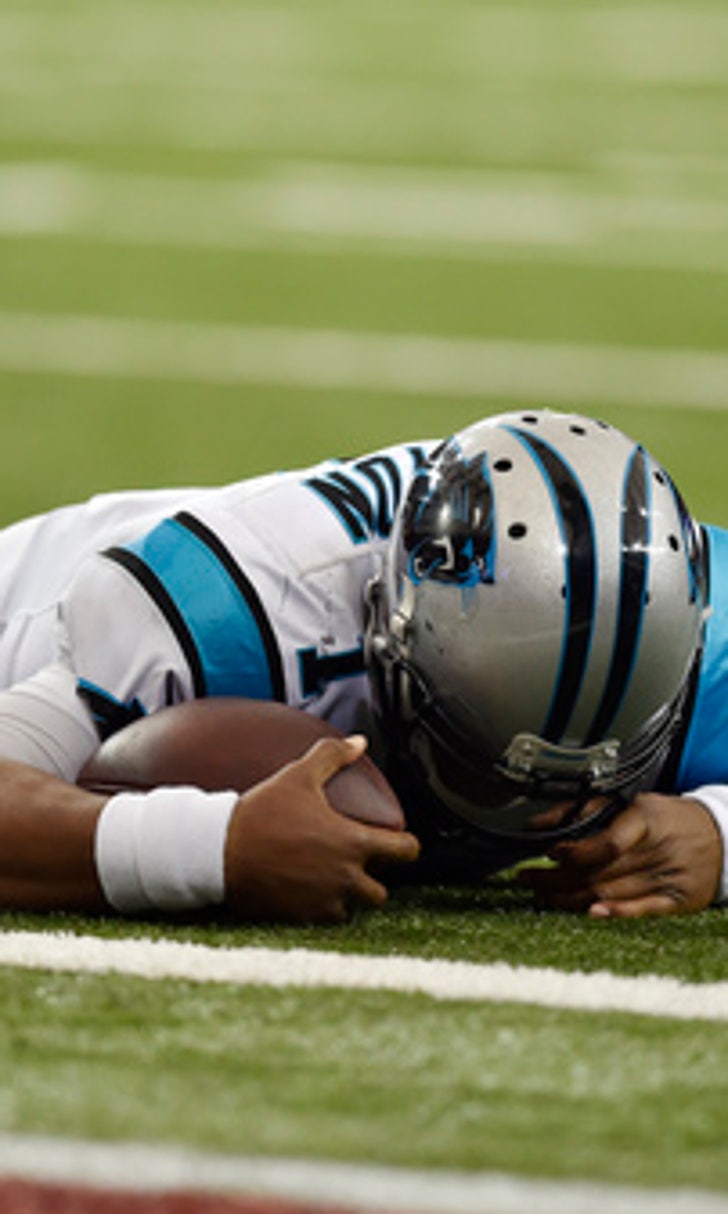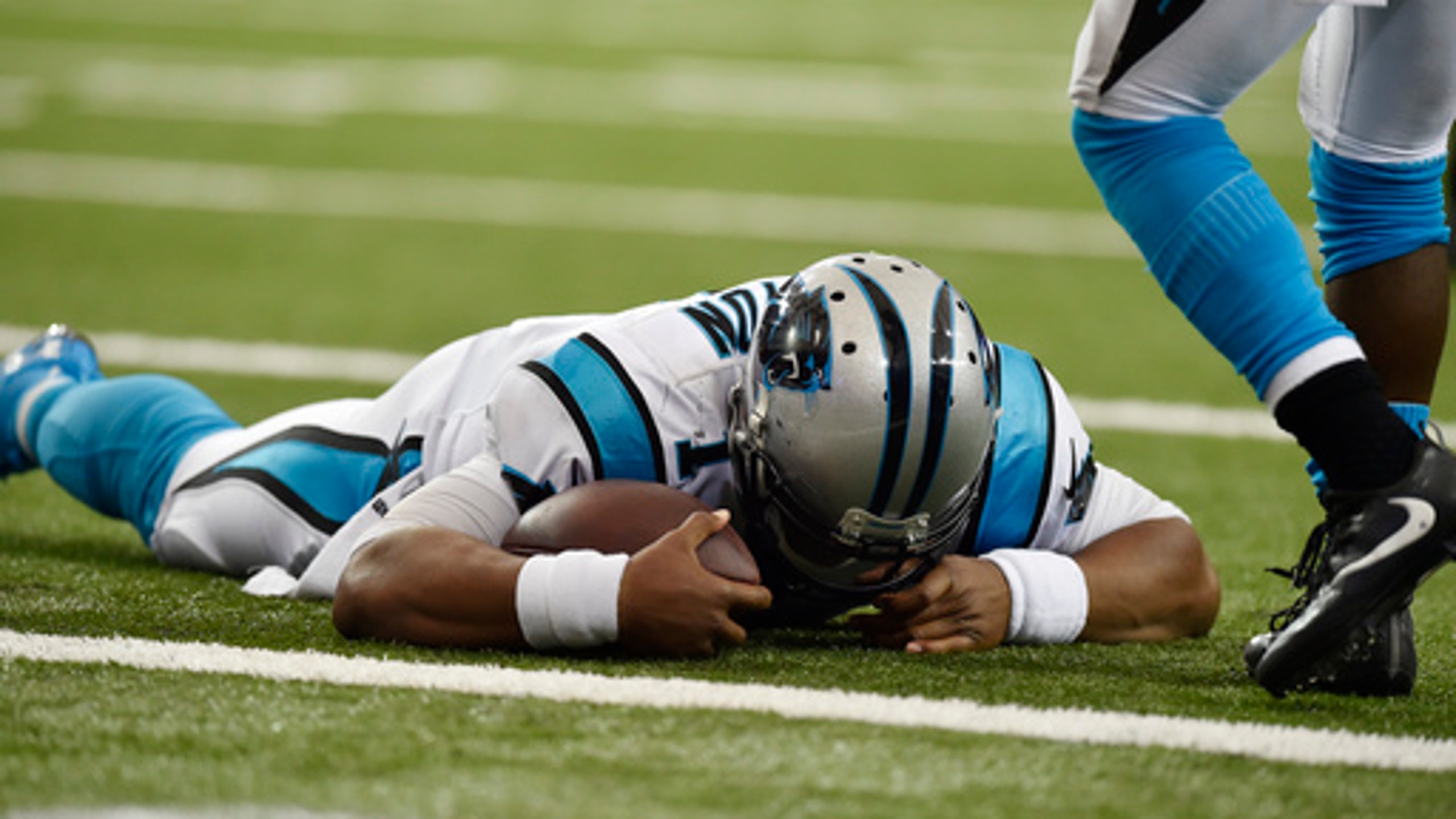 Newton's slow drive to the end zone cost him a concussion
BY foxsports • October 3, 2016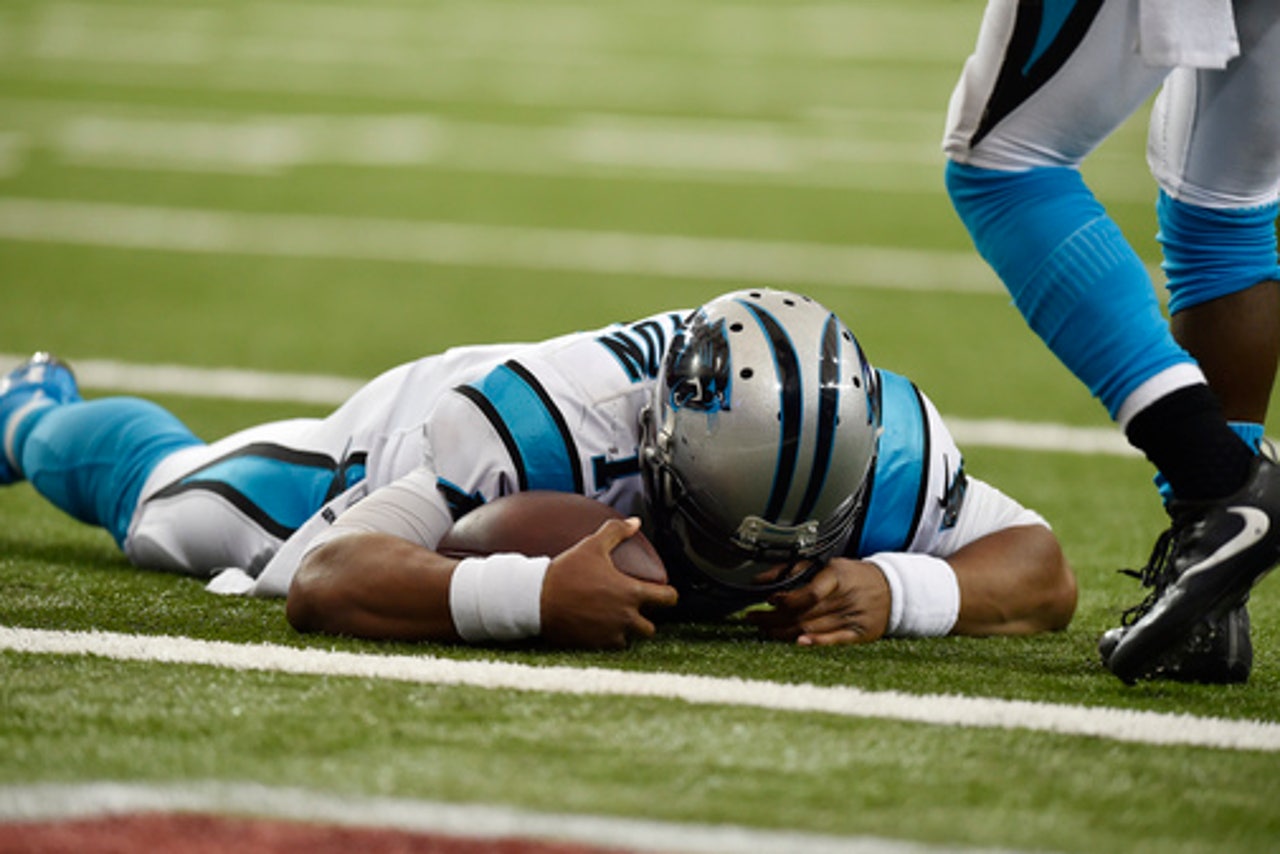 Not since Tim Tebow's welcome-to-the-NFL moment six years ago has a quarterback paid as big a price as Cam Newton did for trying to trot into the end zone without bracing for a big hit.
The Carolina quarterback pulled up in front of Falcons linebacker Deion Jones while he was about to convert a 2-point conversion. It looked as if he ran into a plate glass window in what was surely the worst decision in the NFL's fourth weekend.
Jones laid a clean hit on Newton near the goal line that staggered the league's reigning MVP and sent him out of Carolina's 48-33 loss with a concussion.
It was reminiscent of Tebow's ill-fated dart into the end zone on the final play of his NFL preseason debut in 2010 when two defenders rendered the rookie a human sandwich with bruised ribs.
That was a foretaste of Tebow's brief pro football career and sparked debate among his supporters and detractors alike over whether he could survive in the NFL if he didn't change his bruising running style.
Newton might also have to change some things if he's to continue thriving - and surviving - in this league.
Newton has been a human pinball, getting hit 840 times while either throwing or running since entering the league as the NFL's top draft pick in 2011, according to ESPN. Second on that list is Russell Wilson with 303 fewer hits.
Newton's coach, Ron Rivera, complained about officials not protecting his big QB after several helmet-to-helmet shots in the opener at Denver, but he didn't have a problem with Jones' vicious hit.
''If I was playing I've had taken the shot,'' Rivera said Monday.
The Panthers are the eighth Super Bowl participant since 1990 to start off 1-3 or worse, and only one of those, the 1996 Cowboys, recovered to reach the playoffs.
There were other curious calls in Week 4, such as the Buccaneers keeping Jameis Winston in the game after a 90-minute storm delay for the final few minutes of Tampa Bay's 27-7 loss to Denver .
Not only that, but they went for it on fourth-and-43 on their final snap after the Broncos had hammered Winston on his previous three snaps. The rag-dolled QB got the ball off quickly and avoided his 27th hit of the afternoon.
Before the weather delay, the Bucs, trailing by 20, had punted on fourth-and-6 from the Denver 46.
''I'd been watching our offense the whole game. I don't know why anyone expected we could make it on fourth-and-7 if they'd been watching our offense,'' Bucs coach Dirk Koetter said. ''I sure didn't expect us to.''
So, why was Winston in the game at the end and why was he throwing on fourth-and-forever from his 30 with less than two minutes left?
''There's definitely a fine line, but you can't take your whole team out,'' Koetter said. ''You don't have enough guys. You can't take everybody out. We thought about it. We had plenty of time to think about it. We left him in.''
Washington cornerback Josh Norman was penalized for ''shooting a bow and arrow,'' after he celebrated his crucial interception against Cleveland by acting as if he was Katniss Everdeen.
The Patriots failed to greet Tom Brady's return with an undefeated record after Cyrus Jones made the mistake of returning Buffalo's first two kickoffs out of the end zone.
That put third-string QB Jacoby Brissett in a bad spot and he went three-and-out from his 9 and his 14 sandwiched around LeSean McCoy's 7-yard TD grab that was all the Bills needed on their way to handing the Pats their first home goose egg since 1993 .
In that same game, referee Pete Morelli accidentally broadcast a profanity at Gillette Stadium. Morelli didn't realize he had left his stadium microphone on during a third-quarter timeout and was talking to another official.
Those at the stadium - but not at home - heard him say, ''Turned into a pretty good game. But one big hit, this s--- could explode.''
Among the many good calls Sunday, one stands out: The Seattle Seahawks visited the Meadowlands for the first time since crushing the Broncos 43-8 in the Super Bowl three years ago. So, coach Pete Carroll booked the same hotel the `Hawks stayed in that week. The good vibes carried over into Sunday when Seattle beat the Jets 27-17.
---
AP NFL website: www.pro32.ap.org and www.twitter.com/AP-NFL
---
AP Sports Writers Charles Odom and John Wawrow contributed.
---
Follow AP Pro Football Writer Arnie Melendrez Stapleton on Twitter: http://twitter.com/arniestapleton
---
---