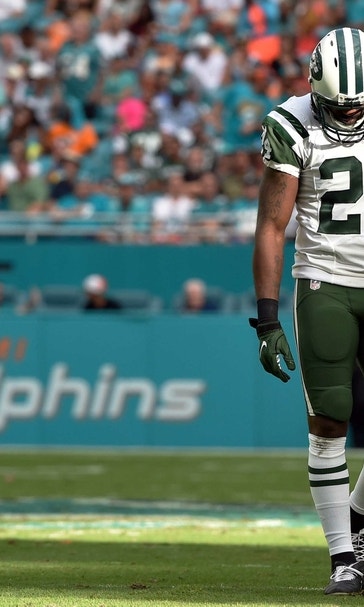 New York Jets: Darrelle Revis Once Again Looks Out for Himself
December 31, 2016

Fansided, Alan Schechter/FanSided via NFL Spin Zone
New York Jets cornerback Darrelle Revis proves to the world, once again, that it is all about him.
Darrelle Revis. There is a name that has thrilled New York Jets fans for many years. The excitement he brought to this team from the moment he was drafted will not soon be forgotten. In his prime, he could eliminate the best wide receivers in the game, earning him the moniker of "Revis Island." Revis was one of the best cornerbacks ever to play, and certainly one of the best players to ever wear the Jets uniform.
Throughout his career, however, he has proven to be the most selfish player ever to wear the uniform. He proved it once again with recent comments in the New York papers. And he comes off as downright insane by making the comments.
Let's get right into the context. Revis sat down with Mark Cannizzaro of the New York Post for an exclusive interview. One topic that came up was his future. Specifically, coming off of his 2016 performance, whether or not he would like to be back next year and retire as a Jet.
Here is what Revis had to say:
"Would I love to be here? Yes," Revis said in an exclusive locker-room sit-down with The Post. "Will I be back? That's a great question. My thing would be this: Do the New York Jets want to treat my situation with class or no class? With me being one of the best players in the history of this franchise, do they want me to retire here or not retire here?
Is he kidding? Who does he think he is? Treat his situation with class? Let's review how he has treated the Jets over the years.
Prior to his rookie season in 2007, Revis held out prior to signing his rookie contract. He missed the first 21 days of training camp and even had his mother come in to assist with the negotiations before he signed his deal.
More from NFL Spin Zone
Classy so far, huh?
Jets fans remember the 2010 preseason well, too. The team was featured on the Hard Knocks television series. What was one of the main plotlines that season? Another Darrelle Revis holdout, that's what. This time, he was so "motivated" to treat his team with "class" that he held out until the preseason ended before signing a contract. We watched it play out on television. A diner in Sullivan County, NY is now a landmark but for all the wrong reasons.
Oh, but at least Revis got all of the money he could. Very classy.
Fast forward to the present. Revis returned to New York after stints in Tampa Bay and New England where he played under two large contracts. His contract in Tampa made him the highest paid defensive back in league history.
The return came in 2015, as Revis came "home." But really, he returned because the Jets were the only team that would pay him what he was looking for. $39 million guaranteed is a solid motivator to come home for Revis. He played well in 2015, but began to fade as he was beaten by younger, faster receivers.
Then we have 2016. Revis has been bad. How bad you ask? According to Pro Football Focus, he has allowed a passer rating of 109.8 when targeted. He has not recorded an interception and has notched four passes defended. In short, he has been beaten like a rented mule.
Now, he wants to be treated with class? All of a sudden we need to throw him a parade? No sir. How about treating the team with class once in a while? Is that too much to ask?
If Darrelle Revis wants to retire with the Jets, he can take a huge pay cut. Otherwise, goodbye. Don't let the door at One Jets Drive hit you on the way out.
---
---