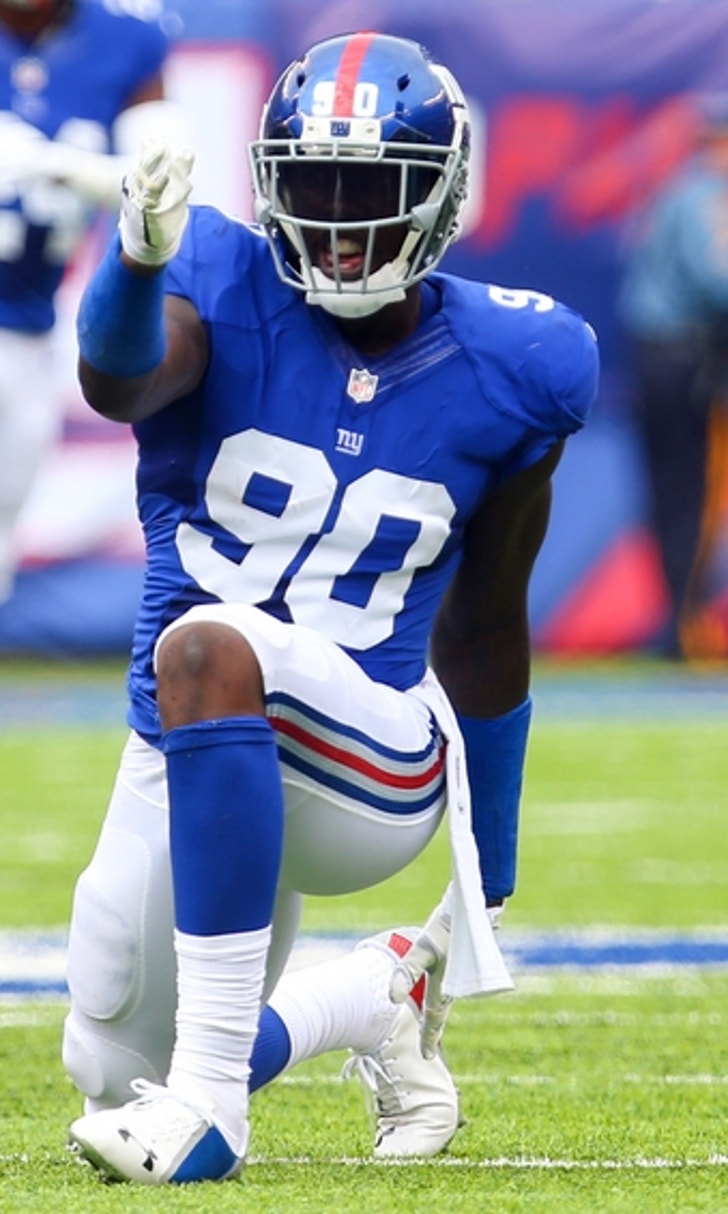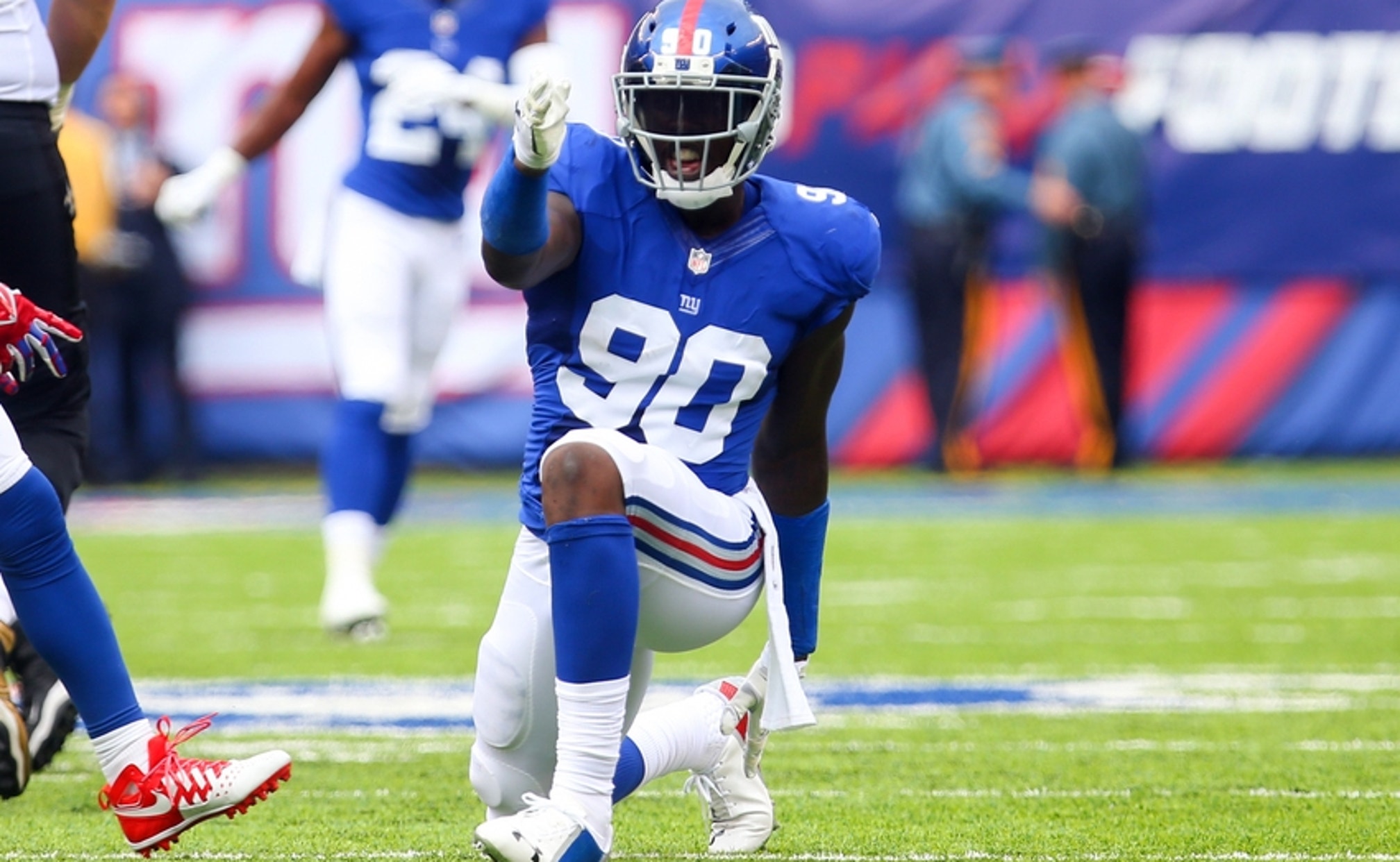 New York Giants: Jason Pierre-Paul Out for Crucial Stretch Run
BY foxsports • June 30, 2017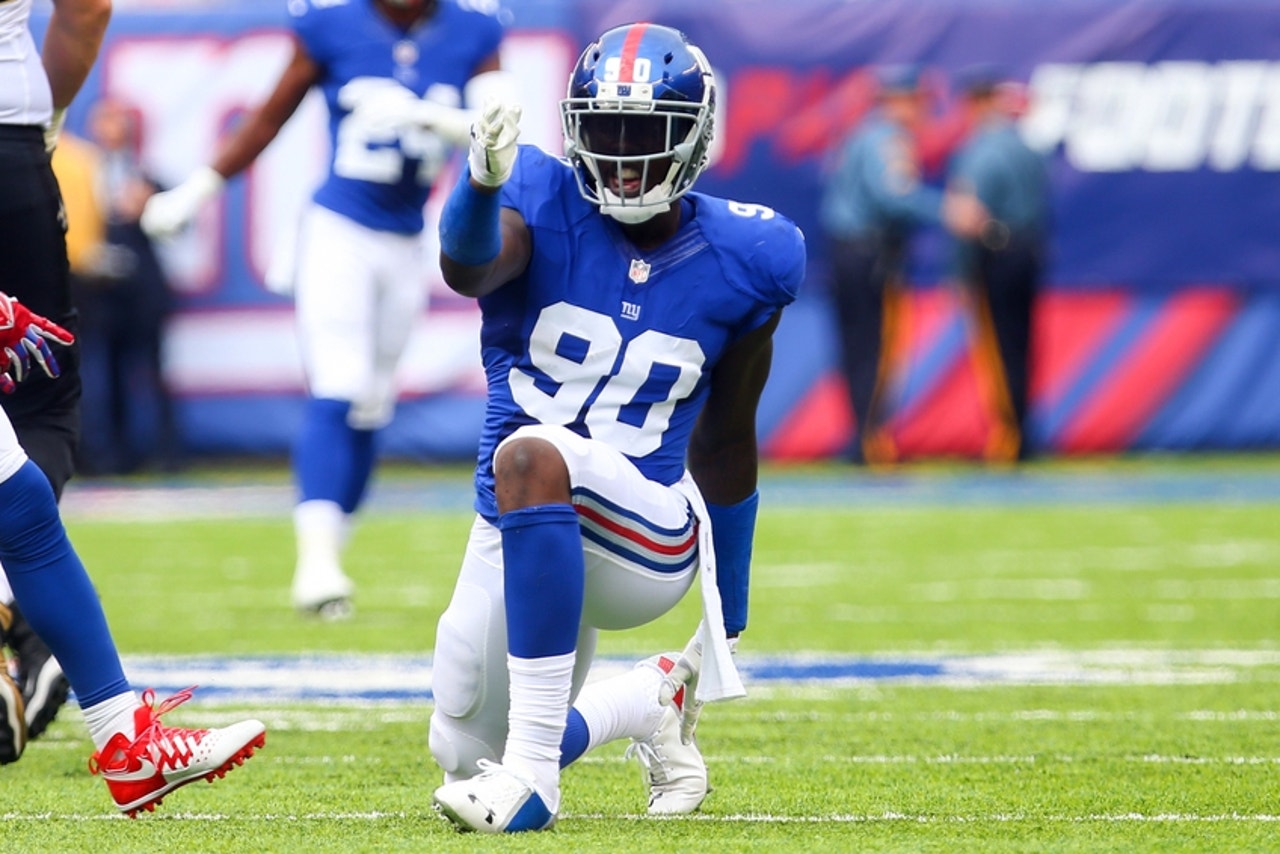 As the New York Giants need a strong stretch run to hang on to their Wild Card spot, they'll have to do it without Jason Pierre-Paul.
The New York Giants weren't particularly secretive or shy about their intentions in the 2016 offseason. Their objective was clear and apparent: fix the defense. And without question, it was a defense from a year ago that needed fixing. After all, they ranked last in the NFL in yards allowed per game (420.3) and 30th in points allowed per (29.8). Among the big names coming in to New York this offseason, though, Giants veteran Jason Pierre-Paul elected to stay by signing a one-year deal.
Pierre-Paul staying to join another signing, Olivier Vernon, helped the Giants form a dangerous and dynamic pass-rushing duo. While symbiotic in nature as one has been aided by the presence of the other for most of 2016, it's been effective. While other factors are at play (including other signings), the combo of JPP and Vernon has been a major factor in vaulting New York from 30th in DVOA last season to seventh in 2016.
That defensive improvement has the Giants sitting at 8-4 and in possession of a Wild Card spot in the NFC entering Week 14's matchup against the Dallas Cowboys. However, New York is going to have to forge ahead in their stretch run without one of the key components of that defense, the aforementioned Jason Pierre-Paul. According to Jordan Raanan of ESPN NFL Nation, JPP had surgery on Wednesday morning to repair a sports hernia and is expected to miss six weeks—which obviously puts him out for the rest of the regular season:
With his individual production alone, Pierre-Paul has been a monster in New York this season. Through 12 games, he's already accrued 53 combined tackles to go with seven sacks. Add in three forced fumbles and eight pass defenses and it's been a banner year. Simply losing that type of production is a hefty blow to Big Blue's defense.
More from NFL Spin Zone
More concerning is the fact that the Giants are now forced to lean on a trio of players that are either unproven or haven't proven much in time they've seen. That includes rookie Romeo Okwara, third-year man Owa Odighizuwa, and fourth-year end Kerry Wynn. Someone in that trio, with all three likely splitting snaps, will have to step up. Otherwise, Vernon is simply not going to be able to his job as effectively as offensive coordinators can subsequently gear their gameplans to stopping him rather than him and JPP.
Frankly, this couldn't come at a worse time for the Giants either. They occupy the No. 5 seed in the NFC coming into Week 14. However, there are a slew of teams within striking distance. What's more, New York doesn't have an easy stretch run ahead of them.
Their final four games begin with a huge clash against the 11-1 Cowboys on Sunday Night Football. They follow that up by welcoming the NFC North-leading Detroit Lions to East Rutherford. Week 16 has the G-Me going to Philadelphia to face the Eagles on a short week for Thursday Night Football. Their season then concludes with a Week 17 matchup on the road against the Washington Redskins. Mind you, Washington is a team with one win against New York already this season. For those keeping score at home, that's two games against division-leaders and three NFC East games to finish the regular season, including the final two being on the road and one of those on a short week. That's unkind, to say the least.
Without Pierre-Paul on the active roster, this defense is going to take a step back. Even if the previously mentioned trio steps up, they still can't deliver at the level of JPP on the edge. That leaves a simple question. Are Vernon and the rest of the revamped defensive unit capable of rising up in adversity down the stretch and performing without an integral component to the unit? If so, they should be able to hold on to their Wild Card spot. But if not, this crucial stretch run could thwart the Giants' playoff hopes.
This article originally appeared on
---
---