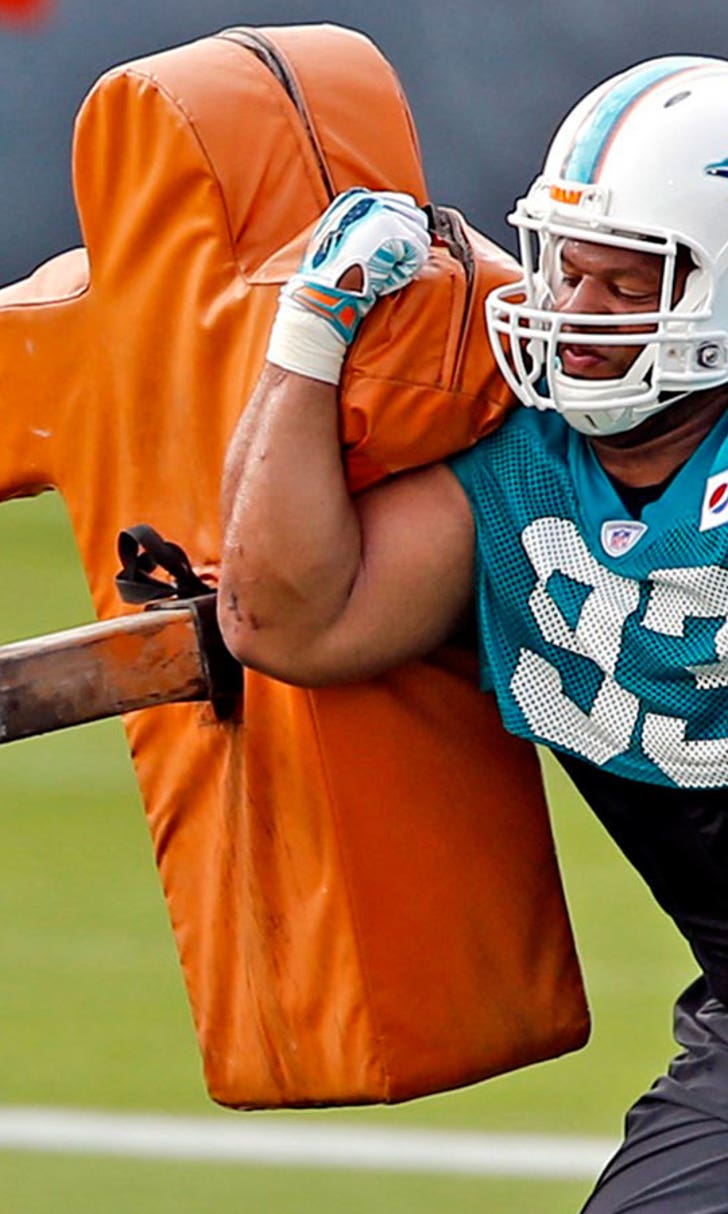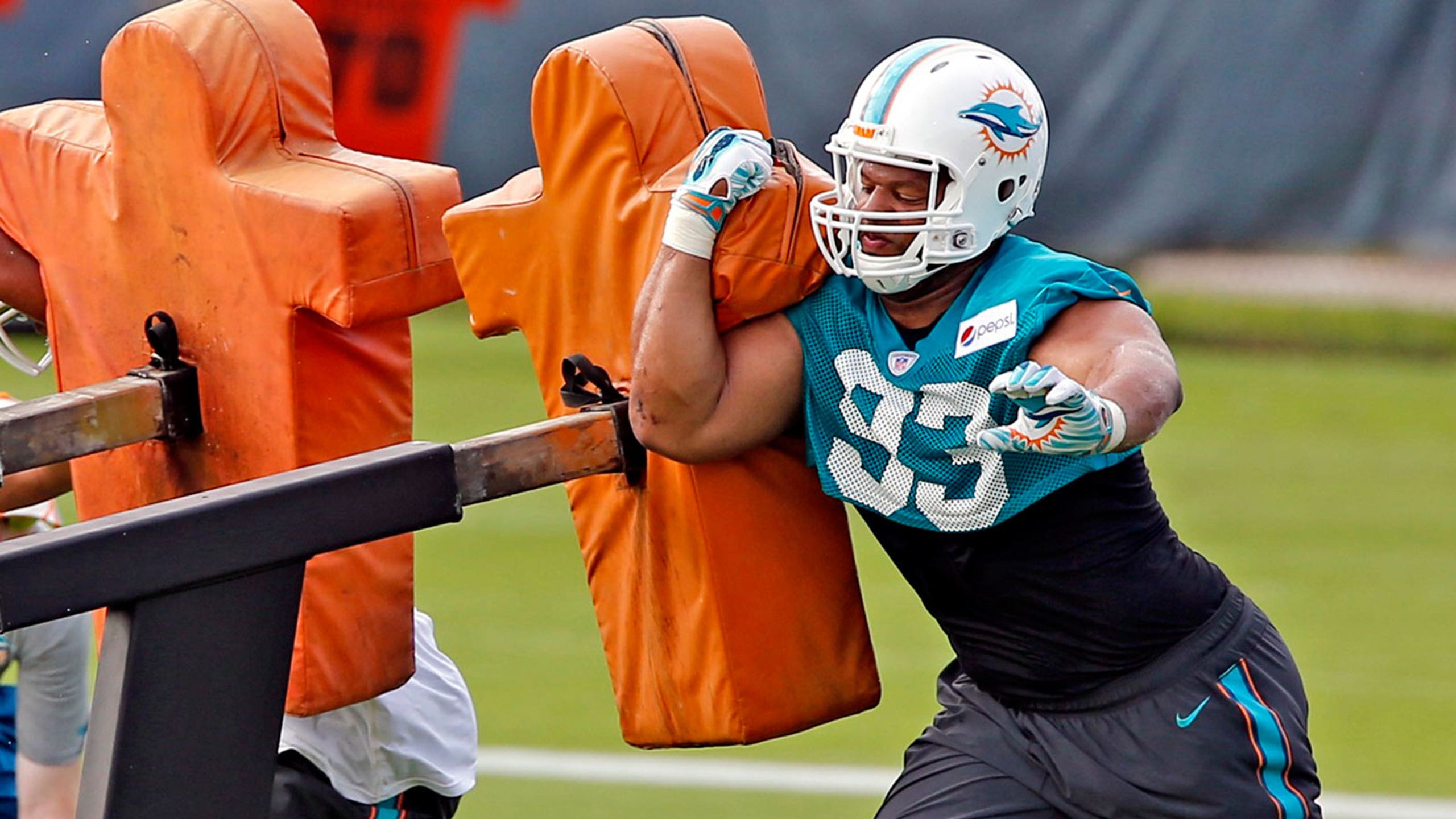 Ndamukong Suh turning heads, changing perceptions in fresh start with Miami Dolphins
BY Alex Marvez • August 18, 2015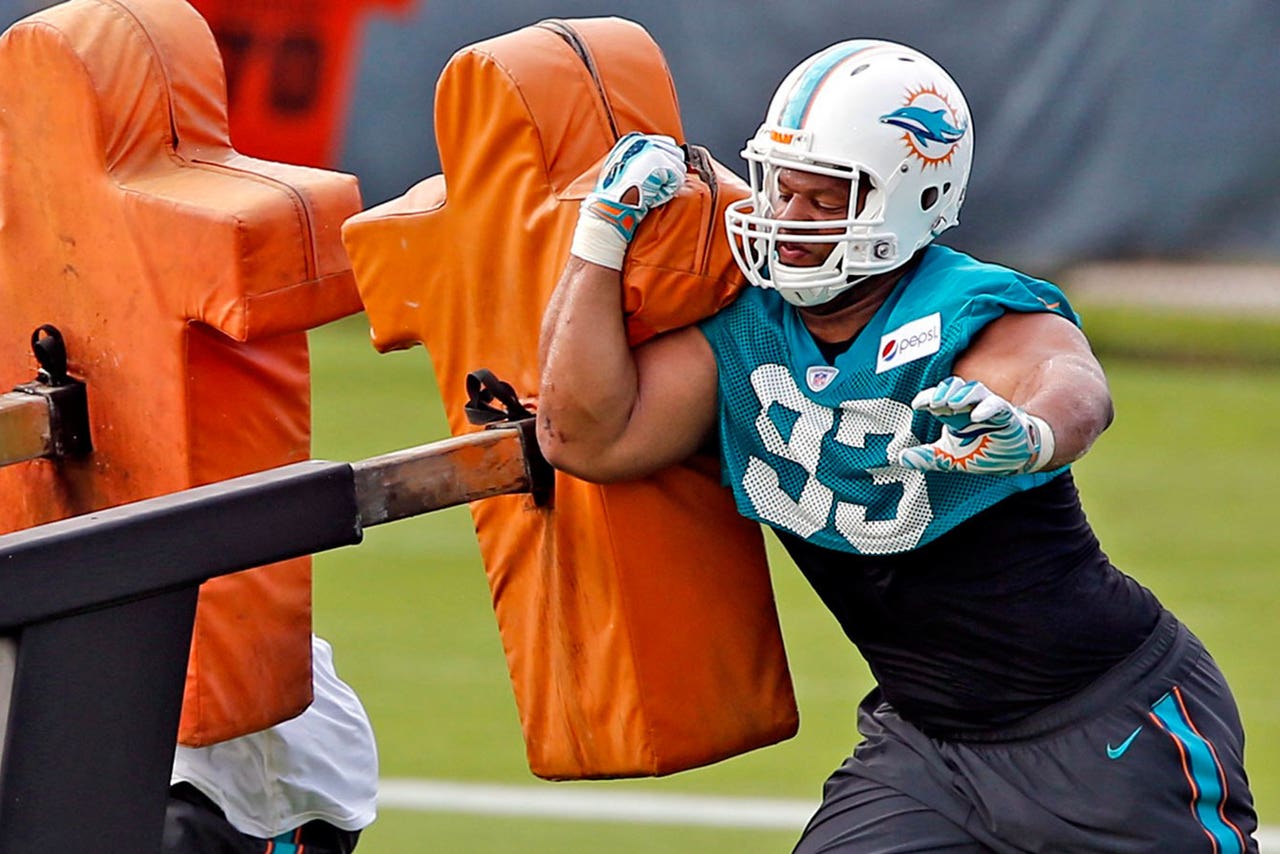 FOX Sports senior NFL writer Alex Marvez's training camp tour made its seventh stop in Davie, Fla. Here are some of the things he learned and observed while visiting Dolphins camp with SiriusXM NFL Radio co-host Gil Brandt. Read his Dolphins report today and check back on the following dates for his next stops on the tour:
DAVIE, Fla. — Strong safety Louis Delmas is well aware of the outside reputation that precedes new Miami Dolphins teammate Ndamukong Suh.
"The perception of him is a guy that's very selfish," said Delmas, who played with Suh from 2010-13 in Detroit. "A guy that loves to hurt people."
From well-publicized stomps of opposing players to borderline hits on quarterbacks, Suh may never be able to completely live down his checkered on-field past. But he is working to build a future legacy that goes beyond controversial cheap shots or even being the NFL's most dominant defensive tackle.
Dolphins executive vice president of football operations Mike Tannenbaum didn't just sign Suh as an interior force after tendering the largest free-agent contract — six years for $114 million with $60 million guaranteed — for a defensive player in league history. Tannenbaum wants him to help mentor young defensive linemen like Jordan Phillips and Terrence Fede in the same way Suh was groomed by fellow defensive lineman and University of Nebraska alumnus Kyle Vanden Bosch after being drafted by Detroit.
"In a (salary) cap system when you're paying somebody the way we're paying him, he has to impact others for this deal to make sense," Tannebaum said. "He had talked about earlier in his career how Kyle had impacted him.
"I challenged him. I said, 'Look, 10 years from now it could be Terrence or Jordan. When they're talking about the career they're having, I want them talking about the way you impacted them in the same way you talk about the way Vanden Bosch impacted you."
Suh admits he isn't a demonstrative type of leader. Instead, Suh jokingly says he stole Vanden Bosch's "soup-and-nuts" style and "put my own twist on it."
"At the end of the day, leadership can be seen in many different ways," Suh said. "I'm the type of person who likes to lead with my actions and the way I do things in life. Doing it the right way — the non-easy way — is usually the way to go about it.
"I'm more the type of guy who's going to pull somebody aside, have a conversation with him and tell them my experience."
Suh has done just that since arriving in South Florida. He has provided tips for Billy Turner, a second-year player vying to start at right guard, as the two go head-to-head in practice drills. Suh also has taken Fede, who showed promise last year as a seventh-round pick from Marist, and Phillips, a 2015 second-round draft choice, under his wing with both projected as contributors in the defensive line rotation.
"It's obvious about the force he's going to be on the field," Dolphins defensive end Cameron Wake said. "But I think the things that mostly go unnoticed are the off-field things you don't see on Sundays. He's sitting down one-on-one with a guy like Jordan Phillips who is just starting to come into his own as far as being a force in the middle.
"If I was an interior lineman, I don't know another interior lineman I would want to study under and learn the game from than Suh."
But just because Suh is growing up doesn't mean he's growing soft.
"He's a hard-nosed playing football guy — a 1970s grab-by-the-throat, step-on-him-when-he's-on-the-ground guy," Delmas said. "They don't breed that these days in the NFL, and they are trying to take players away from it. But he's a guy that every time you turn on the TV Sundays you see him playing that old-school football. That's what you need."
Workout warrior: Suh also has served as a role model when it comes to physical conditioning.
Because of personal and business interests in Omaha and Portland, Suh wasn't a full-time participant in Miami's offseason conditioning program. However, he was able to acclimate himself to the sticky South Florida climate through what he calls a "top-secret" training chamber at Nike headquarters in Portland.
Nike has the technology to simulate the exact temperature and humidity for each day at Dolphins headquarters in Davie, and Suh worked on his cardio through biking and treadmill running.
"This guy is on a whole other level in terms of commitment and his diet," Tannenbaum said.
Feet first: As he does following every season, Dolphins quarterback Ryan Tannehill spent time during the spring watching video of each of his throws from the previous year. Although his completion rate rose to a career-high 66.4 percent in 2014, Tannehill believes he can be even more accurate with a second season in offensive coordinator Bill Lazor's system.
"Why did I miss this throw or the ball wasn't out on time? It usually starts with your feet," Tannehill said "You have to be consistent. Being able to time up my feet with this offense was new to me last year. My second year in this offense, I'm a whole lot more comfortable with the concepts we're running, the timing and progressions."
Besides building chemistry with an overhauled wide receiving corps, Tannehill said he also focused on trying to improve his deep throws.
"As an offense, we thought about it a lot," said Tannehill, who has struggled with that aspect of his game since entering the NFL in 2012. "It's not just the throw. It's the protection, the route and the throw — it's a big picture if the ball is going downfield. That's something we put a lot of time into this offseason."
Time to Wake up: It gnaws at Wake that he hasn't appeared in a playoff game since joining the Dolphins in 2009. Now age 33, Wake said he spoke to the team about having an increased sense of urgency. Miami was on the cusp of playoff appearances the past two seasons before collapsing in December.
"It's both frustrating and encouraging to think about it," said Wake, who spent two seasons in the Canadian Football League before joining the Dolphins. "It's frustrating in the sense we've been so close. But by the same token, being so close is kind of encouraging knowing we don't have to completely overhaul the entire team and change every aspect of what we're doing. It's just a little bit here and there. Literally, three or four plays in an entire season can completely change the outcome of your whole team."
Drink up: Tannenbaum was initially hired by Dolphins owner Stephen Ross last year as a consultant to offer suggestions on improving the team's approach to sports science. When promoted last January to oversee Miami's football operations, one of the first things Tannenbaum did was hire a sports performance director Wayne Diesel away from the European soccer ranks.
This has led the Dolphins to implement a program where each player gets an individualized "recovery drink" after practice based upon his personal body composition and salinity levels that reflect sweat levels. Tannenbaum hopes this will help prevent the soft-tissue ailments that can strike players who haven't properly dehydrated as well as accelerate recovery times for those who get hurt.
"I hope the biggest impact will be the (usual) three-week injury becomes the one-week injury or the one-week injury becomes one where the player can still play," said Tannenbaum, who was the New York Jets' general manager from 2006-12. "We have a long way to go on that but I feel like we're off to a good start."
On guard: Tannenbaum hasn't completely dismissed the possibility of signing free-agent guard Evan Mathis to help shore what is the roster's most glaring weakness. Tannenbaum, though, isn't in a rush as he lets Turner, Dallas Thomas and rookie Jamil Douglas try to prove they are ready for starting roles.
"We have to have measured patience," Tannebaum said. "Turner, Thomas and Douglas have all shown flashes. Now has it been perfect? No but that's what happens with young players ... We'll see what happens."
Tannenbaum should have a better idea of where his guards stand after several days of joint practices later this week with Carolina followed by a Saturday night road preseason game against the Panthers.
---
---