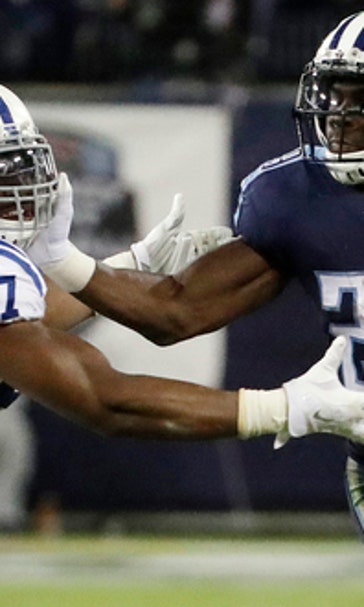 Murray, Walker, Morgan questionable for Titans vs. Browns
October 20, 2017

NASHVILLE, Tenn. (AP) The Tennessee Titans are unsure whether a trio of players will be able to play Sunday when they visit the winless Cleveland Browns.
Running back DeMarco Murray, who tweaked his hamstring for the second time this season Monday night, returned to practice Friday but was limited in his workouts. He will be a game-time decision.
Tight end Delanie Walker (calf injury) was added to the injury report Thursday and was held out of Friday's practice. He is listed as questionable. The Titans will also monitor the progress of linebacker Derrick Morgan (abdominal strain), who was limited in his workouts for the second straight practice
Murray has 313 yards rushing this season through six games, five less than his backup, Derrick Henry, who ran for a career-high 131 yards in 36-22 win over the Indianapolis Colts on Monday night . Murray was in and out of the lineup in that game bothered by the hamstring.
''I take it one day at a time, no matter what the situation is,'' said Murray, who led the AFC in rushing yards in 2016. ''If it's something I can play through and fight through, then I'll do that and worry about the aftermath when it's done, no matter what the repercussions may be. We'll see how it feels. I'll warm up prior to the game and see how it feels and make a decision from there.''
Murray, who missed all of preseason with the hamstring strain, said he plans to re-evaluate the matter during the Titans' bye next week because he has never had a lingering issue with a hamstring before. He said he will look at all the supplements he takes.
''It's very frustrating,'' he said.
Walker leads the Titans (3-3) with 25 receptions and was held out of practice on Friday. Coach Mike Mularkey said they were ''being smart'' with the veteran.
Murray and Walker are important to what the Titans want to do offensively, Morgan is a presence on the other side of the ball. Morgan leads the Titans with three sacks.
Mularkey said the Titans will evaluate all three players leading up to Sunday's game. Having a bye next week could affect the staff's decisions on whether they could benefit from extra rest.
---
For more NFL coverage: http://www.pro32.ap.org and http://www.twitter.com/AP-NFL.
---
---